November 2021
By Shannon Bugos
The Pentagon continued to move forward this fall with the development and initial deployment of hypersonic capabilities as part of its race to keep pace with China and Russia. At the same time, high-ranking U.S. officials raised questions about the rationale for and affordability of these programs.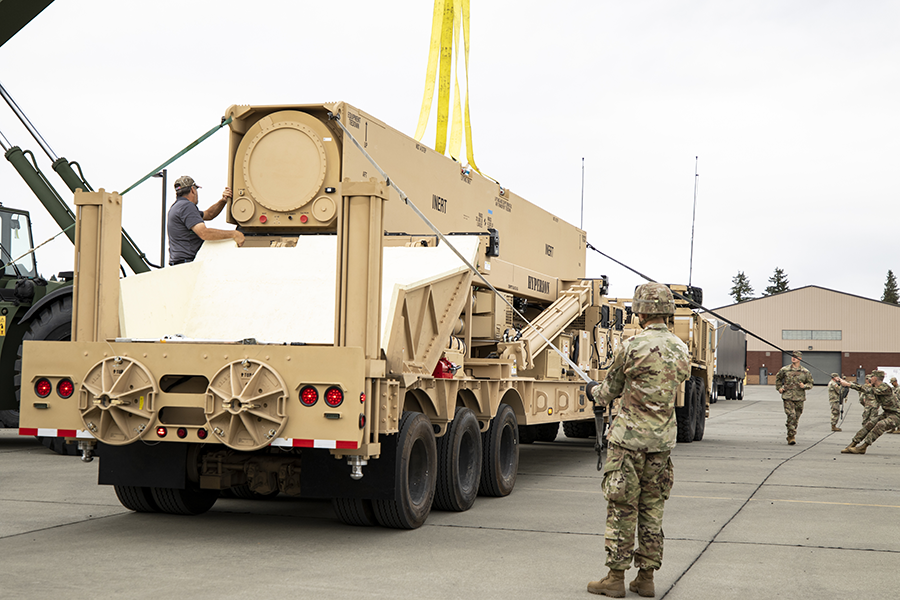 "The target set that we would want to address, and why hypersonics are the most cost-effective weapons for the U.S., I think it's still, to me, somewhat of a question mark," Air Force Secretary Frank Kendall said on Sept. 21, adding that he is reassessing the department's hypersonic plans.
Gen. Mark Kelley, commander of Air Combat Command, concurred with Kendall a few days later, telling reporters that "[w]e do need to make sure we have an unambiguous, well-understood [concept of operations for hypersonic weapons] as
we go forward."
Meanwhile, Heidi Shyu, undersecretary of defense for research and engineering, lodged concerns about the price of the weapons, saying on Oct. 12 that "we need to figure out how to drive towards more affordable hypersonics."
But Mark Lewis, former acting deputy undersecretary of defense for research and engineering, took issue with the scrutiny of the program, telling Breaking Defense on Sept. 24 that he is "puzzled that the Air Force might be pulling back because we had done extensive studies and extensive analysis that demonstrated quite clearly the effectiveness of these systems."
These remarks came after two failed tests earlier this year of the Air Force's air-launched hypersonic boost-glide vehicle. (See ACT, September 2021.) In late September, the Pentagon successfully tested an air-launched hypersonic cruise missile, called the Hypersonic Air-Breathing Weapon Concept (HAWC), and completed deployment of prototype equipment for a ground-launched hypersonic glide vehicle.
All of the primary objectives for HAWC's free-flight test—"vehicle integration and release sequence, safe separation from the launch aircraft, booster ignition and boost, booster separation and engine ignition, and cruise"—were met, according to a Sept. 27 statement by the Defense Advanced Research Projects Agency (DARPA). The agency conducted the successful test with support from the Air Force.
"The HAWC free-flight test was a successful demonstration of the capabilities that will make hypersonic cruise missiles a highly effective tool for our war-fighters," said Andrew Knoedler, HAWC program manager in the DARPA Tactical Technology Office. "This brings us one step closer to transitioning HAWC to a program of record that offers next-generation capability to the U.S. military."
DARPA announced in September 2020 that it had completed two captive-carry tests of two HAWC variants, but "dumb mistakes" and "basic errors" prevented the free-flight test of one of those missiles last December, according to an Air Force Magazine report.
The Army also made recent progress by completing delivery of prototype hardware for its Long-Range Hypersonic Weapon (LRHW) system, also known as Dark Eagle, at Joint Base Lewis-McChord in Washington state.
"Delivery of the hardware began in March 2021 and finished at the end of September 2021," the Army Rapid Capabilities and Critical Technologies Office said in an Oct. 7 press release. The delivery did not include missiles but rather "a battery operations center, four transporter erector launchers, and modified trucks and trailers that make up the LRHW ground equipment." The Army plans to field an operational first battery, which would include missiles, in fiscal year 2023.
"Today marks an important milestone in equipping our nation's first hypersonic battery," said Lt. Gen. L. Neil Thurgood, who oversees the critical technologies office, in the press release. "Now, soldiers can begin training." The training began the week of Oct. 18, and the Army unit will be involved in a series of upcoming flight tests, he added on Oct. 11.
The LRHW system features the common hypersonic glide body, which is shared with the Navy for its sea-launched hypersonic weapons capability, called the Conventional Prompt Strike (CPS) system, that is scheduled to achieve an initial operating capability in fiscal year 2025. The two services jointly tested the system in March 2020. (See ACT, April 2020.)
In October, the Pentagon also conducted three successful tests of "advanced hypersonic technologies, capabilities, and prototype systems" related to the LRHW and CPS programs in Virginia and an additional failed hypersonic weapons test as part of "a data collection experiment" in Alaska, Reuters reported.
The Pentagon has prioritized the rapid deployment of hypersonic weapons in part to compete with similar Chinese and Russian capabilities.
Moscow fielded the Avangard, a hypersonic glide vehicle, in 2019. Beijing displayed a ballistic missile designed to carry a hypersonic glide vehicle, the DF-17, during its 2019 military parade. In the summer of 2021, China tested a nuclear-capable hypersonic glide vehicle, apparently carried on a rocket, that flew through low-orbit space and circled the globe, according to U.S. intelligence sources.
"From the perspective of proliferation, the Chinese and the Russians both have invested significant amounts and made significant progress" with respect to hypersonic weapons, said Brig. Gen. John M. Olson, the Air Force's acting chief technology and innovation officer, on Sept. 28. "As a nation, [the United States has] taken a substantive early lead and turned that into a national effort to get…caught up and drive forward across the industrial base and the services."