November 2021
By Julia Masterson
Iranian diplomats met in Brussels with EU officials to review progress on restoring the 2015 nuclear deal. Following the Oct. 27 meeting, Iran said it would return to the talks in late November. Negotiations to revive the deal, also known as the Joint Comprehensive Plan of Action (JCPOA), have been stalled since the sixth round of meetings concluded in June 2021.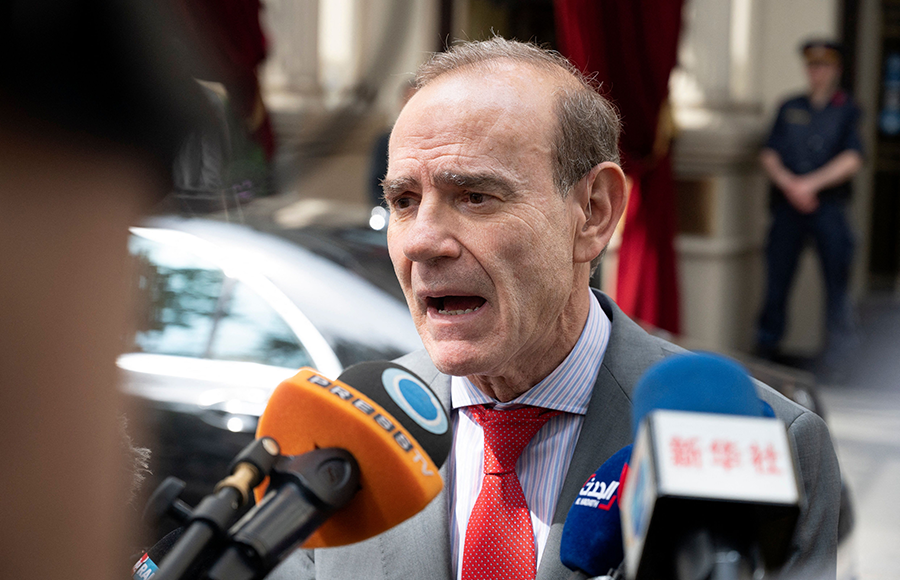 In an effort to jump-start talks, EU Deputy Secretary-General Enrique Mora traveled to Tehran on Oct. 14 to meet Iranian Deputy Foreign Minister Ali Bagheri Kani and discuss Iran's plans to resume negotiations in Vienna with the other members of the deal—China, France, Germany, Russia, and the United Kingdom—and the United States.
In a tweet on Oct. 27, Bagheri Kani called the talks with Mora "very serious and constructive" and said "we agree to start negotiations before the end of November."
Mora, together with EU foreign policy chief Josep Borrell, coordinated the first six rounds of discussions aimed at facilitating a mutual return to compliance with the deal by Iran and the United States, which withdrew from the accord and reimposed sanctions on Iran in 2018. Iran began to violate the deal one year later, in May 2019, but maintains it will restore limits on its nuclear program imposed by the accord in exchange for the lifting of sanctions.
Although the other parties have urged the prompt resumption of talks, Iran has delayed the seventh round, citing a need to restructure its negotiating team and clarify its position after the inauguration of President Ebrahim Raisi in August. In a telephone call with his Russian counterpart, Iranian Foreign Minister Hossein Amirabdollahian described the Mora meeting as "positive."
Meanwhile, Russia and the three European members concur that many issues impeding restoration of the JCPOA were resolved during the first six rounds of talks. As Mikhail Ulyanov, Russian ambassador to international organizations in Vienna, tweeted on Oct. 17, "Of course, talks in Brussels cannot substitute [for the Vienna talks on the JCPOA but]…if the Iranian side needs it, [the Brussels dialogue] can be viewed as a preparatory step towards resumption of real negotiations in Vienna."
In an Oct. 11 tweet, Ulyanov wrote that "we should not resume the Vienna Talks on [the] JCPOA from scratch" and noted that "during the previous six rounds of negotiations significant and very useful progress has been achieved."
But Iranian Foreign Ministry spokesman Saeed Khatibzadeh remarked on Oct. 17 that the sixth round ended over differences, not compromises, implying that negotiations may not resume exactly where they paused in June.
A senior EU diplomat told Politico on Oct. 17 that Iran is "not yet ready for engaging in Vienna" but Iranian officials have "absolutely decided to go back" to the table. That official said Iran will use its time in Brussels to review the texts discussed during the last round of talks.
There is speculation that Tehran may demand additional concessions from Washington or a gesture of good faith prior to returning to the negotiating table. On Oct. 2, Amirabdollahian declared via a state-run broadcasting network that Washington should preemptively release $10 billion of Iran's frozen funds as a goodwill sign. He said he "told the mediators if America's intentions are serious, then a serious indication was needed…by releasing at least $10 billion of blocked money."
The United States will not offer concessions before resuming talks, Rob Malley, the State Department special envoy for Iran, suggested during an Oct. 13 briefing at the Carnegie Endowment for International Peace. He said the United States will engage in talks on restoring the 2015 deal but if Iran approaches the negotiating table with demands that exceed the original accord, the United States will do the same.
U.S. officials have repeatedly warned that the time to restore the deal is not indefinite, given Iran's accelerating nuclear activities. On Oct. 10, Iran announced it had produced more than 120 kilograms of uranium enriched to 20 percent uranium-235. Iran's 2020 nuclear law stipulates that the Atomic Energy Organization of Iran should meet that benchmark by December. Early achievement of that benchmark suggests Iran accelerated uranium-enrichment to that level.
During an Oct. 13 meeting with the Israeli foreign minister, Secretary of State Antony Blinken reiterated that "we are getting close to a point at which returning to compliance with the JCPOA will not in and of itself recapture the benefits of the JCPOA, and that's because Iran has been using this time to advance its nuclear program in a variety of ways."
Although reaffirming that a day will come when advances in Iran's nuclear knowledge could render it impossible to recapture the nonproliferation benefits envisioned by the 2015 accord, Malley said the United States believes that, for now, the window to fully restore the JCPOA remains open.