October 2021
By Julia Masterson
North Korea may have restarted its five-megawatt reactor, which it has historically used to produce plutonium to support its nuclear weapons program, according to a new report by the International Atomic Energy Agency (IAEA).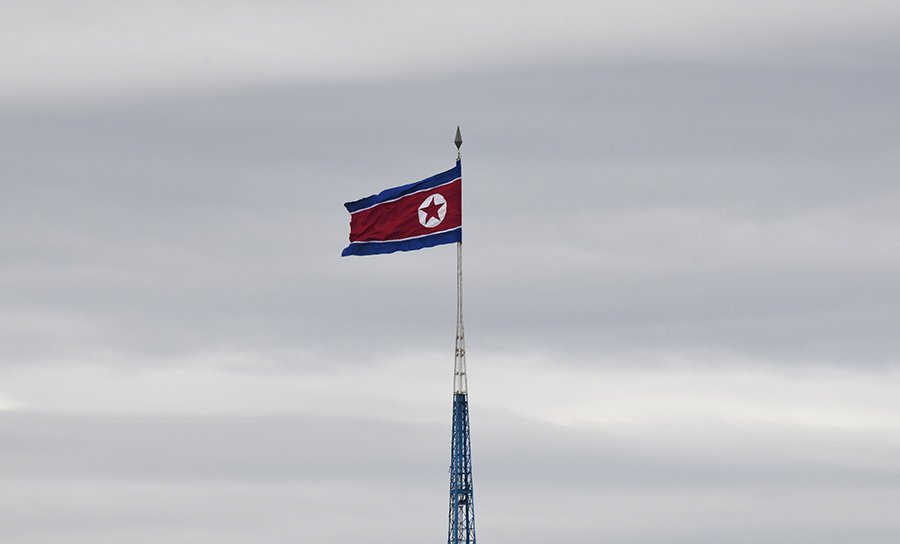 Although the reactor, located at the Yongbyon complex, was inoperative from December 2018 until July 2021, the discharge of cooling water from the reactor suggests it may now be operational, the report, issued Aug. 27, said.
The IAEA does not have an on-site presence in North Korea, but it reports annually on the country's nuclear activities using information gathered from satellite imagery analysis and other national technical means.
North Korea's radiochemical laboratory at Yongbyon was also operational during the last reporting period, from February to July 2021. The laboratory houses North Korea's plutonium reprocessing facility, which is used to extract the weapons-grade fissile material from spent reactor fuel.
According to the agency's report, "[T]he five-month timeframe is consistent with the time required to reprocess a complete core of irradiated fuel" from the five-megawatt reactor, in keeping with design information provided to the IAEA by North Korea in 1992. It is likely that North Korea's latest reprocessing campaign involved fuel rods that were removed after the reactor was last operational, in December 2018.
North Korea has conducted three known reprocessing campaigns, in 2003, 2005, and 2009, each of which lasted for about five months.
Although North Korea appears to be continuing its plutonium production, the IAEA report suggests that the production of enriched uranium-235 has stalled. "The reported centrifuge enrichment facility was not in operation" throughout the last reporting period, the IAEA stated.
But some analysts contend that North Korea may be gearing up to boost its production of enriched uranium, as evidenced by apparent efforts to expand the enrichment hall at Yongbyon. Commercial satellite imagery reveals possible steps to construct a new outer wall at the facility, which some analysts predict could allow North Korea to rachet up its enriched uranium production by 25 percent, according to a Sept. 16 report by CNN.
Other analysts disagree, citing commercial imagery that depicts the removal of cooling units from the enrichment hall. "As proper air conditioning and system cooling is essential to the uranium enrichment process—including maintaining a consistent temperature inside the cascade halls—it is unlikely that the [uranium-enrichment plant] is currently operating," a group of analysts wrote on Sept. 16 on the 38 North website. Any uranium-enrichment activities will remain paused until those cooling units are replaced, they estimated.
Nevertheless, North Korea's recent nuclear activities have raised alarm. "The continuation of [North Korea's] nuclear programme is a clear violation of relevant UN Security Council resolutions and is deeply regrettable," IAEA Director-General Rafael Grossi wrote in the agency's report.
Senior diplomats from Japan, the United States, and South Korea called on Pyongyang to return to talks over its nuclear and ballistic missile programs. Sung Kim, U.S. special representative for North Korea policy, met with Noh Kyu-duk, South Korean special representative for Korean peninsula peace and security affairs, and Takehiro Funakoshi, Japanese director-general for Asian and Oceanic affairs, on Sept. 14 in Tokyo. That scheduled meeting took place the day after Grossi told the IAEA Board of Governors that North Korea's nuclear program is "cause for serious concern" and after North Korea tested new long-range cruise missiles. The U.S. envoy urged Pyongyang to "respond positively to our multiple offers to meet without preconditions."
North Korea tested the new cruise missiles on Sept. 11 and the next day described them as a "strategic weapon" that had been developed over two years. The missiles will serve as "an effective deterrent ensuring the security of our state more firmly and overpowering powerfully the anti-[North Korean] military moves of the hostile forces," North Korean state media reported. One of the missiles flew 1,500 kilometers.
Later in the week, Pyongyang also tested a new train-mounted ballistic missile delivery system, which state media reported could travel 800 kilometers. The testing of the new system, dubbed the Railway Mobile Missile Regiment, was overseen by a top North Korean military official.
State media said North Korean leader Kim Jong Un did not attend either missile test.