October 2021
By Julia Masterson
Iran's new administration appears to be inching toward resuming multilateral negotiations on restoring the 2015 nuclear deal with the United States and other major countries, but exactly when that might happen remains an open question. The sixth round of talks concluded on June 20, and negotiations have since remained stalled.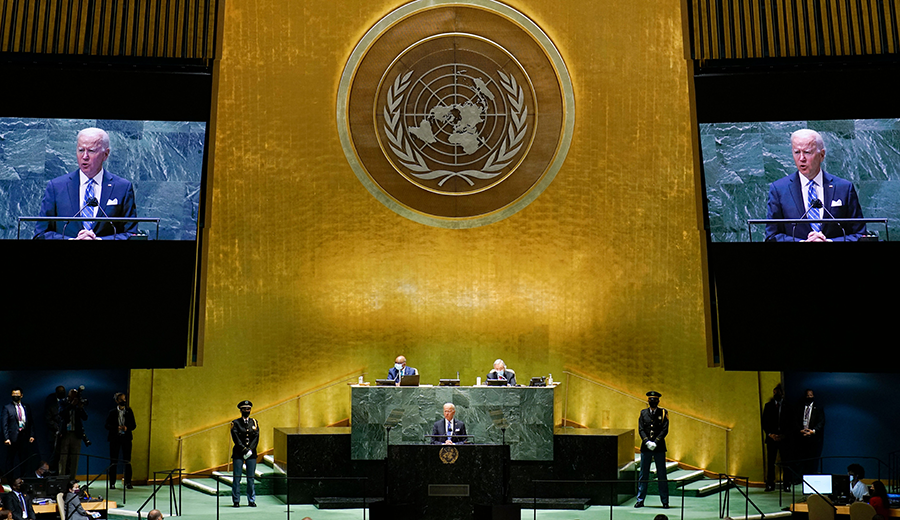 Although Iranian President Ebrahim Raisi used his first speech to the UN General Assembly on Sept. 21 to slam the United States for the sanctions imposed on his country, he remained open to negotiations on the nuclear accord. Raisi made clear that Iranians "don't trust the promises made by the U.S. government," but said Tehran considers talks useful if they result in the lifting of all sanctions.
The same day, Iranian Foreign Ministry spokesman Saeed Khatibzadeh was quoted as saying that talks with world powers over reviving the nuclear deal, formally known as the Joint Comprehensive Plan of Action (JCPOA), would resume in a few weeks, the official Iranian news agency IRNA reported, according to Reuters.
"Every meeting requires prior coordination and the preparation of an agenda. As previously emphasized, the Vienna talks will resume soon and over the next few weeks," he reportedly said.
U.S. President Joe Biden also used the UN meeting to lay down markers. "We are prepared to return to full compliance if Iran does the same," he said in his first speech to world leaders. But Biden underscored that the United States "remains committed to preventing Iran from getting a nuclear weapon."
Early posturing by Raisi and his cabinet had cast doubt on the likelihood of the near-term resumption of talks.
The new Iranian government set out to clarify Tehran's position on negotiations to restore the deal after Raisi was inaugurated Aug. 5. Although pledging a commitment to the deal, the new president said he would pursue "smart engagement" to lift U.S. and international sanctions on Iran, suggesting his administration may take a more hard-line approach. (See ACT, September 2021.)
Officials in Raisi's government and that of his predecessor, Hassan Rouhani, have long maintained that a restoration of the JCPOA should begin with the lifting of U.S. sanctions, which were reimposed after the United States unilaterally withdrew from the accord in 2018. Washington is also interested in returning to the JCPOA but in mutual exchange for Iran's return to compliance with its obligations under the accord.
Tehran has cautioned the other parties to the deal, and specifically the United States, against pushing for a prompt return to talks. Iran Foreign Minister Hossein Amirabdollahian said during an Aug. 31 interview that a two- or three-month process will be necessary for the Raisi government to prepare for negotiations.
Although change is underway in Tehran, including the appointment of Ali Bagheri Kani as deputy foreign minister, there appears to be some continuity from the Rouhani administration. Abbas Aragchi, the former deputy foreign minister who was also Iran's chief nuclear negotiator, will stay on as an advisor to JCPOA talks, the Raisi administration confirmed Sept. 14. Iran's Foreign Ministry spokesman, Khatibzadeh, announced on Sept. 19 that further changes to Iran's negotiating team are being considered but have not been finalized.
In a Sept. 4 interview, Raisi underscored that Iran is interested in negotiations but not with the pressure imposed by the United States and the European parties to the deal (France, Germany, and the United Kingdom). But he confirmed Iran is committed to resuming talks and will not step back further from diplomacy.
Khatibzadeh said on Sept. 13 that Tehran will resume talks in the near future. Amid speculation that Amirabdollahian could meet with his foreign minister counterparts at the UN General Assembly meeting in New York in September, Khatibzadeh said that no decision has been made but that the Iranian minister will meet with each of the foreign ministers separately and on a bilateral basis.
Other parties to the JCPOA have pushed back on Amirabdollahian's proposal. German Foreign Minister Heiko Maas said on Sept. 9 that "two or three months is a time frame that is much too long for us." At a Sept. 15 meeting of the International Atomic Energy Agency (IAEA) Board of Governors, France, Germany, and the UK delivered a statement urging Iran to "constructively reengage in negotiations without further delay." Mikhail Ulyanov, Russian ambassador to international organizations in Vienna, in a Sept. 17 tweet similarly lamented that talks must promptly resume.
Although all parties to the JCPOA and the United States appear committed to restoring the deal, the window for talks may not stay open indefinitely. Iran has accelerated steps to breach JCPOA limits in accordance with its December 2020 nuclear law, including by boosting its enrichment of 20 percent uranium-235 and producing uranium metal. These provocative moves have shortened the one-year breakout window, or the time it would take for Iran to produce enough fissile material for one nuclear bomb, that was envisioned by the 2015 accord.
In their statement to the IAEA board, the European parties noted that "[c]ollectively, these steps present a pressing nuclear proliferation risk, have irreversible consequences for Iran's nuclear capabilities, and undermine the non-proliferation benefits of the JCPOA."
"It is particularly regrettable that Iran has deepened its systematic violations of the JCPOA at a time when all JCPOA participants and the United States are engaged in substantive discussions, with the objective of finding a diplomatic solution to restore the JCPOA," they said.
Asked about a deadline for negotiations to resume, U.S. Secretary of State Antony Blinken said on Sept. 9, "I'm not going to put a date on it, but we are getting closer to the point at which a strict return to compliance with the [JCPOA] does not reproduce the benefits that the agreement achieved," likely referring to the original one-year breakout window. He added, "[W]e've been very clear that the ability to rejoin the JCPOA…return to mutual compliance, is not indefinite."
Meanwhile, Israeli officials said they have accelerated military planning against Iran's nuclear program.