September 2021
By Kelsey Davenport
Newly inaugurated Iranian President Ebrahim Raisi pledged to continue talks to restore the 2015 nuclear deal, but his rhetoric increasingly suggests Tehran may complicate the process by demanding more concessions from the United States.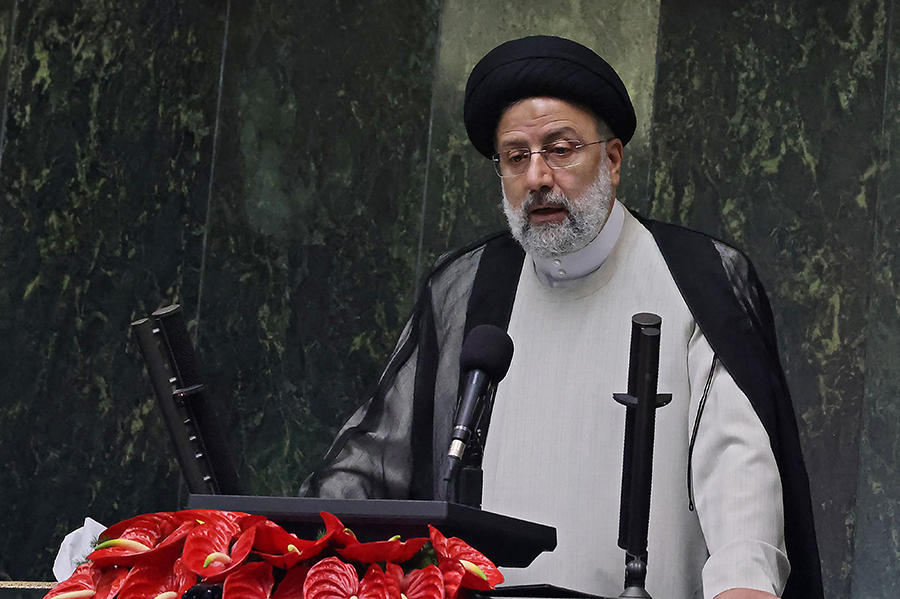 Prior to Raisi's election in June, the United States and Iran participated in six rounds of indirect talks in Vienna to hash out the steps that each side would need to take to return to compliance with the nuclear deal, known as the Joint Comprehensive Plan of Action (JCPOA). The European Union coordinated the negotiations on behalf of the other parties to the deal—China, France, Germany, Russia, and the United Kingdom.
Although the parties did not reach an agreement, Washington and Tehran said that considerable progress was made on determining the actions the United States and Iran must take to restore the deal. (See ACT, June 2021.) But talks have remained paused since Raisi's election.
Rob Malley, U.S. special envoy for Iran, told Politico on Aug. 19 that although a deal with the Raisi administration is still possible, "[i]t's one big question mark" and "not something that [the United States] can fully control."
Iranian officials informed the EU after the inauguration that they intend to return to talks in Vienna in September, and Raisi said during his Aug. 5 inaugural address that he would pursue "smart engagement" to achieve a lifting of U.S. and international sanctions on Iran. But his administration appears dissatisfied with the progress made during the first six rounds of negotiations and may attempt to renegotiate certain issues.
Iran's Foreign Ministry spokesman, Saeed Khatibzadeh, said on Aug. 9 that the Biden administration needs to return to talks in Vienna with a new "realistic approach" so that a conclusion is reached in the "shortest time."
This was after an Iranian committee set up to review progress made during the negotiations for the incoming Raisi administration determined that the Vienna talks failed to produce an agreement on several key areas because of "bullying" by U.S. and European parties, Kayvan Khosravi, spokesperson for Iran's Supreme National Security Council, said in July.
The committee included members of President Hassan Rouhani's negotiating team, some advisers to Raisi, and several members of parliament.
Despite such Iranian comments, the Biden administration does not appear to be changing its approach to the negotiations. At an Aug. 5 press briefing, State Department spokesman Ned Price said the United States has made very clear it is prepared to resume talks in Vienna and expects that the "seventh round would pick up where the sixth round has left off." He said the administration hopes Iran "seizes the opportunity now to advance diplomatic solutions."
Price warned that the opportunity for restoring the JCPOA would not last forever. He indicated that if Iran's nuclear program advances to the point where the nonproliferation benefits of the deal cannot be restored, the United States will change course. He did not provide details on when that threshold might be crossed.
Meanwhile, there are domestic pressures on Raisi, who is required under Iranian law to continue ratcheting up the country's nuclear program.
In a July 8 speech, Rouhani blamed the law, passed by parliament in December 2020, for impeding negotiations to restore the deal. It included provisions requiring the Atomic Energy Organization of Iran to take certain steps to accelerate the country's nuclear program in violation of the nuclear deal, including the resumption of uranium enrichment to a level of 20 percent uranium-235, the installation and operation of certain advanced centrifuges, a reduction in monitoring by International Atomic Energy Agency (IAEA) inspectors, and the production of uranium metal. The law was passed in response to the assassination of Iranian nuclear scientist Mohsen Fakrizadeh and as a means to pressure the United States to return to the JCPOA and lift sanctions. (See ACT, January/February 2021.)
In accordance with the law, Raisi will be required to oversee the stockpiling of 120 kilograms of uranium enriched to 20 percent U-235, which is below the level of weapons-grade uranium but which can be more quickly enriched to that level, and the expansion of Iran's use of advanced IR-6 centrifuges.
Raisi has given no indication that he would seek any suspension of the law's requirements. Most recently, the IAEA reported on Aug. 16 that Iran has produced 20 percent-enriched uranium metal. Iran claims this capability is necessary to make fuel for its Tehran Research Reactor, which manufactures medical isotopes, but the process is also relevant to nuclear weapons development. Iran is prohibited from uranium-metal production under the JCPOA.
In an Aug. 16 statement, Price said that "Iran should cease its nuclear escalations and return to negotiations" to restore the deal. He said Iran has "no credible need to produce uranium metal" and noted its "direct relevance to nuclear weapons development."
Despite Raisi's rhetoric and Iran's advancing nuclear program, the European parties to the deal remain optimistic that the JCPOA will be restored.
In an Aug. 12 interview with Arms Control Today, an official from one of the three European countries said that implementation of the deal "remains in the best interest of all parties" and is the "most likely scenario" once talks resume. But the official, who spoke on condition of anonymity, said it would "be foolish not to be ready with a plan B," such as a smaller, interim deal that suspends certain Iranian nuclear activity in exchange for limited sanctions relief.
Even if Raisi is posturing and takes a more pragmatic position when talks resume, Iran's nuclear advances may "make it impossible to keep the door open for restoring the deal," the EU official acknowledged. He expressed concern that the nuclear deal could also "end up a casualty of escalating regional tensions."
Malley also said in his Politico interview that the United States must be "prepared for a world in which Iran's intentions are not to go back" into the nuclear deal.
Recent incidents in and around the Persian Gulf underscore the risk of external issues exacerbating tensions and hindering efforts to restore the nuclear deal. The United States attributed a July 30 attack on a commercial vessel off the coast of Oman that killed two crew members to an Iranian manufactured drone. The Group of Seven countries condemned the attack in an Aug. 6 statement, calling it a violation of international law.
In addition to delays that could result if Raisi attempts to renegotiate progress made in the first six rounds of talks and if external spoilers such as drone attacks continue, the negotiations will be complicated by the need to address several issues that were not resolved prior to Iran's change in government.
First, the United States is looking for a commitment from Iran to engage in further negotiations after the nuclear deal is restored. President Joe Biden pledged to pursue a "longer and stronger" agreement with Iran that builds on the nuclear deal by addressing regional security issues.
Raisi and Iranian Supreme Leader Ayatollah Ali Khamenei appear to have rejected the idea of follow-up talks. In a July 28 speech, Khamenei said that future Iranian administrations should "avoid tying their plans" to negotiations with the West "for they'll certainly fail."
Meanwhile, Iran is seeking a commitment that Biden's successors will not withdraw from the nuclear deal and reimpose sanctions, as President Donald Trump did in May 2018.
The United States appears unlikely to make such a commitment. A senior State Department official said in a June 24 press call that "there is no such thing as a guarantee" that the United States will not withdraw from the deal again.