June 2021
By Sang-Min Kim
U.S. President Joe Biden has promised to engage North Korea diplomatically on pragmatic steps to end the nuclear threat and reinforced that commitment by appointing veteran U.S. diplomat Sung Kim to lead the effort.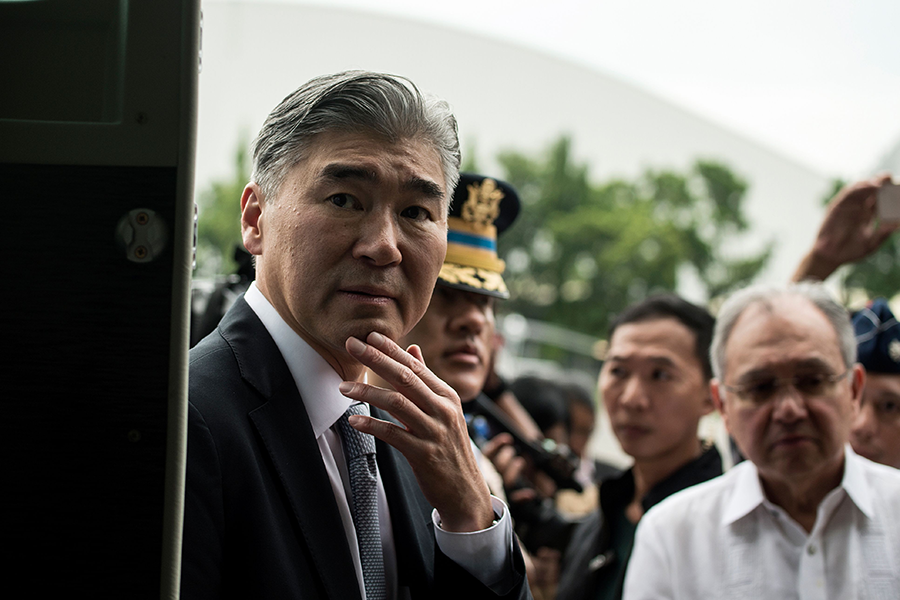 Hosting South Korean President Moon Jae-in at the White House on May 21, Biden told a news conference that the United States and South Korea "share a willingness to engage diplomatically with [North Korea] to take pragmatic steps that will reduce tensions as we move toward our ultimate goal of denuclearization of the Korean peninsula."
Moon emphasized that pursuing North Korea's denuclearization is the "most urgent common task" for the United States and South Korea to undertake. But in a hint of past difficulties in advancing that goal, Biden stressed that "we're under no illusions how difficult this is." 
North Korea's arsenal of nuclear weapons and its stockpile of nuclear fuel has risen steadily at least since the Bush administration and roughly doubled in the past four years. It is estimated to have around 45 nuclear weapons, according to former Los Alamos weapons laboratory director Siegfried Hecker, who visited North Korea seven times between 2004 and 2010.
Kim, the new U.S. special envoy for North Korea, has been ambassador to Indonesia. Previously, he was ambassador to South Korea and also served as Obama's special envoy to the six-party talks with North Korea. Moon praised the appointment as reflecting "the commitment of the U.S. for exploring diplomacy and its readiness for dialogue with North Korea."
The summit took place several weeks after the Biden administration completed a review of North Korea policy. Few details have been made public.
Moon said the United States coordinated closely with his government and the resulting policy is "a very calibrated, practical, gradual, step-by-step manner, and very flexible" with the complete denuclearization of the Korean peninsula as the ultimate objective.
The policy builds on the 2018 Singapore joint statement, which was issued after a summit between U.S. President Donald Trump and North Korean Leader Kim Jong Un and calls for the complete denuclearization of the Korean peninsula and the establishment of a stable peace there.
Given that past administrations were unable to achieve denuclearization in a single, comprehensive deal, the policy moves away from a grand bargain, which North Korea rejected at the 2019 Trump-Kim summit in Hanoi, and from the Obama administration's "strategic patience" approach that refused serious diplomatic engagement until North Korea changed its nuclear provocations and behavior.
After reportedly rejecting earlier Biden administration efforts to engage, Pyongyang has "well received" the U.S. offer to explain the outcome of the policy review, according to Yonhap News Agency. 
Kurt Campbell, the White House policy coordinator for the Indo-Pacific region, stated in a Yonhap News Agency interview on May 18 that UN sanctions on North Korea will remain and continue to be enforced. China and Russia have been pushing for sanctions relief for North Korea.
The Washington Post reported on April 30 that one U.S. official stated that the United States is prepared to offer relief for specific actions.
Zhang Jun, China's UN ambassador, said on May 3 that he hopes the United States gives more importance to diplomacy and dialogue than pressure in its new North Korea policy.
Beijing supports a dual-track approach of pursuing denuclearization and the establishment of a peace mechanism on the Korean peninsula.
The United States conducted the policy review in close consultation with allies Japan and South Korea, but has also been in touch with other states in the region, such as Russia, about it.