May 2021
By Jeff Abramson
Last month, the Biden administration indicated that it will seek to complete more than $20 billion in controversial arms sales to the United Arab Emirates initiated at the end of the Trump administration. A number of Democrats in Congress expressed concern and sought to put restrictions on the potential deals, even though terms remain uncertain and any delivery would be years in the future.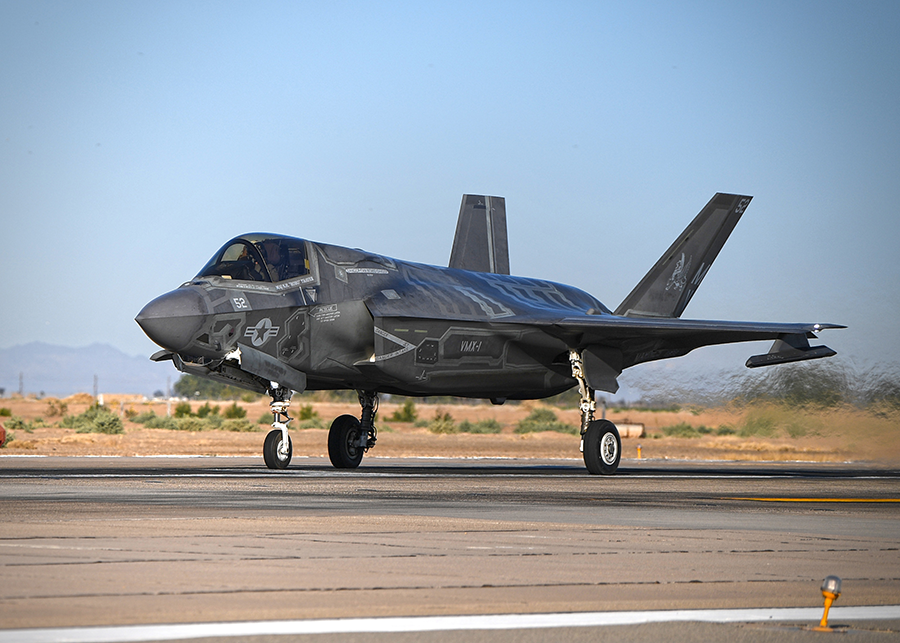 The sales include up to 50 F-35 aircraft valued at $10.4 billion, up to 18 MQ-9B armed drones worth $3 billion, and a $10 billion package of air-to-air and air-to-ground munitions, as well as a revision to a 2018 notification for $490 million in additional Sidewinder air-to-air missiles. With votes falling nearly entirely along party lines, the Senate narrowly failed to approve resolutions of disapproval for the F-35 and drone sales in December. (See ACT, January/February 2021.)
Media reported that the Trump administration then signed letters of offer and acceptance on some of the deals the morning of President Joe Biden's inauguration. Typically, after such letters are executed, additional contract negotiations occur before weapons are built and delivered, often years later, which means it will be left to the Biden administration to implement the deals.
A State Department spokesperson told Arms Control Today in an email on April 16 that it "continue[s] reviewing details and consulting with [UAE] officials to ensure we have developed mutual understandings with respect to [UAE] obligations before, during, and after delivery." The official wrote that the administration will reinforce with the UAE that "U.S.-origin defense equipment must be adequately secured and used in a manner that respects human rights and fully complies with the laws of armed conflict."
The spokesperson also indicated that "delivery dates on these sales, if eventually implemented, will be several years in the future."
In January and February, the Biden administration announced a review of Trump-era arms sales. It said it was communicating with the UAE, while also indicating it had suspended certain "offensive" arms sales to Saudi Arabia as part of an effort to address the conflict in Yemen, which Biden called "a war which has created a humanitarian and strategic catastrophe." (See ACT, March 2021.) The UAE claims it is no longer active in the war there. Timothy Lenderking, the U.S. special envoy for Yemen, told a congressional hearing April 21 that the UAE retains influence in the country and remains a key member of the Saudi-led coalition.
On April 16, Senate Foreign Relations Committee Chairman Bob Menendez (D-N.J.) and Sen. Dianne Feinstein (D-Calif.) introduced the Secure F-35 Exports Act, a lightly amended version of a 2020 bill that focused on the advanced fighter jets. The legislation would provide a vehicle for highlighting a range of concerns about the UAE's use of U.S. military equipment, including the Persian Gulf state's close relations with China and Russia and how its acquisition of the F-35 could affect Israel's ability to maintain a qualitative military edge in the region.
For example, if enacted into law, the bill would require certification that any country in the region receiving F-35s, aside from Israel, has not transferred weapons to militias fighting U.S. interests. The provision would only date back to the time of signing the letter of offer and acceptance, but is particularly relevant to the UAE, which has been found to have transferred weapons to Libya in contravention of a UN arms embargo.
House Foreign Affairs Committee Chairman Gregory Meeks (D-N.Y.) said in an April 14 statement that he and others remained concerned and that he still has "many questions" about the UAE deal. On April 21, Sen. Chris Murphy (D-Ct.) said: "The Emiratis already have a record of illegally transferring weapons to Salafist militias in Yemen, and Congress, frankly, has not received sufficient assurances that such transfers will not happen again."
Congress can pass legislation placing new conditions on or blocking weapons sales at any time until they are delivered, although the most visible activity typically occurs in the first 30 days after members are officially notified of potential sales.
Many human rights and civil society groups reacted negatively to the news that the administration was proceeding with the UAE deal. Justin Russell, principal director of the New York Center for Foreign Policy Affairs, whose organization on April 14 filed an amended version of its lawsuit seeking to block the sales, said, "We had hoped that the Biden administration would have put the mitigation of the humanitarian crises in Libya and Yemen above starting what could be an arms race in this sensitive region of the world. We had hoped for better things out of the Biden administration...and now those hopes have been dashed."