May 2021
U.S. President Joe Biden and Japanese Prime Minister Yoshihide Suga strongly reaffirmed the U.S.-Japanese alliance during Biden's first in-person meeting as president with a foreign leader, at the White House on April 16, calling it a "cornerstone of peace and security in the Indo-Pacific region and around the world." The leaders also described a "shared vision for a free and open Indo-Pacific [region] based on our commitment to universal values and common principles and the promotion of inclusive economic prosperity."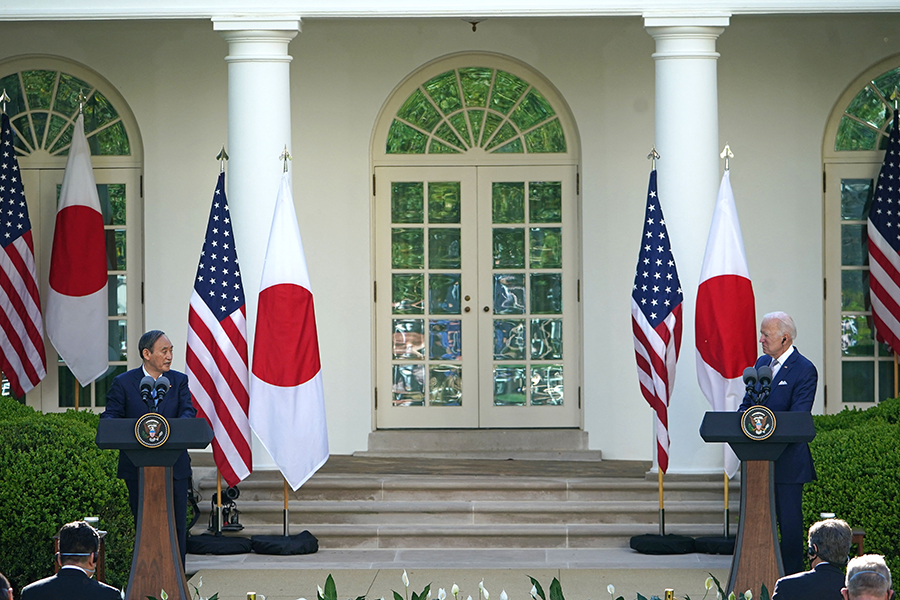 In a press conference after the meeting, Biden emphasized U.S. commitments to Japan's defense and "ironclad support for…our shared security."
The leaders' formal joint statement focused on many strategic concerns, including global threats from COVID-19 and climate change, human rights in Hong Kong and among the Uyghurs in China's Xinjiang region, and the denuclearization of North Korea.
They expressed "their concerns over Chinese activities that are inconsistent with the international rules-based order, including the use of economic and other forms of coercion." They said they "oppose any unilateral attempts to change the status quo in the East China Sea," underscored the importance of peace and stability across the Taiwan Strait, and objected to China's "unlawful maritime activities" in the South China Sea. They pledged to work jointly on the rapid development, security, and openness of fifth-generation communications technologies and "to rely on trustworthy vendors." They also recognized the need for cooperation with China "on areas of common interest."
Their vision of strengthening the U.S.-Japanese alliance relies on having Japan bolster its national defense capabilities as part of the Treaty of Mutual Cooperation and Security that the two countries signed in 1960. The leaders committed "to deepen defense cooperation across all domains, including cyber and space, and to bolster extended deterrence."
This would involve following through on plans to relocate some U.S. Marine Corps troops from Okinawa to Guam and working with allies and partners such as the Quad, the Association of Southeast Asian Nations, and the trilateral alliance with South Korea.
In a statement, the Chinese Embassy in Washington described the Biden-Suga comments on Hong Kong, Xinjiang, and the South China Sea as "harmful" and going "far beyond the scope of normal development of bilateral relations." Taiwan Presidential Office spokesman Xavier Chang embraced the joint statement and underscored "the importance of peace and stability across the Taiwan Strait."—SANG-MIN KIM