December 2020
By Jeff Abramson
Roughly half of the Mine Ban Treaty states-parties that have been contaminated at some point by landmines are now landmine-free, according to announcements made at the treaty's Nov. 16–20 annual meeting. At the treaty's 2019 review conference, members set the global goal of completing landmine clearance by 2025 in the 63 states-parties that have at some time declared that landmines were deployed on their soil. Participants celebrated announcements from Chile and the United Kingdom (for the Falkland Islands), the latest to announce that they had completed clearance of all known landmine contamination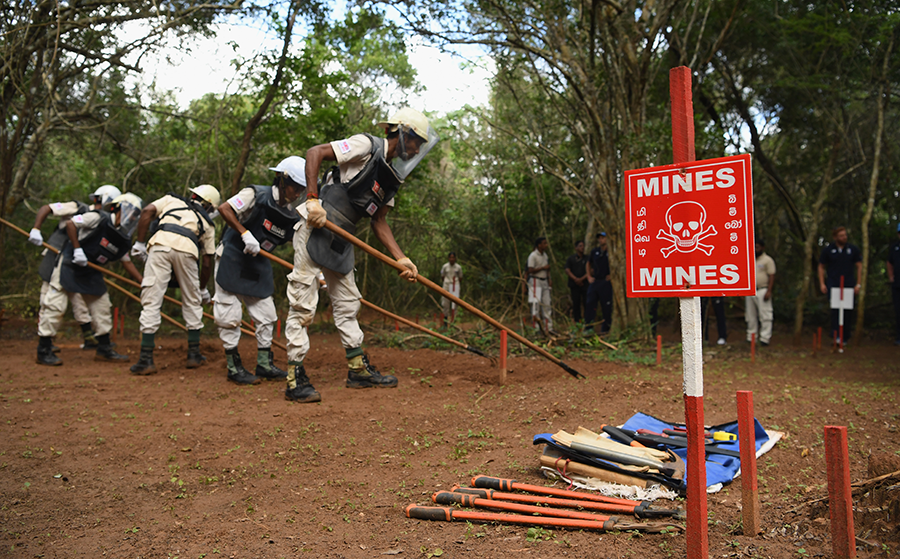 Complying with pandemic limits prohibiting meetings of more than 50 people in Geneva, parties to the 164-nation treaty met virtually to continue their efforts to rid the world of antipersonnel landmines. Nearly 500 participants registered for the meeting, including government representatives from 88 states-parties and 11 states not party to the treaty.
Under the treaty, countries have 10 years to clear known antipersonnel mine fields, but can seek extensions, seven of which were granted at this year's meeting and next steps were agreed for two countries that earlier declared completion but had since discovered additional contamination. Eritrea, however, failed to request an extension to its current deadline of Dec. 31, meaning it will soon be in noncompliance with the treaty.
While marking progress broadly on treaty goals, for the fifth year in a row the annual Landmine Monitor report recorded a high number of annual casualties caused by landmines and other explosive remnants of war. In 2019, the last year for which comprehensive data is available, there were at least 5,554 casualties recorded, 80 percent of whom were civilians where such status was known.
As with other treaty processes this year, transparency reporting rates fell, partly due to countries prioritizing pandemic needs. (See ACT, September 2020.) According to the Landmine Monitor, just 46 percent of states parties had submitted their annual reports by mid-October.
Having the meeting occur and take on key business, however, was seen as a success. Meetings of the Convention on Certain Conventional Weapons (CCW) that were scheduled for earlier in the month were delayed, again postponing discussion of lethal autonomous weapons systems, or "killer robots." The second review conference of the Convention on Cluster Munitions that was to take place in Lausanne, Switzerland, from Nov. 23–27 instead met for three days virtually Nov. 25–27 and will continue Feb. 4–5 next year.
The United States continued to attend the Mine Ban Treaty annual meeting as an observer, as it has done each year since 2009, despite announcing in January a new policy that ended its goal of one day joining the treaty. (See ACT, March 2020.) On the first day of the meeting, Sen. Patrick Leahy (D-Vt.) issued a press release in Washington encouraging the "incoming Biden-Harris administration …[to reinstate] the policy that was in place at the end of the Obama-Biden administration, which prohibits the use of anti-personnel mines except on the Korean Peninsula. At the same time, it should direct the Pentagon to modify its strategies and tactics to eliminate the use of anti-personnel mines within three years so the United States can join the treaty no later than Sept. 26, 2023."
During the annual meeting, the European Union similarly called "upon the United States to re-examine its decision to re-authorize the use of anti-personnel mines by U.S. military forces outside of the Korean Peninsula."
As it has been for years, the United States is the largest global donor to landmine clearance, victim assistance, and related efforts—more commonly known as mine action. According to the Landmine Monitor, the United States provided $177.4 million for mine action in 2019, 32 percent of all such international support.
Asked about the rationale for U.S. participation, a State Department spokesperson wrote to Arms Control Today on Nov. 20, "We participate in order to demonstrate solidarity with all those committed to eliminating, through concrete Humanitarian Mine Action (HMA), the risks that landmines pose to civilians; highlight U.S. efforts and leadership in HMA; and coordinate with other states, international organizations, and nongovernmental organizations regarding global HMA activities."