November 2020
By Kingston Reif and Shannon Bugos
The United States and Russia each dismissed last-minute proposals involving a short-term extension of the 2010 New Strategic Arms Reduction Treaty (New START), leaving the fate of the sole remaining U.S.-Russian nuclear arms control agreement undetermined on the eve of the U.S. presidential election.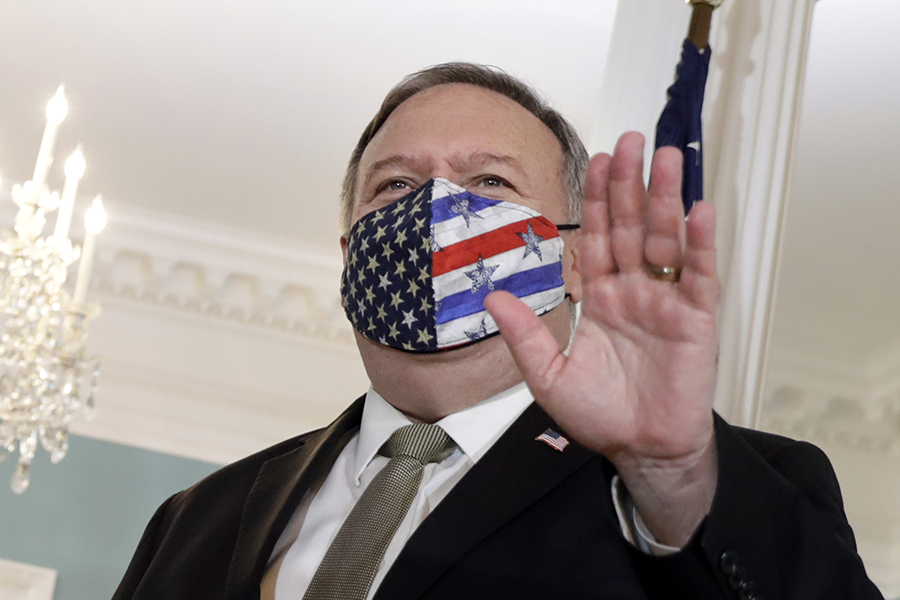 The down-to-the-wire diplomacy appeared to narrow the large gap between the two sides on prolonging the treaty, but no resolution was found, and the failure to close a deal raised questions about whether Russia ever intended to strike a deal with the Trump administration so close to the election or whether the Trump administration ever intended to extend New START. Administration officials have repeatedly criticized the treaty and waited more than three years to begin serious arms control talks with Russia.
It remains to be seen if the Trump administration and Russia will seek to continue negotiations later this year regardless of the election result. Democratic presidential candidate Joe Biden has said that if he is elected president in November, he will pursue the treaty's extension without conditions.
New START, which is slated to expire on Feb. 5, 2021, permits an extension of up to five years so long as the U.S. and Russian presidents agree.
After several months of talks, Washington and Moscow in mid-October exchanged dueling offers pairing a one-year extension of New START with an undefined one-year freeze on the numbers of U.S. and Russian nuclear warheads.
The Russian Foreign Ministry said in an Oct. 20 statement that Russia offers to extend New START for one year and "undertake a political commitment to 'freeze' for the above-mentioned period the number of nuclear warheads that each side possesses."
But the statement said that the offer "may be implemented only and exclusively on the premise that 'freezing' of warheads will not be accompanied by any additional demands on the part of the United States."
The foreign ministry added that the "time gained" by the New START extension "could be used to conduct comprehensive bilateral negotiations on the future nuclear and missile arms control that must address all factors affecting strategic stability."
Russia had previously called for extending New START by five years without conditions and balked at a warhead-level freeze.
The foreign ministry statement followed direction from Russian President Vladimir Putin on Oct. 16 to seek to extend New START "unconditionally for at least a year." Putin made no specific mention of a freeze on all warhead levels.
U.S. National Security Advisor Robert O'Brien responded to Putin's proposal on Twitter later that day, describing it as a "non-starter." He claimed that Russia had appeared willing to accept a U.S. offer to extend New START and freeze all warhead levels in tandem after he met with Russian Security Council Secretary Nikolai Patrushev in Geneva on Oct. 2.
It is not clear whether Russia had agreed in principle to such a two-part deal or whether Russia further amended its position between Putin's Oct. 16 comments and the Oct. 20 foreign ministry statement.
Regardless, the Trump administration praised Russia's willingness to agree to a short-term extension of New START and a freeze and said that although a deal was close, more work needed to be done to seal it.
"President [Donald] Trump has made clear that the New START Treaty by itself is not a good deal for the United States or our friends or allies," Secretary of State Mike Pompeo told reporters Oct. 21. He criticized the treaty for failing to capture Russia's large and, according to the Defense Department, growing arsenal of up to 2,000 nonstrategic nuclear warheads.
"What we've proposed to extend that agreement would be historic," Pompeo said. "But we need to make sure that U.S. and Russian negotiators get together just as soon as possible to continue to make progress to finalize a verifiable agreement."
O'Brien expressed optimism at an Oct. 28 Hudson Institute event that "if we can get through the verification issues, I think we're going to be able to get to a deal." "We'll see how that plays out over the next couple of days and weeks," he said.
If a deal is secured, the administration said it plans to use the ensuing year to translate it into a formal treaty that would also include China.
But Russia rejected the U.S. demand for verification of a freeze and said that such details should be deferred for future negotiations.
"We have the feeling that they [the United States] need verification for the verification's sake," Russian Deputy Foreign Minister Sergei Ryabkov told the Russian news outlet Interfax on Oct. 22.
"It may be considered that we've made two concessions," Ryabkov said, referring to Russia's willingness to agree to a one-year extension of New START and a one-year warhead-level freeze. "Let them make concessions to meet us halfway: let them drop their monitoring demand."
In a separate interview with Kommersant, Ryabkov said "that the degree of our differences is rather significant" and that he did not see "reasons for strong optimism" that New START would be extended.
He warned that "[r]ejecting this condition will immediately destroy the possibility of reaching the agreement" and that Russia would be willing to allow New START to expire if the United States continued to make unrealistic demands.
The warning appeared to be a response to repeated suggestions by Marshall Billingslea, U.S. special envoy for arms control, that Russia is desperate to extend New START and that Washington would raise the price to extend the treaty if Russia failed to meet U.S. demands.
Ryabkov told reporters on Oct. 27 that Washington and Moscow still "are exchanging documents behind closed doors" and that "Russia is open to continuing the dialogue."
The Trump administration's October offer of a short-term extension of New START and a freeze marked another shift in the U.S. negotiating position in arms control talks with Russia.
In August, the administration conditioned U.S. consideration of a short-term extension of New START on Russia agreeing to a politically binding framework deal that would verifiably cover all nuclear warheads, make changes to the New START verification regime, and be structured to include China in the future. (See ACT, September 2020.) The administration had earlier insisted that China immediately participate in trilateral arms control talks with the United States and Russia, which Beijing rejected. (See ACT, July/August 2020.)
Key details about the U.S. freeze proposal have yet to be clarified by the Trump administration.
According to an Oct. 20 report in The Wall Street Journal, a senior administration official said the United States wants both sides to declare the total number of warheads deployed on delivery systems of all ranges and kept in storage.
To verify that neither side was exceeding the declared number of warheads, the official said Washington wanted monitors to be stationed outside U.S. and Russian warhead production facilities. The official added that such a portal monitoring system, which has featured in past arms control agreements, did not need to be in place immediately but that Russia needed to agree to technical talks on how to eventually implement such an approach.
But Russian officials have called the adoption of such a system a nonstarter, at least in the near term.
In the past, the United States and Russia agreed to politically binding arms control and risk reduction measures without stringent verification protocols.
If Trump is not reelected and does not make a deal with Russia before Inauguration Day, a President Joe Biden would have 16 days before the treaty expires in which to pursue an extension. It is not clear whether he would continue to push for a freeze on all U.S. and Russian warheads.
Billingslea said in an Oct. 20 interview that a potential Biden administration would have to "rethink" its support for an unconditional extension of New START.
According to Billingslea, Trump, "by signaling his intention to pursue this historic approach and with the Russians now agreeing in principle, that now sets the floor for future arms control discussions."
New START caps the U.S. and Russian strategic nuclear arsenals at 1,550 deployed warheads and 700 deployed missiles and heavy bombers each.