March 2020
By Kelsey Davenport
India conducted two tests of a nuclear-capable, submarine-launched ballistic missile (SLBM) in January. When deployed, the missile, known as the K-4, will significantly expand India's second-strike capability.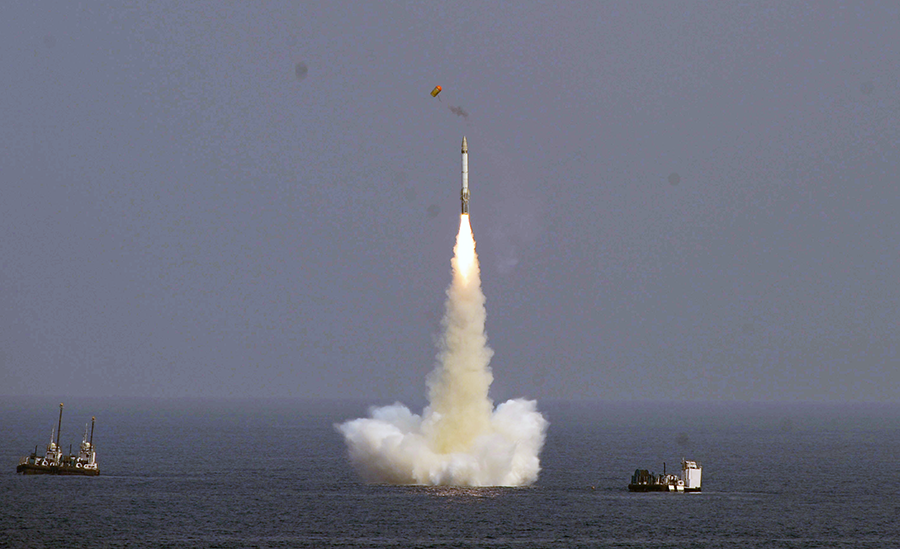 The Jan. 19 and Jan. 25 tests of the K-4 were both conducted from submerged pontoons in the Bay of Bengal. The Indian Defence Research and Development Organisation, which developed the missile, did not comment on either test, but Indian officials were quoted in news outlets describing the launches as successful.
The K-4 has an estimated range of 3,500 kilometers. Prior to the January tests, it had been launched successfully in 2016 from a submarine, but a subsequent test in 2017 failed. Conducting the January 2020 tests from a submerged pontoon could have been intended to prevent any damage to India's ballistic missile submarines in the event of a failure.
India plans to deploy the K-4 on its domestically built Arihant-class ballistic missile submarines. Two of the submarines are complete, and New Delhi intends to build two or three more. The existing submarines will likely be able to carry four K-4s, but subsequent submarines could be expanded to fit eight launch tubes.
India's deployed nuclear-capable SLBM, the K-15, has an estimated range of 700 kilometers. The K-15 was successfully tested from an Airhant submarine in 2018 and likely deployed shortly afterward, as Indian Prime Minister Narendra Modi announced in November 2018 that the country's first ballistic missile submarine had completed its inaugural deterrence patrol. (See ACT, December 2018.) Airhant-class submarines can carry up to 12 K-15 missiles.
At the time, Modi said India was pursuing a second-strike capability in response to "those who indulge in nuclear blackmail."
The K-15's range would allow India to target parts of Pakistan, but New Delhi would need the longer-range K-4 to reach Islamabad and northern parts of Pakistan. The extended range of the K-4 would also allow India to reach more targets in China. Increasingly, India's focus on developing and deploying longer-range, nuclear-capable ballistic missiles appears directed at countering China, not Pakistan.
Pakistan has referred to India's pursuit of SLBMs as destabilizing, arguing that they are the first "ready-to-fire" missiles deployed in South Asia.
Indian and Pakistani nuclear warheads are largely believed to be de-mated, or stored separately from delivery systems. On a submarine, however, de-mating is not feasible, and the warheads are installed atop the ballistic missiles.