January/February 2020
By Julia Masterson
North Korea closed the decade by announcing it would no longer be constrained by self-imposed moratoriums leader Kim Jong Un had followed since just before he first met U.S. President Donald Trump in 2018. At their Singapore summit that year, Kim agreed to refrain from testing nuclear weapons or long-range missiles. Unable to negotiate progress since, the two leaders have returned to issuing fiery rhetoric.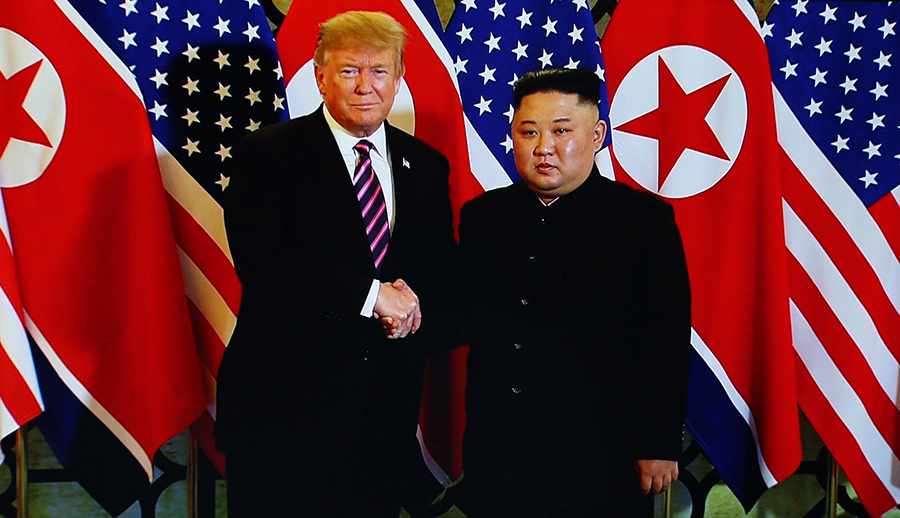 North Korea's "powerful nuclear deterrent capable of containing the nuclear threats from the U.S." would be placed on "constant alert," Kim said at the fifth plenary meeting of the 7th Central Committee of the Worker's Party of Korea, held Dec. 28–31 in Pyongyang. "The scope and depth of [North Korea's] deterrent will be properly coordinated depending on the U.S. future attitude towards the DPRK," he said, according to the state-run Korean Central News Agency.
Citing Washington's failure to ease its "hostile policy," Kim declared that North Korea is no longer "unilaterally bound" to its commitments, alluding to a possible resumption of testing this year.
Taken with Kim's mention of a "promising strategic weapon system" and an announcement that North Korea would be "chilling [its] efforts for worldwide nuclear disarmament and nonproliferation," Kim's speech at the plenary meeting suggests that North Korea's nuclear weapons development may intensify in the new year.
Pyongyang's decision to step further back from the negotiating table—where the conclusion of a North Korean denuclearization agreement with Washington was once possible—did not occur within a vacuum. In the last month of 2019, Washington and Pyongyang resorted to hostile rhetoric and provocative threats that further strained their already inimical bilateral relationship. A look back at the year in review indicates that both the United States and North Korea missed opportunities to make progress toward goals of denuclearization and peacebuilding agreed upon at the 2018 summit between Kim and Trump.
Kim and Trump met Feb. 27–28 in Hanoi, Vietnam, for the first time after the historic June 2018 summit in Singapore. In Hanoi, they discussed objectives enshrined in a joint declaration released after their Singapore meeting, namely denuclearization and peacebuilding on the Korean peninsula. According to North Korea's foreign minister Ri Yong Ho, the Hanoi summit ended abruptly after the Trump administration demanded "one more thing" of Pyongyang in addition to its offer to trade permanent dismantlement of uranium and plutonium production facilities at the Yongbyon nuclear complex for a partial removal of UN sanctions. At a news conference in Hanoi, Trump said North Korea wanted sanctions lifted "in their entirety" for partial denuclearization, signaling a clear disconnect between Washington and Pyongyang's interpretation of the summit.
Kim remarked in an April 12 speech before the Supreme People's Assembly that Pyongyang would entertain negotiations "one more time," if Washington were to propose a third summit. The North Korean leader demanded that the United States amend its "methodology" to "lay down unilateral requirements and seek constructive solutions," adding that Pyongyang had already initiated "crucial and significant measures," referring to North Korea's self-imposed moratoriums. Kim gave the Trump administration until the end of the year to change its negotiating stance, or the "prospects for solving a problem will be bleak and very dangerous."
The two leaders met once more, in Panmunjom at the demilitarized zone between North and South Korea on June 30, where they agreed to resume working-level talks.
Ahead of the subsequent round of talks, held Oct. 4–5 in Stockholm, Sweden, Vox reported that the United States would propose trading a three-year suspension of UN sanctions on North Korea's textile and coal exports in exchange for verifiable closure of the Yongbyon facility and an additional measure—likely ending uranium enrichment. The offer appeared to build on what Ri Yong Ho disclosed was on the table in Hanoi and included, as the Trump administration demanded, an additional concession by North Korea.
While unconfirmed, this proposed exchange aligned with the Trump administration's apparent shift in negotiating approach. Trump said in September he was open to a "new method" for talks, and, while Trump did not provide any details, North Korea's chief negotiator Kim Myong Gil praised Trump for taking a more flexible approach. Until then, the Trump administration's strategy had largely centered on demanding North Korea's full denuclearization in return for sanctions alleviation.
Kim Myong Gil said that a new method was the "best option" and suggested that "second thought" be given to the possibility of a "step-by-step solution starting with the things feasible first while building trust in each other," likely referring to North Korea's preference for an incremental approach that exchanges steps toward denuclearization for actions by the United States to lift sanctions and address Pyongyang's security concerns. While the details of the Stockholm meeting remain unclear, a spokesperson for North Korea's Foreign Ministry described the talks as "sickening" in an Oct. 6 statement released by the Korean Central News Agency.
Just as after Hanoi, it appears that Washington and Pyongyang left Stockholm with vastly different takeaways from their working-level talks. Washington proposed meeting again two weeks later, according to an Oct. 5 press release published by the State Department. But North Korea's foreign ministry, in the spokesperson's Oct. 6 statement, said it was "not likely at all" that the United States could "propose a proposal commensurate to the expectations of the DPRK and to the concerns of the world in just [a] fortnight." The Oct. 4–5 working-level talks marked the last formal diplomatic exchange between the United States and North Korea of 2019.
Though Kim's year-end deadline for negotiations with the United States expired on Dec. 31, Kim acknowledged in his plenary meeting speech that North Korea "urgently need[s]" engagement with the international community for "economic construction."
Kim did not entirely denounce the possibility of continued bilateral talks with the United States, but he warned that "the more the U.S. stalls for time and hesitates in the settlement of the DPRK-U.S. relations, the more helpless it will find itself." North Korea could "never sell [its] dignity," Kim said, reiterating Pyongyang's long-standing refusal to concede its nuclear weapons program without U.S. concessions in return.