July/August 2019
By Kelsy Davenport
China and North Korea sought to shore up their alliance at a June summit in Pyongyang between Chinese President Xi Jinping and North Korean leader Kim Jong Un. It was their fifth meeting, held as U.S.-North Korean negotiations remain stalled one year after Kim and U.S. President Donald Trump met for the first time in Singapore.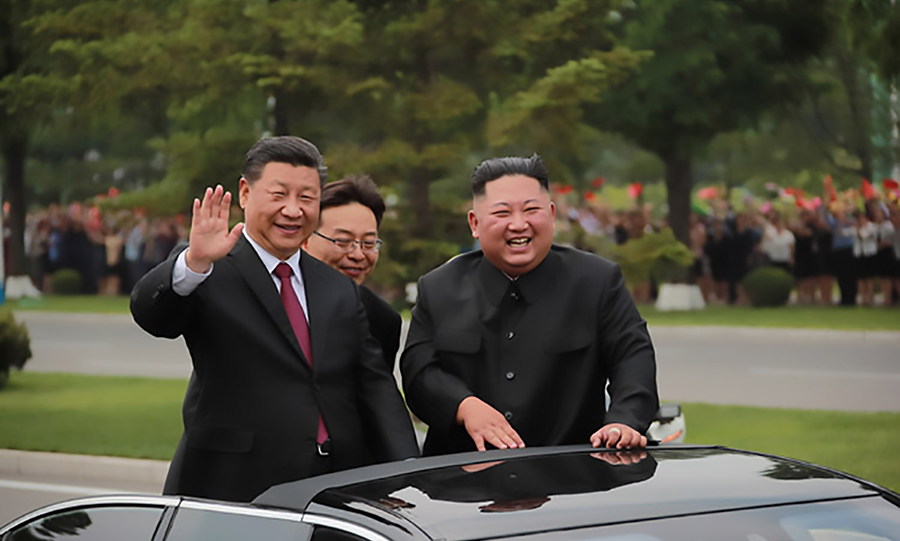 The June 20–21 summit, Xi's first trip to North Korea, focused on economic development and cooperation between the two countries. The leaders emphasized the importance of stability in the region, but there were few explicit references in official statements from China and North Korea regarding North Korea's nuclear weapons program or advancing denuclearization.
Xi spoke highly of North Korean efforts to "safeguard peace and stability on the Korean Peninsula and promote the denuclearization of the peninsula," according to a June 20 statement from the Chinese Foreign Ministry. He also expressed his hope that talks between the United States and North Korea "will move forward and bear fruit."
Xi praised North Korea's "active measures to avoid tension" and expressed concern that North Korea has not received "a positive response from the concerned side," likely referring to the Trump administration's reluctance to pursue an incremental approach to denuclearization and peace-building.
The Chinese statement reported that Kim said North Korea is "willing to stay patient" and hopes that the United States will meet North Korea "halfway to seek solutions that accommodate each other's legitimate concerns."
The talks likely included discussions on sanctions relief, given North Korea's frustration with Washington's unwillingness to lift or waive economic restrictions before North Korea completes denuclearization. China has supported limited sanctions relief in exchange for North Korean steps toward denuclearization in the past.
Prior to arriving in Pyongyang, Xi published an article in Rodong Sinmun, the official newspaper of North Korea's state party, outlining his ambitions for a "grand plan" that would lead to "permanent peace in the region." Xi's article appears to be the first piece by a foreign leader run by the paper, which focuses on a domestic audience.
He did not offer details on the plan or mention North Korea's nuclear weapons or denuclearization, but said that Beijing is looking to strengthen "strategic communication" and cooperation with North Korea. He also praised North Korea for its restraint and commitment to dialogue, saying that Beijing supports Pyongyang's "adherence to the right direction of politically solving the issues" through negotiations.
Xi's visit to Pyongyang preceded the Group of 20 summit in Japan in late June and may have been intended to gain leverage in contentious trade talks between Washington and Beijing by reminding Trump that China has influence in North Korea, although the Chinese Foreign Ministry denied any connection between the meetings. In a June 18 phone call, Xi told Trump that he was prepared to meet with Trump during the summit, but did not say if North Korea would be a topic of discussion.
Stephen Biegun, U.S. special representative for North Korea, did not seem concerned that Xi's visit to Pyongyang was indicative of Chinese frustration with the U.S. approach to negotiations or that Beijing would attempt to leverage its relationship with North Korea during trade discussions. "China agrees with us 100 percent" on North Korea policy, Biegun said June 19, adding that he was confident that Xi would "send constructive and appropriate messages" to Kim during the visit.
Negotiations between the United States and North Korea remain stalled, but Kim and Trump recently exchanged letters. Trump received another "beautiful" letter from Kim, he said on June 11, adding that "something will happen that's going to be very positive."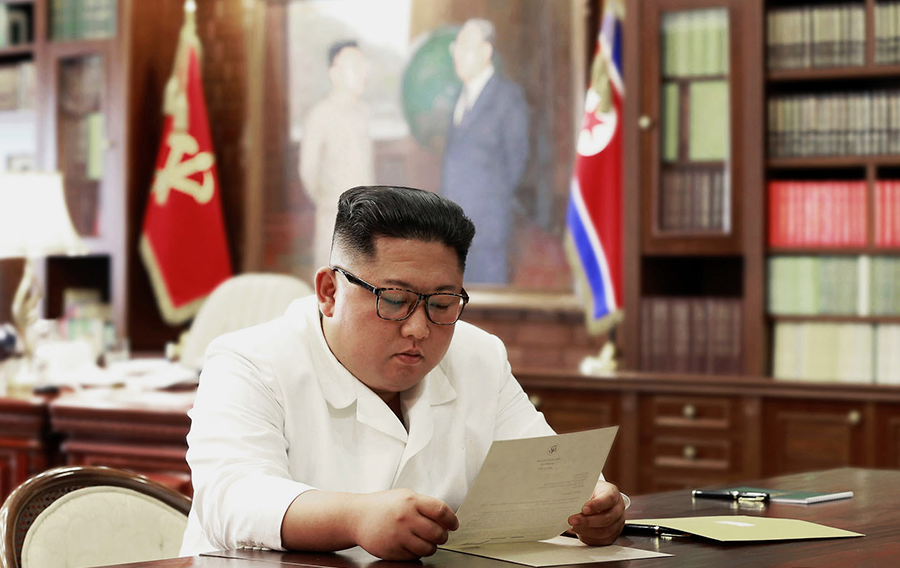 The Korean Central News Agency reported on June 23 that Trump's response to Kim "contains excellent content." Photos of the letter shared by North Korean media indicate that it was dated June 12, the first anniversary of the Singapore summit.
Despite the positive characterization of Trump's letter, North Korean media continues to criticize the U.S. approach to negotiations. (See ACT, May 2019.) In a June 4 statement, the North Korean Foreign Ministry said the United States needs to "cogitate" on the "correct strategic choices before it is too late."
The statement said that, in the year after the 2018 Singapore summit, progress could have been made on the goals agreed by the leaders "had the United States done anything" to "help in addressing the issues on the basis of serious position and sincere attitude."
Biegun defended the Trump administration's approach to negotiations in a June 19 speech at the Atlantic Council. Biegun said talks with North Korea remain in a "holding pattern," but noted "an uptick in activity" over the past week, likely referring to the exchange of letters.
Stressing the importance of flexibility, Biegun said the United States will continue to pursue agreement on the end state of negotiations before pursuing incremental steps in tandem with North Korea, an approach that Kim rejected during the second summit with Trump in Hanoi in February. (See ACT, March 2019.)
"We will never get to our destination if we don't know where we are going," Biegun said.
Biegun also said that his North Korean counterparts must be empowered to "negotiate on all of the issues," adding that working-level talks must address more than peace-building and transforming relations. "We also have to talk about denuclearization," Biegun said.