May 2019
By Kingston Reif and Shervin Taheran
President Donald Trump has ordered his staff to seek a new agreement on nuclear weapons that would encompass all Russian and Chinese nuclear arms, senior administration officials told reporters in April. Currently, the United States and Russia abide by the bilateral 2010 New Strategic Arms Reduction Treaty (New START) that limits only deployed strategic weapons and does not involve China. The treaty is due to expire in February 2021, but the pact allows the two sides to extend it for up to five years.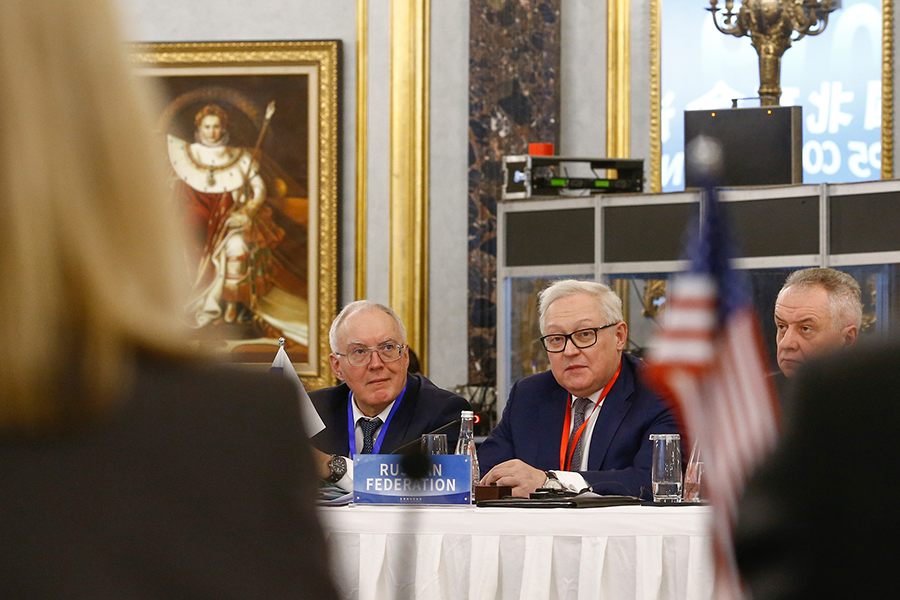 "The president has made clear that he thinks that arms control should include Russia and China and should include all the weapons, all the warheads, all the missiles," said a senior White House official on April 25. "We have an ambition to give the president options as quickly as possible to give him as much space on the calendar as possible."
Sergei Ryabkov, Russia's deputy foreign minister, suggested Moscow's response would depend on the nature of any U.S. proposals. "Further steps towards nuclear disarmament will require creating a number of prerequisites and taking into account many factors that have a direct impact on strategic stability" including missile defense systems, cyber weapons, weapons development in space, and advanced conventional arms, he said in an April 26 news briefing.
The Trump administration has shown no indication that it would be willing to limit these weapons in an agreement with Russia and China. Even if it were willing to do so, it is highly unlikely an agreement could be reached before New START expires in less than two years.
The president's new order followed his April 4 comments at the White House, while sitting next to Chinese Vice-Premier Liu He, on the need for the United States, Russia, and China to reduce the numbers of and spending on nuclear weapons.
"Between Russia and China and us, we're all making hundreds of billions of dollars' worth of weapons, including nuclear [weapons], which is ridiculous…. We have to be the leader. I think it's much better if we all got together and we didn't make these weapons…. And those three countries, I think, can [come] together and stop the spending and spend on things that maybe are more productive toward long-term peace," Trump said.
Senior administration officials echoed the president's desire to include China in arms control. The Trump administration is "at the very beginning of conversations about renewing" New START, said Secretary of State Mike Pompeo in April 10 testimony before the Senate Foreign Relations Committee. "If we can get the deal right, if we can make sure that it fits 2021 and beyond, President [Donald] Trump has made very clear that if we can get a good, solid arms control agreement, we ought to get one."
Remaining unclear is whether Pompeo was referring to conversations within the Trump administration, conversations with Russia, or both. Administration officials have been saying for months that they are in the early stages of formulating the U.S. position on an extension, arguing that plenty of time remains before the treaty lapses. Several factors would guide a decision, according to the officials, including how Russia pursues its concerns about U.S. compliance with the pact, whether Russia would agree to limit new strategic weapons it is developing, and Russian compliance with other arms control agreements.
Pompeo appeared to add additional factors at the hearing, suggesting that future arms control agreements should incorporate more nations. "We need to make sure that we've got all of the parties that are relevant," he said. "It's very different today in the world than it was" when New START was completed, he added. Asked to clarify which nations should be included, Pompeo said, "[I]t's certainly China that has large numbers."
Russian officials have also offered ambiguous projections for New START's future. Anatoly Antonov, Russian ambassador to the United States, said Russia is ready to discuss extending the treaty, but repeated previously stated concerns about U.S. compliance with some of the pact's conversion procedures.
"The extension of the New START is not a simple technicality that could be resolved in a couple of weeks," he said at the Arms Control Association's April 15 annual meeting. "Serious issues must be settled."
Antonov also said that the full array of Russia's planned new nuclear weapons would not be covered by New START, so any limits on them would need "another round of negotiations," which would require Senate and Duma approval.
Meanwhile, the treaty's dispute resolution forum, the Bilateral Consultative Commission, met in April, according to an April 12 release from the U.S. State Department. It was 17th meeting of the commission, which meets twice yearly.
Several current and former U.S. military officials have recently lamented the reduced level of communication and dialogue between the United States and Russia.
"During the Cold War, we understood each other's signals. We talked," said U.S. Army Gen. Curtis Scaparrotti, the top military commander in Europe, in an April interview. "I'm concerned that we don't know them as well today."