April 2019
By Shervin Taheran
Prospects for extending the New Strategic Arms Reduction Treaty (New START) appeared to dim in March as U.S. and Russian officials threw cold water on the idea of a quick or easy extension process. The treaty capping deployed strategic nuclear weapons in both countries is due to expire in February 2021, but it could be extended for up to five years by mutual agreement.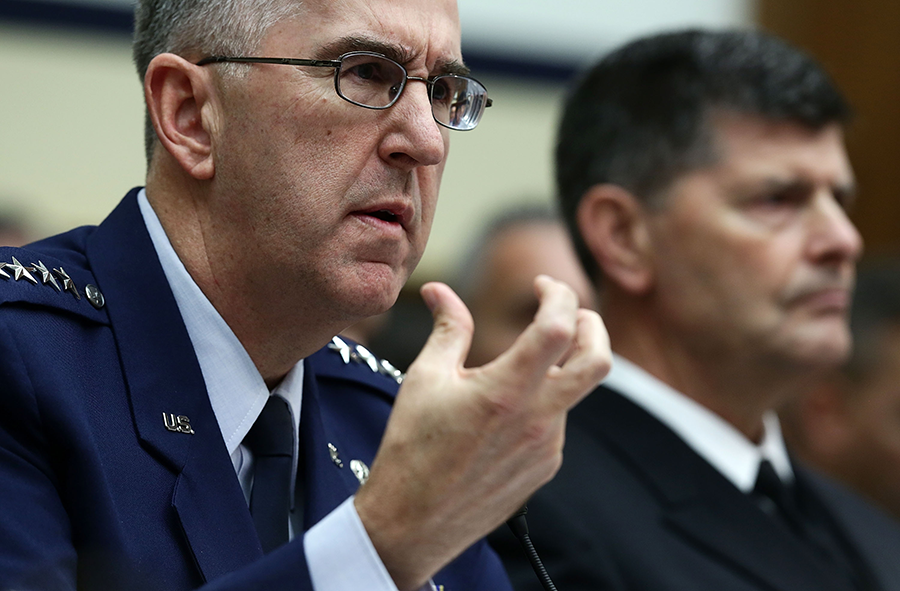 U.S. officials have avoided expressing a public position on extending the treaty and have expressed concern about Russia's strategic weapons plans. Yleem Poblete, U.S. assistant secretary of state for arms control, verification, and compliance, told the UN Conference on Disarmament (CD) in Geneva on March 19 that Russia "remains in compliance" with the treaty, but she questioned whether Russia's development of new nuclear weapons were the actions of a "responsible stakeholder." One week earlier, Andrea Thompson, U.S. undersecretary of state for arms control and international security, told a Washington nuclear policy conference that the remaining two-year period offers plenty of time to review the pact.
For their part, Russian officials have expressed concerns about U.S. compliance with New START and have suggested that lengthy talks may be needed to resolve them. Russia has questioned U.S. procedures to convert some weapons launchers from nuclear to conventional roles. The two nations need to "solve the problem" related to the conversion procedures, which Russia "cannot certify," said Russian Foreign Minister Sergey Lavrov at the Geneva conference one day after Poblete spoke. (See ACT, March 2019.)
According to Lavrov, Russia has put forth "possible solutions," adding that "it is a question of political will in Washington." Any such talks would require significant time, Russian officials have said, quashing the hopes of some that the treaty could be extended quickly by a new U.S. president if President Donald Trump fails to win re-election in November 2020.
"It is clear for us that first you have to have a dialogue," said Anatoly Antonov, Russian ambassador to the United States, at the Washington conference. "We hope to find solutions before we put our signature on any document."
Introducing potential further complications, Lavrov said the deterioration of arms control agreements such as the Intermediate-Range Nuclear Forces Treaty shows that nuclear arms reductions "can no longer be sustained in a bilateral U.S.-Russia format" and that a multilateral process should be launched.
Meanwhile, the international community has strengthened calls for the treaty's extension. Notably, UN Secretary-General António Guterres spoke at the Feb. 25 opening of the CD's 2019 session to urge the United States and Russia to extend the pact. The treaty is "the only international legal instrument limiting the size of the world's two largest nuclear arsenals," he said, praising the agreement's confidence-building and inspection measures.
Contributing to the Trump administration's consideration of New START, a senior U.S. military official expressed support for the treaty during Feb. 26 congressional testimony.
U.S. Air Force Gen. John Hyten, head of U.S. Strategic Command, told the Senate Armed Services Committee that the treaty allows him to "understand what [Russia's] limits are and…position my force accordingly." New START also provides "unbelievably important" insight about Russian nuclear weapons activities, he said, adding that the United States has "very good intelligence capabilities, but there's really nothing that can replace the eyes-on, hands-on ability to look at something."
Hyten's support was not unconditional, as he also expressed concerns about planned Russian strategic weapons, including a new underwater torpedo, a globe-circling nuclear-powered cruise missile, and a hypersonic glide vehicle. None of these would be constrained by the treaty, and Hyten said the State Department is "reaching out to the Russians and the Russians are not answering favorably."
The Russian Foreign Ministry responded to Hyten's remarks by saying that U.S. concerns "outside of the purview of the New START Treaty could be considered in the context of a strategic dialogue" but "Washington stubbornly avoids this dialogue and prefers to whip up hysteria in the public space."