December 2018
By Kelsey Davenport
North Korea is stepping up pressure on the United States in its push for the Trump administration to grant sanctions relief early in the denuclearization process.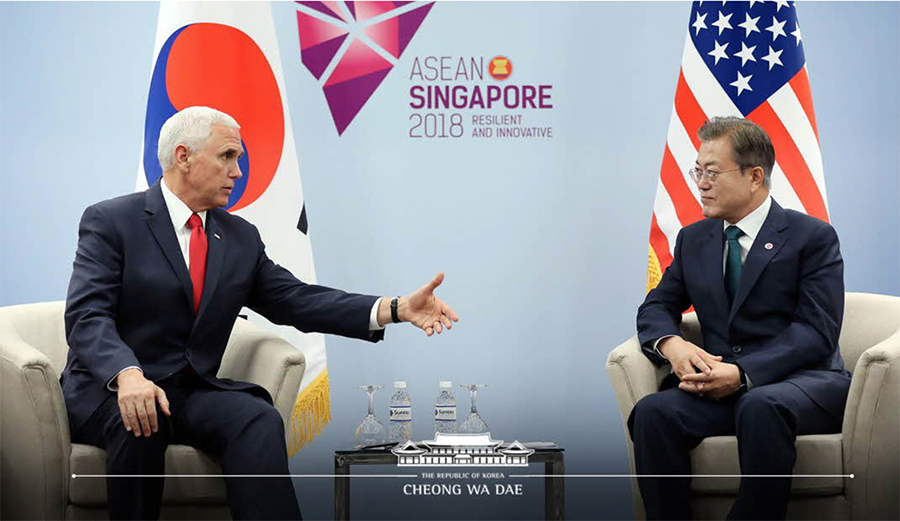 In addition to canceling the meeting scheduled for Nov. 8 in New York between U.S. Secretary of State Mike Pompeo and his negotiating counterpart, Kim Yong Chol, North Korea drew attention to its military capabilities by announcing that it tested a new, unspecified "ultramodern tactical weapon."
These steps come as Pyongyang is ratcheting up its condemnation of U.S. sanctions policy and calling for relief earlier in the process. (See ACT, November 2018.)
Although Pyongyang's voluntary testing moratorium only covers its long-range ballistic missiles and nuclear warheads, until now North Korea has refrained from military activities and testing in 2018 that might be viewed by South Korea or the United States as provocative. This Nov. 16 test might be a signal to Washington that North Korea will test military systems if talks do not produce results soon.
North Korea did not provide details about the weapon, but emphasized that it was a tactical system. North Korean leader Kim Jong Un was described in the state-run Korean Central News Agency (KCNA) as "expressing great satisfaction" in the test and noting that it was a "striking demonstration" of the "rapidly developing defense capability of the country."
The Trump administration downplayed the test, and the State Department issued a statement saying that the United States remains confident the promises of the Singapore summit document will be fulfilled.
The State Department initially blamed the meeting cancellation on scheduling difficulties. After North Korea announced it had canceled the meeting, Nikki Haley, U.S. ambassador to the UN, said Pyongyang was not ready and so the talks had to be postponed. No new date has been announced.
The cancellation comes as North Korea and the United States continue to trade barbs over the pace of sanctions relief and next steps in the process.
Initially it appeared that North Korea was seeking U.S. agreement on a peace declaration ending the Korean War, but it increasingly looks like Pyongyang is now prioritizing sanctions relief. North Korea may be emboldened by support for sanctions removal from Russia, China, and, to a lesser extent, South Korea, all of which are calling for the United States to ease restrictions earlier in the negotiating process.
KCNA quoted Kim on Nov. 1 as saying that "vicious sanctions" imposed by "hostile forces" stand in North Korea's way "toward promotion of peoples well-being and development."
The following day, KCNA ran a commentary criticizing U.S. sanctions and saying that the United States "should not forget what it promised" in Singapore and that there is "no justification for sanctions" after the "active and preemptive" steps taken by North Korea.
The steps likely referred to North Korea's voluntary moratorium on nuclear and long-range missile testing issued in April and dismantlement of the nuclear test site in May. (See ACT, June 2018.)
Haley said on Nov. 8, however, that it is North Korea's turn to act and said that the United States has "given a lot of carrots up until now" and will not "get rid of the stick because they have not done anything to warrant getting rid of the sanctions yet."
The United States continues to press for full sanction implementation until the denuclearization process is completed, but there is already evidence that adherence is slipping.
The annual report of the U.S.-China Economic and Security Review Commission, released in November, concluded that "Beijing appears to have already started to loosen enforcement of sanctions on North Korea, undermining the U.S. 'maximum pressure' campaign."
The report recommended that the Treasury Department provide a report assessing Chinese enforcement and a list of entities that continue to conduct trade with North Korea.
Haley called out Russia after a UN Security Council meeting for pushing to lift certain sanctions on North Korea, particularly as they apply to what Russia describes as "serious humanitarian problems." The Russian mission to the United Nations said in a statement that the current situation is "absolutely unacceptable" because it violates decisions made by the council that sanctions should not be directed at the North Korean people.
Haley said that the U.S. goal is to ensure that humanitarian aid is not compromised and that the Trump administration is "taking our time in vetting that very carefully."
Despite the stalled progress, planning appears to be continuing for a second summit between Trump and Kim.
Vice President Mike Pence said on Nov. 15 in an NBC interview that the summit was going to happen and the two leaders would decide on a "verifiable plan" for North Korea to make a declaration detailing its nuclear and missile capabilities.
Contrary to expectations, Pence said that the United States will not require that North Korea provide a complete list of its nuclear weapons and missile sites ahead of the second summit. The Trump administration reportedly had been pursuing such a declaration from North Korea since Pompeo went to Pyongyang in July after the Singapore summit. (See ACT, September 2018.)