December 2018
By Kelsey Davenport
Indian Prime Minister Narendra Modi announced in November that the country's first ballistic missile submarine completed its inaugural "deterrence patrol."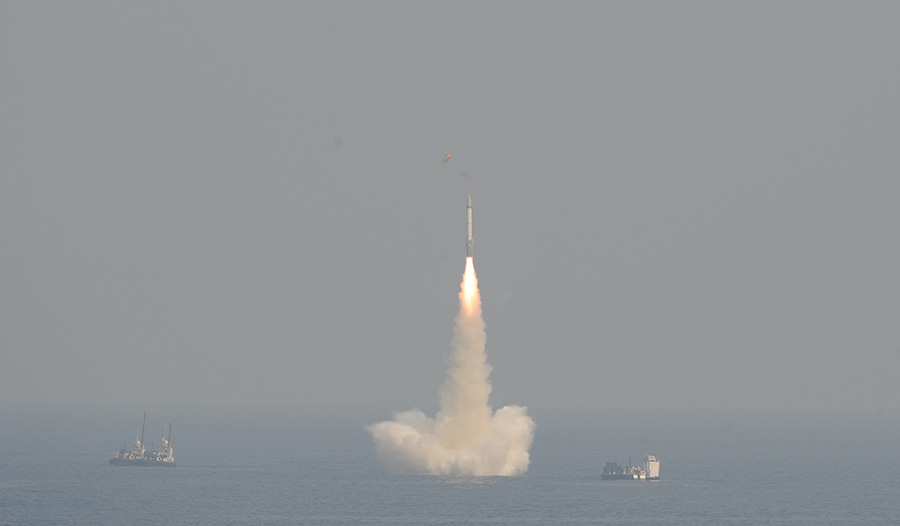 Modi described the deployment of the INS Arihant on Nov. 5 as an "open warning for the country's enemies" and a response to "those who indulge in nuclear blackmail." Modi did not specifically mention Pakistan, but his message was likely directed at Islamabad.
Modi's description of the sub's activities could mean that the submarine was armed with nuclear-tipped submarine-launched ballistic missiles (SLBMs). It is unclear how long the patrol lasted.
The Arihant is India's first domestically built, nuclear-powered ballistic missile submarine. It was commissioned in 2016 and began sea trials at that time. (See ACT, April 2016.) The lapse between sea trials and the submarine's first patrol is believed to have been caused by extensive damage after a hatch was left open in 2017, flooding the submarine.
The Arihant can carry 12 K-15 SLBMs, which have an estimated range of 750 kilometers. The K-15 has been tested multiple times, including in August 2018. In the future, the submarine could carry four K-4 SLBMs. The K-4 is still under development and has an estimated range of about 3,500 kilometers. The longer-range missile is likely designed with China in mind, while the shorter-range K-15 puts Pakistan in range.
The Arihant deployment completes India's nuclear triad, that is, the ability to deliver nuclear weapons from land-, air-, and sea-based systems. It also enhances India's second-strike capability, although India, with only one deployed submarine, will not be able to conduct continuous deterrent patrols at this time.
A second ballistic missile submarine was reportedly finished in December 2017, and an additional two submarines are under construction. India plans to build four to six nuclear-capable ballistic missile submarines. These subsequent submarines are larger than the Arihant and could hold up to eight K-4 ballistic missiles.
Pakistani Foreign Minister Makhdoom Shah Mahmood Qureshi said on Nov. 8 that the Arihant's patrol "marks the first actual deployment of ready-to-fire nuclear warheads in South Asia" and is a "matter of concern" for states in the region and the international community.
Indian and Pakistani nuclear warheads are largely believed to be de-mated, or stored separately from delivery systems. On a submarine, however, de-mating is not feasible, and the warheads are stored paired with the ballistic missiles.
Mohammad Faisal, a spokesman for the Pakistani Foreign Ministry, said that "no one should doubt Pakistan's resolve and capability to meet the challenge" posed by India's recent developments.
Pakistan is currently developing a sea-launched cruise missile, the Babur-3, likely for use with its diesel submarines. Pakistan tested the Babur-3, which has an estimated range of about 450 kilometers, from a submerged barge in 2017 and 2018. Pakistani officials said the move was prompted by India's decision to develop SLBMs.