October 2018
By Kingston Reif
Several Republican senators are expressing support for extending the 2010 New Strategic Arms Reduction Treaty (New START) amid signals that the Trump administration may choose not to renew the pact.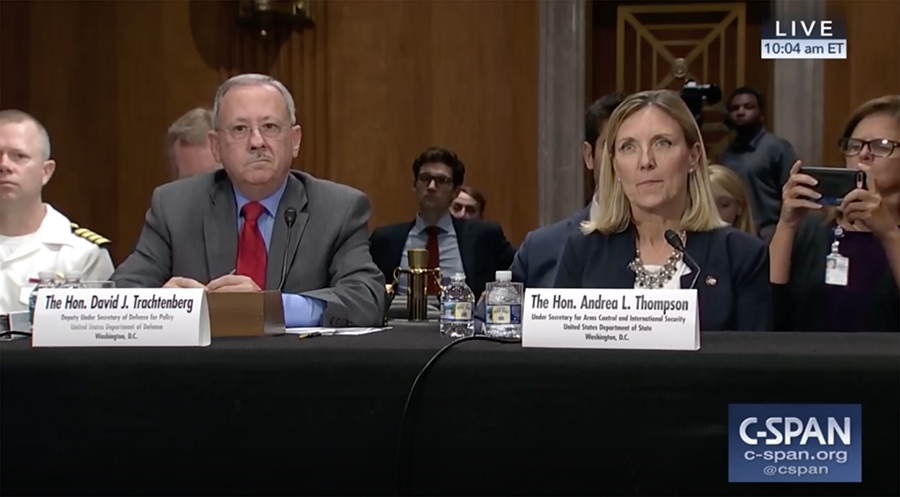 Although it expires in February 2021, the treaty can be extended up to five years by agreement of the U.S. and Russian presidents without requiring further action by Congress or the Duma. Its expiration, without a replacement, would end treaty restrictions limiting the number of deployed strategic warheads on each side to a maximum of 1,550, a target each met this year and that is far below the tens of thousands deployed during the Cold War. (See ACT, March 2018.)
"We ought to be a little bit more pro-continuing the benefits the [New] START treaty gives us rather than getting the idea there might be some way we get out of it," said Sen. Johnny Isakson (R-Ga.) Sept. 18 at a Senate Foreign Relations Committee hearing on U.S.-Russian arms control efforts.
Russian President Vladimir Putin has repeatedly expressed interest in extending the treaty, which was ratified in 2011, although Russia has raised concerns about some of the procedures the United States has used to remove nuclear weapons launchers from accountability under the agreement.
The Trump administration has yet to formulate the U.S. position. John Bolton, President Trump's national security adviser, said that the administration remains in the "very, very early stages" of an interagency review about whether to extend, replace, or jettison New START or to pursue a different type of approach, such as the 2002 Strategic Offensive Reductions Treaty, which only limited deployed warheads and did not include verification provisions. (See ACT, September 2018.)
Andrea Thompson, undersecretary of state for arms control and international security, reiterated at the hearing that the administration is still considering its options. "I know this committee has sought the Trump administration's view of extending the treaty," she said. "A decision has not been made at this time."
Thompson added that several issues would have an impact on an extension decision, including "Russia's decision to manufacture compliance issues regarding U.S. weapons," whether Russia would agree to limit the new strategic weapons systems Putin boasted about in a March speech, and Russia's "behavior in other arms control agreements."
In a pre-election address to the Russian Federal Assembly on March 1, Putin boasted about the development of several new nuclear weapons systems, including nuclear-armed hypersonic glide vehicles; globe-circling, nuclear-powered cruise missiles; and very long-range nuclear torpedoes for use against U.S. port cities. (See ACT, April 2018.)
Since 2014, the United States has accused Russia of testing and deploying ground-launched cruise missiles in violation of the 1987 Intermediate-Range Nuclear Forces (INF) Treaty and is reviewing what the State Department calls defensive options in case Russia's actions "result in the collapse of the treaty." (See ACT, January/February 2018.) Moscow denies it is violating the agreement and instead has accused Washington of breaching the accord.
Neither Thompson, nor David Trachtenberg, the deputy undersecretary of defense for policy, would provide their views on what the implications would be if New START were allowed to expire in 2021 with nothing to replace it. Trachtenberg testified alongside Thompson at the Sept. 18 hearing.
The testimony from Thompson and Trachtenberg seemed to surprise and trouble some Republican committee members, particularly the question of linking continuation of New START to disputes involving other arms control treaties. Further, administration officials have had little to say publicly about the benefits of New START limitations to restrain the U.S. and Russian nuclear arsenals.
"My concern is that we could be…saying, "Well, they're violating the INF [Treaty]…and all these other treaties, and we don't like all the stuff they're doing,' which is true," said Sen. Rand Paul (R-Ky.). "But I worry that we just throw, then, the New START treaty out."
"If the [New] START treaty is being complied with and it's yielding the benefits to us of not having to have so many nuclear armaments," committee chairman Bob Corker (R-Tenn.) asked, "we would not consider undoing the [New] START treaty because other treaties are not being adhered to, would we?"
Democratic members of the committee also criticized the administration's position on the agreement and pointed out that their continued support for spending hundreds of billions of dollars to upgrade the U.S. nuclear arsenal hinged on the administration's support for arms control, including extending New START. (See ACT, December 2017.)
"I…want to remind the administration that bipartisan support for nuclear modernization is tied to maintaining an arms control process that controls and seeks to reduce Russian nuclear forces, which inevitably means promoting military and fiscally responsive policies on ourselves," Sen. Robert Menendez (D-N.J.), the committee's ranking member, said. "We're not interested in writing blank checks for a nuclear arms race with Russia, and we don't want to step off our current path of stability to wander again down an uncertain road filled with potentially dire consequences."
Corker also acknowledged this linkage, stating that "the modernization piece, and the reduction in warheads piece go hand in hand."