October 2018
By Daryl G. Kimball
North Korean leader Kim Jong Un and South Korean President Moon Jae-in, following talks in Pyongyang, reiterated their shared desire to see the Korean peninsula "turned into a land of peace that is free of nuclear weapons and nuclear threats."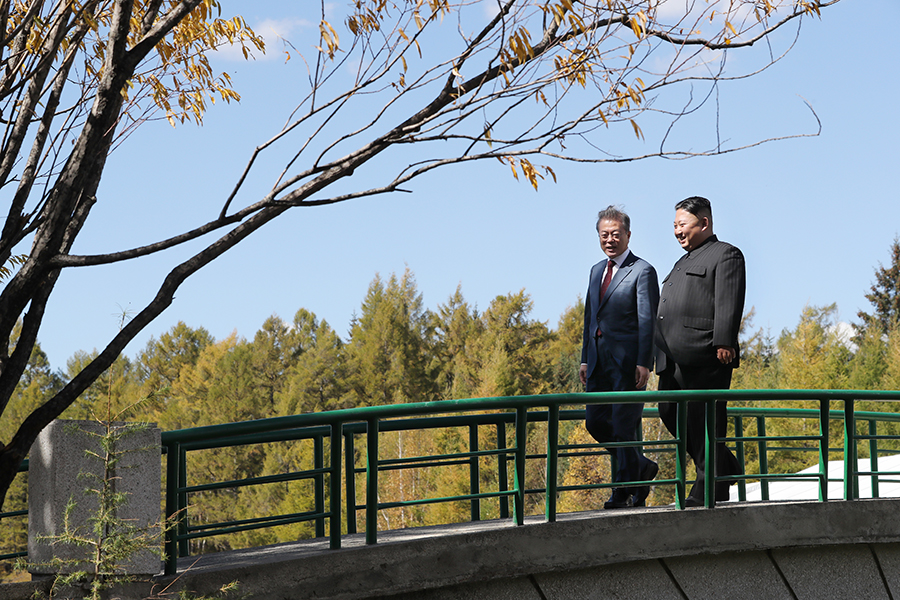 In their Sept. 19 joint statement, the two leaders agreed on the need to take tangible steps toward resolving the nuclear issue, stating that "substantial progress toward this end must be made in a prompt manner."
Moon's diplomacy puts additional pressure on North Korea and the United States to resolve their diplomatic impasse over the terms for Kim giving up his nuclear arsenal on a short timetable. At the same time, Moon's active efforts to lower tensions and expand cooperation contrasts with U.S. President Donald Trump's "maximum pressure" strategy, including sanctions intended to squeeze the Kim regime economically.
To advance steps intended to remove "the danger of war" and move toward "a fundamental resolution" of hostile relations, the defense ministers of North and South Korea signed a document committing the two sides to a series of military confidence-building measures. Further high-level bilateral talks are planned, including a visit to Seoul by Kim this year for what would be the first visit to the South by a North Korean leader.
Moon met Sept. 24 with Trump at the UN to discuss next steps with North Korea. Moon, speaking through an interpreter, flattered Trump by saying "thanks to your bold decision and new approach, we're in the process of solving a problem that no one has been able to solve in the decades past."
The Kim-Moon meeting on Sept. 18–20, officially the third inter-Korean summit, follows the June summit between Trump and Kim in Singapore, at which U.S. Secretary of State Mike Pompeo said on Sept. 20 that Kim agreed to "rapid denuclearization" by 2021. The exact nature of that understanding has been unclear, and a follow-on visit to Pyongyang by Pompeo, planned for August, was abruptly canceled by Trump, who cited a lack of progress on denuclearization.
Although the Pyongyang summit builds on the agreements and commitments made through the prior Moon-Kim summit held in Panmunjom in April, it is not yet clear whether the latest meeting will lead to tangible progress between the United States and North Korea on denuclearization and peace on the peninsula.
Aside from an offer to allow "experts from relevant countries" to observe the dismantling of a missile testing facility at Dongchang-ri, North Korea did not commit to any new denuclearization steps. Before the Singapore summit, North Korea voluntarily announced a moratorium on nuclear and long-range ballistic missile tests and destroyed tunnels at a site used for nuclear testing. Since that summit, Pyongyang has begun dismantling facilities used for rocket and missile engine tests and launches at Dongchang-ri.
In the Korean summit statement, Kim said North Korea is willing to take additional measures, such as the permanent dismantlement of the nuclear facilities at Yongbyon, "as the United States takes corresponding measures in accordance with the spirit" of the Kim-Trump statement in Singapore. That statement linked progress on denuclearization to further "efforts to build a lasting and stable peace regime," and North Korea has since called on the United States to agree to a joint political declaration on the end of the Korean War.
The verifiable decommissioning of Yongbyon, the site of North Korea's main nuclear weapons material production complex, would be a major breakthrough. The facilities there, including a five-megawatt research reactor, a spent fuel reprocessing facility, and a uranium-enrichment facility, are still being used to produce bomb-grade nuclear material. North Korea is believed to operate at least one other uranium-enrichment facility.
Ahead of his visit to Pyongyang, Moon had expressed concern about the stalled U.S.-North Korean talks. North Korea "is willing to denuclearize and therefore willing to discard existing nuclear weapons," and the United States "is willing to end hostile relations with the North and provide security guarantees," Moon said Sept. 13. "But there is a blockage as both sides are demanding each other to act first," he said, adding that he thinks they "will be able to find a point of compromise."
In postsummit remarks to the news media Sept. 20, Moon said that Kim "expressed his wish that he wanted to complete denuclearization quickly and focus on economic development." Kim said he hoped that Pompeo would visit North Korea soon and that a second summit with Trump would take place in the near future to advance the denuclearization process, according to Moon.
In his Sept. 20 remarks, Moon urged Trump to pursue a second summit with Kim, and he urged all parties to declare the end of the war as soon as possible. A peace treaty would be sealed, as well as normalization of North Korean-U.S. relations, after the North achieves "complete denuclearization," he added.
Trump, in a Sept. 20 tweet, called the results in Pyongyang "very exciting!" Pompeo issued a formal statement Sept. 21 praising the outcome and offering to resume the bilateral dialogue based on North Korean commitments.
"This will mark the beginning of negotiations to transform U.S.-[North Korean] relations through the process of rapid denuclearization…to be completed by January 2021, as committed by Chairman Kim, and to construct a lasting and stable peace regime" on the Korean peninsula.
Trump administration officials have not explained how they define "rapid denuclearization," and it remains unclear whether such steps can be achieved in the next 27 months. It also does not appear that there is a common understanding between North Korea and the United States on what denuclearization would involve.
With Pompeo now planning to travel to Pyongyang in October, Trump eased previous demands for "rapid" denuclearization, assuming North Korea doesn't resume nuclear and missile tests. Trump said he doesn't want to get into a "time game," and the United States will maintain sanctions. "If it takes two years, three years, or five months, it doesn't matter," he said.
Even as U.S. officials say they are open to further talks, the Trump administration is seeking to tighten implementation of international sanctions on North Korea. Pompeo chaired a foreign ministerial-level session of the UN Security Council on Sept. 27 focused on North Korea.
A UN panel of experts monitoring sanctions compliance reported that there is ample evidence that North Korea is still managing to sell arms illicitly, secure prohibited fuel shipments, and engage in financial dealings to help sustain its economy.