July/August 2018
By Monica Montgomery
The planned meeting between U.S. President Donald Trump and Russian President Vladimir Putin provides an opportunity to jump-start arms control talks on issues such as whether to extend the 2010 New Strategic Arms Reduction Treaty (New START), which is due to expire in less than three years.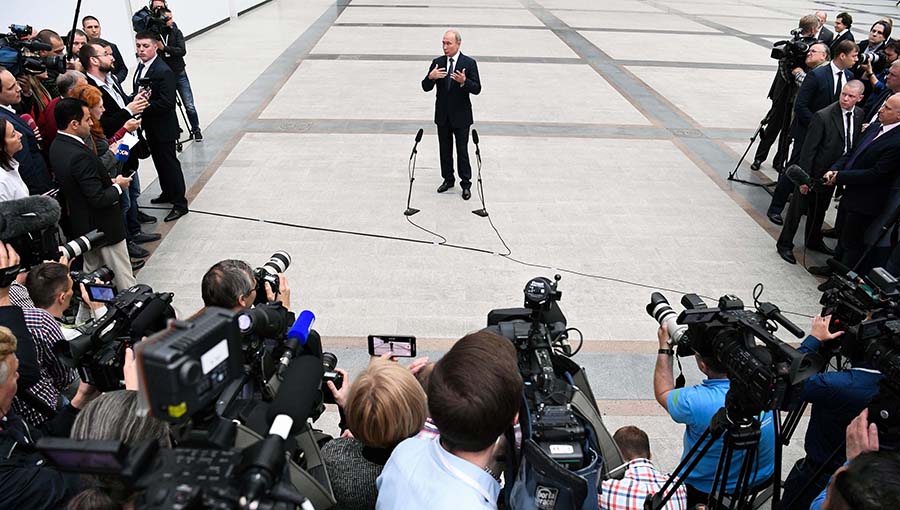 John Bolton, Trump's national security adviser, said in Moscow June 27 that his preparatory discussions had covered missile-defense matters and "a number of other" arms control topics. "I'm sure many of these will come up in the meeting between the two presidents," he said.
Along with festering arms control issues, including compliance disputes involving the Intermediate-Range Nuclear Forces Treaty, a Trump-Putin summit will be freighted with questions about Trump's relationship with Putin, particularly in light of the investigation into Russia's efforts to hurt Democratic candidate Hillary Clinton in the 2016 U.S. presidential election.
The meeting, scheduled for July 16 in Helsinki, follows Trump's participation in a NATO summit and his visit to the United Kingdom.
Trump has wanted such a formal get-together for some time. White House press secretary Sarah Sanders previously confirmed that he had invited Putin to Washington during a March 20 phone call. In June 15 remarks to reporters, Trump said that he believes that "just like [with] North Korea...it's much better if we get along with [Russia] than if we don't."
Putin and Trump briefly met twice in 2017 on the sidelines of the July Group of 20 summit in Germany and the Asia-Pacific Economic Cooperation summit in Vietnam. U.S. Ambassador to Russia Jon Huntsman was reported to have been in Washington recently to help with preparations for the first extended one-on-one meeting between the two leaders.
Huntsman was also arranging a visit to Moscow for a delegation of Republican senators. Such a trip could provide a supportive partisan chorus for the presidential meeting, even though Republicans lawmakers in the past have been harshly critical of Putin over issues including Russia's seizure of Crimea, its military role in support of the Assad regime in Syria, and its threatening posture toward the Baltic nations.
The summit comes amid growing concern about the possibility of a new arms race. Putin and Trump have recently commented on this point, with Putin saying that "nobody plans to accelerate an arms race" and Trump adding that it "is getting out of control."
Putin has called for New START, which numerically caps U.S. and Russian strategic nuclear forces, to be extended for five years beyond its February 2021 expiration, as allowed by the treaty if both countries agree. Trump has criticized the treaty, and the administration is reviewing the question of extension. (See ACT, May 2018.)
The Trump administration's budget and the 2018 Nuclear Posture Review accelerate plans to modernize the U.S. nuclear arsenal and push for the development of new nuclear capabilities. (See ACT, March 2018.) Putin unveiled plans for the development of several new weapons systems at his March 1 presidential address to the Russian Federal Assembly (See ACT, April 2018) in what he described as a response to the U.S. withdrawal from the Anti-Ballistic Missile Treaty in 2002 and new U.S. missile defense systems.
During his annual televised call-in show, "Direct Line With Vladimir Putin," on June 7, Putin faced questions about the status of his announced weapons development program. Despite some "minor things," he stated that the weapons development "is going exactly according to plan" and he has "no doubt" that they will be put into service on schedule."
The Kinzhal, described as a "high-precision hypersonic aero-ballistic missile," has already been tested and is in service with the Russian army. Another hypersonic weapon, the Avangard intercontinental glide vehicle, is an "absolute weapon" that is currently in production for supply in 2019, he added. Finally, Putin said the Sarmat, the "super-powerful" intercontinental ballistic missile that can carry multiple warheads, is in development for deployment in 2020.
Responding to a question about the potential for World War III, Putin said that the idea of nuclear war has been enough to prevent any global war since World War II and should continue to deter international actors from taking any "extreme and dangerous actions…that could threaten modern civilization." He added that "it is time to sit at the negotiating table and elaborate modern, adequate models of international, European security."