July/August 2018
By Alicia Sanders-Zakre
The Organization for the Prohibition of Chemical Weapons (OPCW) will begin investigating and attributing responsibility for chemical weapons attacks in Syria following an 82–24 vote at a special meeting of OPCW member states on June 26–27 in The Hague.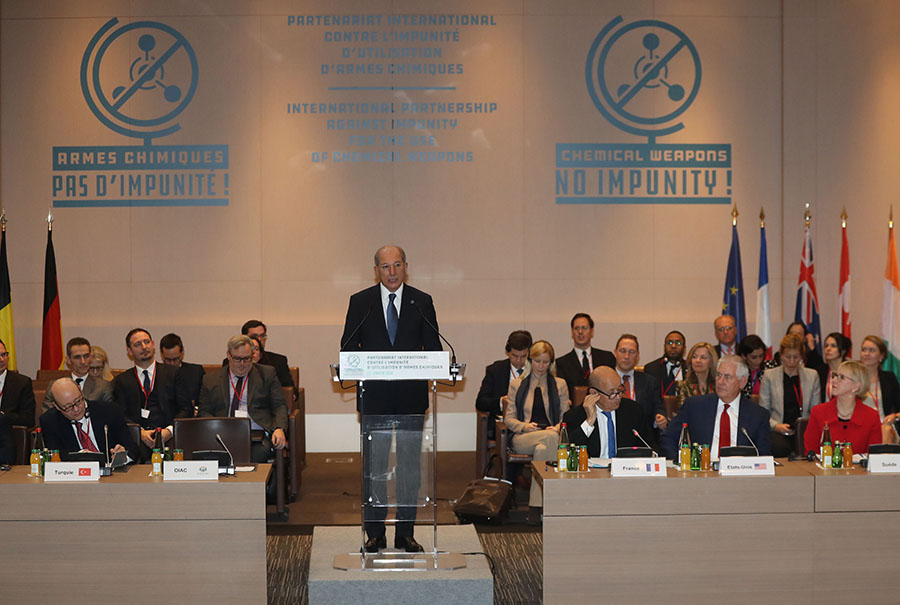 The United Kingdom and 11 other countries requested the special session in a May 29 letter, and more than 64 countries approved the request in early June. The special session was only the fourth in the organization's 21-year history. A French-led coalition of 34 countries, which seeks to increase accountability for chemical weapons use, first called for the special session during its May 18 meeting in Paris.
Although the OPCW has been investigating suspected chemical weapons use in Syria through an investigative body called the Fact-Finding Mission, it was not previously mandated to assign blame for attacks. The body that had attributed responsibility, the OPCW-UN Joint Investigative Mechanism (JIM), ceased operations after Russia blocked a proposed extension of its UN Security Council mandate last November. (See ACT, December 2017.)
The OPCW mission released a report June 13 determining that chlorine and sarin were very likely used as chemical weapons in Ltamenah, Syria, on March 24 and 25, 2017. "This OPCW report underscores the urgency of establishing, as swiftly as possible, a new mechanism to determine those responsible for these attacks," the French Foreign Ministry stated in a June 13 press release. A mission report on the use of chemical weapons in an early April 2018 attack in Douma that killed dozens is expected imminently.
Since the breakdown of the JIM, confirmed uses of chemical weapons in Syria have not been attributed. Several attempts in the Security Council to restart independent investigations to assign blame were blocked by Russian vetoes. (See ACT, April 2018.)
OPCW Director-General Ahmet Üzümcü called the lack of attribution for chemical weapons attacks a "major gap" in a June speech to the Center for Strategic and International Studies in Washington, D.C. and earlier in May voiced his support for the OPCW to assume an attribution role.
"Today, there might be good reasons actually to clarify the role of the OPCW itself in terms of attribution once it has the necessary information at its disposal," he said in a speech in London. "Willful defiance of a valued norm should not be allowed to go unchallenged."
Once granted the mandate to conduct attribution investigations, the OPCW can transmit its technical findings to the UN Security Council and the OPCW Executive Council for those bodies to take further action to hold perpetrators accountable, Üzümcü said in Washington.
Vassily Nebenzia, Russia's UN ambassador, opposed the decision. "The only legitimate way to re-establish an attribution mechanism is an agreement within the Security Council," he told reporters on June 13, calling attempts through other forums "illegitimate."