July/August 2018
By Kelsey Davenport
The European Union adopted measures to protect European entities doing business with Iran from U.S. sanctions, but Iranian officials have said EU efforts are insufficient to persuade Tehran to remain in compliance with the accord.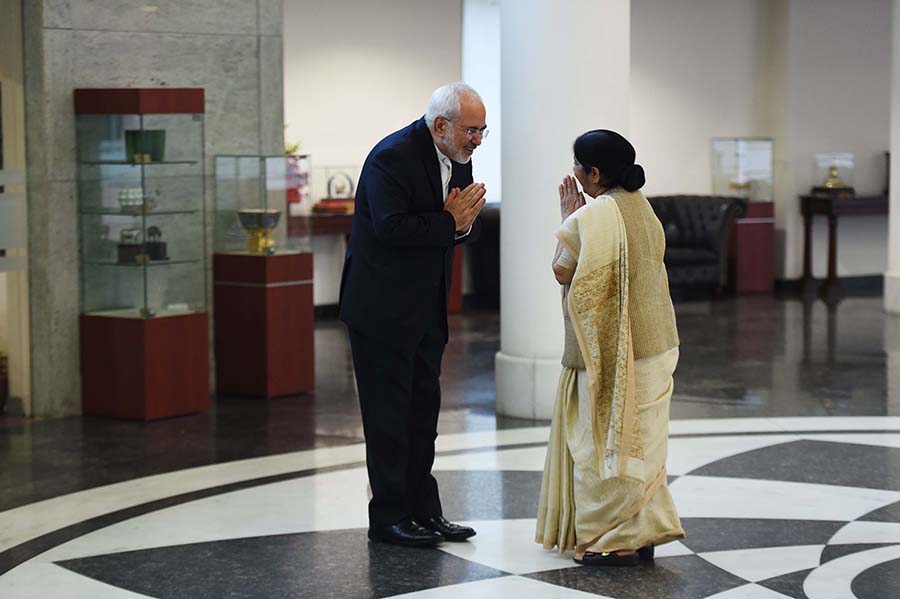 The European Commission action on June 6 updating its 1996 blocking regulation to include U.S. sanctions on Iran enters into force Aug. 5, unless more than half of the members of the European Parliament or the EU Foreign Affairs Council object prior to that date. The blocking regulation prohibits EU entities from complying with U.S. extraterritorial sanctions and allows companies to recover damages from such sanctions.
U.S. President Donald Trump's announcement on May 8 withdrawing from the multilateral nuclear deal known as the Joint Comprehensive Plan of Action and reimposing sanctions triggered 90- or 180-day wind-down periods for companies and banks to exit Iran before penalties are assessed. (See ACT, June 2018.) The 90-day period ends Aug. 6.
Despite the EU action, a number of companies already announced they are pulling out of the Iranian market, including Maersk Tankers of Denmark, General Electric, Siemens, Lukoil, and Reliance Petroleum.
Although it was expected that multinational companies would exit the Iranian market irrespective of the blocking regulation, EU foreign policy chief Federica Mogherini told the European Parliament on June 12 that the focus is on small and medium-sized enterprises that "are less engaged in the U.S. market."
Several companies, including French automaker Renault, said they intend to remain in Iran, while others, such as French oil company Total, said they will seek U.S. sanctions waivers to continue doing business with Iran.
In a June 4 letter to U.S. Treasury Secretary Steven Mnuchin and U.S. Secretary of State Mike Pompeo, Mogherini along with the foreign ministers and finance ministers of the E3 (France, Germany, and the United Kingdom) requested sanctions exemptions that would allow European entities to maintain banking channels with Iran and allow existing contracts to go forward. They wrote that, as U.S. allies, they expect Washington "will refrain from taking action to harm Europe's security interests" and reaffirmed that they consider the nuclear deal critical for protecting "collective security interests."
There is no indication from the Trump administration that exemptions will be granted. Chris Ford, assistant secretary of state for international security and nonproliferation, said on June 11 that the United States is prepared to "lean hard on our partners and the international community" as Washington pursues its strategy of using sanctions to pressure Iran into new negotiations on its ballistic missiles and regional activities, as well as its nuclear program.
The U.S. officials have begun a "diplomatic roadshow" to discuss how to minimize exposure to U.S. sanctions and how to "work together in pursuit of a better, successor agreement," Ford said at the Center for a New American Security.
Iranian officials have said they will not renegotiate with the United States and will continue abiding by the nuclear deal if the remaining parties can deliver on sanctions relief. Ali Akbar Salehi, head of the Atomic Energy Organization of Iran (AEOI), said on June 19 that the steps taken so far by the EU are insufficient.
The EU is working on additional options to realize the sanctions relief for Iran envisioned by the nuclear deal. Mogherini said that the "most important challenge now is to find solutions on banking and finance" to facilitate legitimate trade.
The European Commission agreed on June 6 to update the European Investment Bank's mandate to enable lending to Iran. But it seems unlikely that the bank will decide to finance any activities in Iran. After the announcement, the bank said in a statement that it "is not the right tool" and that the bank cannot ignore the sanctions and remain a "solid and credible institution."
Although the Trump administration appears unlikely to grant waivers for European entities, it may grant exemptions for projects specified by the nuclear deal. One of the entities redesignated under U.S. regulations as a result of the reimposition of sanctions was the AEOI, which puts at risk companies engaged on these priority nonproliferation projects.
Under the nuclear deal, Iran agreed to remove the core of its Arak reactor and modify it to produce no more than minimal amounts of weapons-usable plutonium. China is working with Iran on implementation. The nuclear deal also required Iran to convert its Fordow enrichment site into a stable-isotope research facility and refrain from any uranium-enrichment activities at the site for 15 years. Russia is assisting Iran in that project.
A State Department official told Arms Control Today on June 15 that no decision has been made on whether to pursue penalties against Chinese and Russian firms working on the Arak and Fordow projects.
Iran has continued to threaten to respond to the U.S. action by resuming prohibited nuclear activities if the remaining parties do not deliver on sanctions relief.
The most recent IAEA implementation report confirmed Iran's compliance. But the report noted that although inspectors have had access to all sites necessary, more "timely and proactive cooperation by Iran" on access granted under an additional protocol to Iran's safeguards agreement with the International Atomic Energy Agency (IAEA) would facilitate implementation and "enhance confidence."
During the IAEA Board of Governors meeting, U.S. diplomat Nicole Shampaine said on June 5 that the agency "should never again have to appeal for 'timely and proactive cooperation' by Iran."
Iran also notified the IAEA that it was opening a new centrifuge production facility. Reza Najafi, Iran's ambassador to the IAEA, said on June 6 that the decision to open the facility reflect preparatory work "for a possible scenario" and reiterated that Iran will not start "any activities contrary" to the accord at this time.
Building a new facility for centrifuge production is not a violation of the deal if Iran notifies the agency in accordance with its safeguards obligations, which Tehran appears to have done. But if Iran were to produce centrifuge machines at that location in the future, it might breach the limits of the nuclear accord.
Under the deal, Iran can produce advanced centrifuges in line with its research and development plan and can only produce IR-1 machines, which are currently used for enriching uranium, when the number of machines in monitored storage drops below 500. Iran has not yet reached that point.