April 2018
By Kingston Reif
As the Trump administration begins negotiating a nuclear cooperation agreement with Saudi Arabia, a growing number of lawmakers are expressing concerns that the administration is not seeking sufficiently strong nonproliferation safeguards.
Energy Secretary Rick Perry led an interagency delegation to London in late February to discuss a pact, known as a 123 agreement, with a Saudi delegation led by Saudi Arabian Minister of Energy and Industry Khalid Bin Abdulaziz Al-Falih.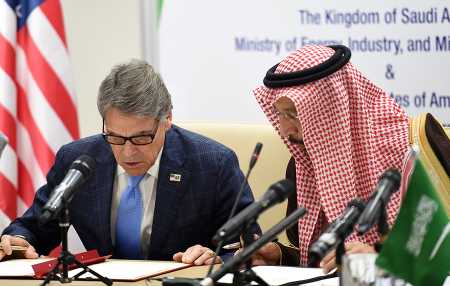 A 123 agreement, named after the section of the 1954 Atomic Energy Act that requires it, sets the terms for sharing U.S. peaceful nuclear energy technology, equipment, and materials with other countries.
The Trump administration has not commented on the status of the talks, and no agreement was announced during the visit to Washington last month by Saudi Crown Prince Mohammed Bin Salman.
Saudi Arabia says that it is seeking nuclear power for peaceful purposes to diversify its energy sources. Yet, Prince Mohammed raised concerns about the kingdom's intentions by stating in a March 15 interview with CBS News that Saudi Arabia will quickly follow suit if Iran acquires nuclear weapons.
Saudi Arabia has ambitious plans for nuclear power, but currently has no nuclear power plants. The kingdom plans to construct 16 nuclear power reactors over the next 20 to 25 years at a cost of more than $80 billion, according to the World Nuclear Association. It has solicited bids for the first two reactors and hopes to sign contracts by the end of this year.
A key issue in the negotiations is whether the United States will insist that Saudi Arabia agree to forgo uranium enrichment and spent fuel reprocessing as part of a 123 agreement. (See ACT, January/February 2018.) These activities are considered sensitive because they
can be used to make fuel for nuclear power reactors and produce nuclear explosive material.
In testimony at a Senate Armed Services Committee hearing on March 22, Perry refused to say whether the United States was pushing such a prohibition. But he warned that if Washington does not sign an agreement with Riyadh, then Russia and China would be chosen instead and would demand less stringent nonproliferation and security standards than the United States.
To date, Saudi Arabia has resisted a ban and suggested that it seeks to make its own fuel. Al-Falih told Reuters in a March 22 interview that "it's not natural for us to bring enriched uranium from a foreign country to fuel our reactors." Saudi Arabian officials say the country has natural uranium deposits to mine while critics say it is more practical and economic to import uranium enriched for civil power reactors.
Opposition to an agreement that does not block Saudi fuel-making appears to be mounting.
Israeli Prime Minister Benjamin Netanyahu reportedly told U.S. President Donald Trump in a March 5 meeting at the White House that the United States should insist on a Saudi commitment not to enrich and reprocess.
Sen. Jack Reed (D-R.I.), the ranking member on the Senate Armed Services Committee, told Perry at the March 22 hearing that he "and many others" would oppose a nuclear deal with Saudi Arabia that does not include a fuel-making ban. Rep. Ileana Ros-Lehtinen (R-Fla.) expressed a similar view at a House Foreign Affairs Committee hearing on March 21 on the implications of nuclear cooperation with Riyadh.
"The idea of Saudi Arabia having a nuclear program with the ability to enrich is a major national security concern," she said. "Unfortunately from the little we do know from the administration, it is looking at this deal in terms of economics and in terms of commerce, and national security implications only register as a minor issue if at all."
Ros-Lehtinen and Rep. Brad Sherman (D-Calif.) introduced legislation March 21 that would strengthen congressional oversight by requiring that lawmakers vote to approve any agreement that does not include a legally binding prohibition on enrichment and reprocessing.
Under current law, most nuclear cooperation agreements can enter into force after 90 days of so-called continuous session unless Congress enacts legislation blocking the pact.