April 2018
By Kelsey Davenport
Managing expectations for what constitutes success will be a key challenge for the United States if U.S. President Donald Trump and North Korean leader Kim Jong Un meet as anticipated next month.
Although offering an opportunity to reduce the threat posed by North Korea's nuclear weapons, a summit carries substantial risks, particularly because it would not be preceded by months of lower-level diplomatic preparation. There is little way to predict the course of any substantive discussions and the personal interaction between the two men, one a newcomer to international diplomacy who carries the mantle of U.S. power and the other a third-generation leader of an isolated, impoverished Communist nation armed with nuclear weapons.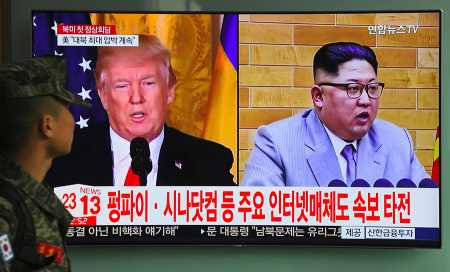 If critics of diplomacy, such as newly appointed U.S. national security adviser John Bolton, do not view a summit as making enough progress toward North Korean denuclearization, they could use the outcome as a reason to urge Trump to abandon talks and pursue a military option.
Trump confirmed his willingness to participate in a summit in response to an invitation conveyed by South Korean national security adviser Chung Eui-yong, who met with Kim in Pyongyang before flying to Washington. When Chung told reporters at the White House on March 8 that Trump accepted the invitation, he said that Kim is "committed to denuclearization" and will refrain from further nuclear and missile tests.
Chung said Trump looked forward to meeting with Kim by May "to achieve permanent denuclearization."
White House press secretary Sarah Huckabee Sanders confirmed on March 8 that Trump was willing to meet with Kim and that he "expects North Korea to start putting action to these words that were conveyed via the South Koreans" regarding denuclearization. She said Trump is not willing to reward North Korea just for talking.
Chung and Sanders each reiterated that sanctions pressure will remain in place in the interim and that Kim understood that joint U.S.-South Korean military exercises would continue as planned. The exercises, delayed due to the 2018 Winter Olympics held in South Korea, are set to take place in April. In the past, Kim has viewed joint exercises as provocations and proof of the "U.S. hostile policy" toward his country.
Kim's invitation for a summit with Trump came as a surprise, and there remained some uncertainty about whether it will take place. The two leaders traded insults in 2017, and U.S. Vice President Mike Pence canceled a meeting with the North Korean delegation during a trip to South Korea for the Olympics. (See ACT, March 2018.)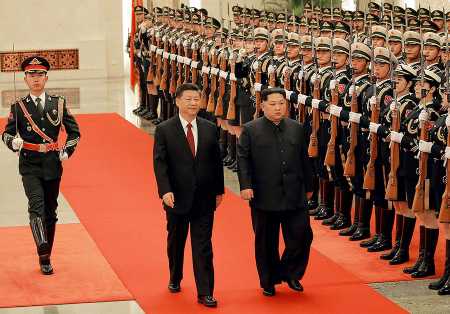 South Korea, however, built on the Olympic spirit that led to North and South Korea fielding a joint team and sent a high-level delegation to Pyongyang in early March. The two states are also planning a summit between their leaders for April that will include discussions over North Korea's nuclear program and could help lay the groundwork for a Trump-Kim summit. South Korean President Moon Jae-in is planning to travel to Washington after his meeting with Kim.
Managing expectations for a summit may be complicated by Bolton taking office before the meeting. Three days before he was named to succeed Lt. Gen. H.R. McMaster, Bolton in an interview with Radio Free Asia described himself as "skeptical" about North Korean intentions and warned that a summit could be a "very short meeting" if Kim is not prepared to move on denuclearization. Although the cautious McMaster allowed that a limited strike in North Korea was an option, Bolton has been a leading voice for pre-emptive military action against North Korea and Iran in order to eliminate their nuclear weapons capabilities and bring about regime change.
Further, Trump may hear similar views from outgoing CIA Director Mike Pompeo, his nominee to replace fired Secretary of State Rex Tillerson, whose early advocacy of diplomacy toward North Korea had been undercut by Trump. Pompeo, a strong critic of the Iran nuclear deal, said on March 11 on CBS's "Face the Nation" that Trump will demand "the complete, verifiable, irreversible denuclearization of North Korea."
In preparation for a summit, the Trump administration will need to consider what the United States is willing to put on the table. That could include easing current sanctions or holding off on new ones, scaling back provocative elements of U.S.-South Korean joint military exercises, and refraining from actions that North Korea views as hostile, such as flying B-1 bombers north of the demilitarized zone that separates North and South Korea.
It is unlikely that Kim will agree to give up North Korea's nuclear weapons at a summit, but he could recommit to denuclearization as a long-term goal and take steps that would decrease tensions and reduce the threat posed by the North's nuclear program. Steps such as agreeing to continue regular talks, establish clearer lines of communication, and work toward a freeze on nuclear and missile tests and fissile material production could contribute to stability in the region.
Critics such as Bolton may view these steps as insufficient and use the failure to achieve denuclearization quickly as an argument against further diplomacy. In February, Bolton in an opinion column in The Wall Street Journal advocated a pre-emptive military strike, arguing that it is "perfectly legitimate for the United States to respond to the current 'necessity' posed by North Korea's nuclear weapons by striking first." Previously, he has asserted that the "only diplomatic option left is to end the regime in North Korea by effectively having the South take it over."
Bolton has disrupted negotiations with North Korea in the past. When serving at the State Department under President George W. Bush in 2002, he used the discovery of North Korea's illicit uranium-enrichment program as a reason to kill the 1994 Agreed Framework between the United States and North Korea. Although the uranium enrichment violated the nuclear Nonproliferation Treaty and needed to be addressed, it was outside the scope of the Agreed Framework, which had successfully halted North Korea's plutonium production.
Bolton wrote in his memoirs that evidence of the illicit uranium enrichment was "the hammer I had been looking for to shatter the Agreed Framework."