March 2018
By Kelsey Davenport and Terry Atlas
North Korea's participation in the 2018 Winter Olympic Games eased tensions on the Korean peninsula and opened space for potential dialogue between Pyongyang and Washington. But that opportunity may not last as the United States plans to resume military exercises with South Korea and North Korea threatens to resume it nuclear and ballistic missile testing activities.
In the immediate aftermath of the Olympics, held in South Korea, North Korea signaled its willingness to engage in direct talks with the United States, though on what terms remains to be determined. South Korean President Moon Jae-in, who conveyed word of North Korea's overture Feb. 25, called on the United States to lower its threshold for talks and for Pyongyang to "show its willingness
to denuclearize."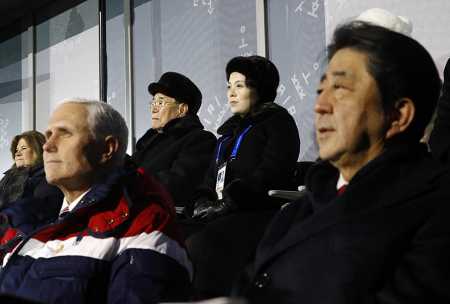 Moon has sought to build on the fledgling North-South dialogue to bring about U.S.-North Korean talks to reduce the risk of war over Pyongyang's advancing nuclear weapons program. His efforts, however, may not be fully supported by the Trump administration. "We want to talk only under the right conditions," President Donald Trump said Feb. 26.
The developments will focus attention on the uncertain diplomatic skills of the new U.S. administration. It hasn't filled the key U.S. ambassador post in Seoul and just lost a key State Department official, Joseph Yun, who retired March 2 as special representative for North Korea policy. The public diplomatic exchanges over potential talks followed the collapse of secret plans for U.S. Vice President Mike Pence to meet with senior North Korean officials Feb. 10 during the Olympics' opening days. U.S. officials said the North Koreans backed out, although North Korean officials said publicly on Feb. 7 that there was "no intention" of meeting with U.S. officials during the games.
That breakdown came as North Korean leader Kim Jong Un, through sister Kim Yo Jong, invited Moon to come to Pyongyang for talks. The North Korean delegation was in South Korea for the Feb. 9 Olympics opening ceremony.
The Trump administration has taken a wary view toward the favorable attention focused on North and South Korea's joint participation in the Olympics, saying Pyongyang continues to press ahead with a nuclear weapons program that will soon put all of the U.S. mainland at risk. U.S. officials say time is running out before the United States may take military action.
Kim's moves threaten to open a rift between South Korea and the United States, particularly if the U.S. administration is seen as hindering outreach efforts by Moon, who seeks to continue the inter-Korean dialogue that began in January. En route to South Korea, Pence told reporters he would urge Moon to return to a policy of maximum pressure and "diplomatic isolation" toward the Pyongyang regime once the games ended.
U.S. officials on Feb. 21 confirmed a report in The Washington Post that Kim Yo Jong and Kim Yong Nam, North Korea's nominal head of state, pulled out of the scheduled meeting at the last minute. Trump had approved plans for the meeting, at which Pence was to reiterate Washington's demands and threats of further punitive actions, the article said. Pence said in an Feb. 11 interview, just after the then-secret meeting plan failed, that the United States is willing to engage diplomatically if North Korea wants to talk.
U.S. Secretary of State Rex Tillerson, in a Feb. 18 interview with CBS News' "60 Minutes," said he "does not know precisely" how much time is left, although "diplomatic efforts will continue until that first bomb drops." Mixed messages and failure to provide clarity about the diplomatic approach have complicated his efforts. Trump previously tweeted doubts about the likelihood of a diplomatic resolution.
U.S. threats to use military force and plans for joint military exercises may overshadow the most recent overtures and could reignite tensions. A Feb. 19 editorial by the state-run Korean Central News Agency (KCNA) said North Korea is open to "both dialogue and war" with the United States. The commentary called a U.S. threat to "pull the trigger" for military action a "hideous attempt to block the improvement of inter-Korean relations and again coil up the military tension on the Korean peninsula."
Last August, U.S. National Security Adviser H.R. McMaster said a so-called limited preventive strike was on the table as an option. While other officials have since downplayed or denied a "bloody nose" scenario is being considered, Victor Cha, whose anticipated nomination to become U.S. ambassador to South Korea was abruptly dropped by the White House, said he had warned administration officials against any such plan.
"The answer is not, as some Trump administration officials have suggested, a preventive military strike," Cha wrote on Jan. 30 in The Washington Post. He warned that such action could lead to an escalation that, in addition to Koreans, "would likely kill tens, if not hundreds, of thousands of Americans" in South Korea and Japan.
Cha, who served as the National Security Council's director for Asian affairs in the George W. Bush administration, wrote that a preventive strike would "only delay North Korea's missile-building and nuclear programs" and "would not stem the threat of proliferation but rather exacerbate it."
The United States is planning to resume U.S.-South Korean military exercises, delayed for the Olympics and the subsequent Winter Paralympic Games on March 9-18. U.S. officials said on Feb. 20 that there would be no changes to the original size and scope of the drills.
Pyongyang has long viewed the joint exercises, particularly the so-called decapitation drills, which simulate strikes on North Korea's leadership, as provocative. China and Russia called for the United States and South Korea to suspend the joint military exercises in exchange for a nuclear and missile testing moratorium from North Korea, an offer which Pyongyang made to the Obama administration in 2015. (See ACT, January/February 2015.) McMaster has rejected this "freeze for freeze" proposal.
Although North Korea has refrained from missile testing since December, Pyongyang did hold a parade Feb. 9 that displayed its intercontinental ballistic missiles and a new short-range ballistic missile.
False Missile Alert Panics Hawaii
A false missile attack alert in Hawaii was caused by human error when a Hawaii Emergency Management Agency (HI-EMA) employee thought an exercise was a real attack, officials said.
The agency employee mistakenly sent out an emergency alert Jan. 13 warning of an incoming ballistic missile and directing residents to take shelter. Despite quickly discovering the mistake, it took the agency 38 minutes to notify the public, which is longer than the flight time for a North Korean missile to reach the Hawaiian Islands.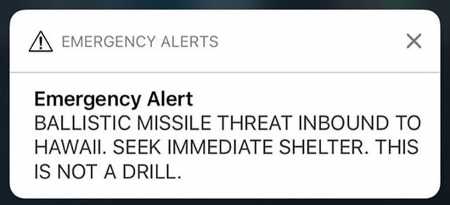 Gov. David Y. Ige (D) called the mistake "totally unacceptable" and apologized for the "pain and confusion" caused by the false alert. The unidentified employee reportedly was fired.
Heightened tensions between the United States and North Korea compounded the fear invoked by the false alert. In response to North Korean threats and tests of ballistic missiles capable of reaching the United States, Hawaii began testing attack-warning sirens in December for the first time in 30 years and updating emergency management plans in the event of a nuclear attack. HI-EMA Administrator Vern T. Miyagi said in December that Hawaii "couldn't ignore these constant threats and missile tests from North Korea."
In a Jan. 15 Politico column, William Perry, defense secretary in the Clinton administration, argued that the false alarm is a "new manifestation of an old problem," namely that human error or technological failure could lead to a "horrific nuclear catastrophe." Perry wrote that the incident demonstrates the critical need to re-engage with Russia to reduce nuclear dangers, including giving up the launch-on-warning policy.—KELSEY DAVENPORT