Statement from Executive Director Daryl G. Kimball
For Immediate Release: September 3, 2017
Media Contacts: Daryl G. Kimball, executive director, (202) 463-8270 ext. 107; Kingston Reif, director for disarmament policy, (202) 463-8270 ext. 104
(Washington, DC)—North Korea's 5.9 to 6.3 magnitude nuclear test explosion September 3 marks a new and more dangerous era in East Asia.
The explosion, which produced a yield likely in excess of 100 kilotons TNT equivalent, strongly suggests that North Korea has indeed successfully tested a compact but high-yield nuclear device that can be launched on intermediate- or intercontinental-range ballistic missiles.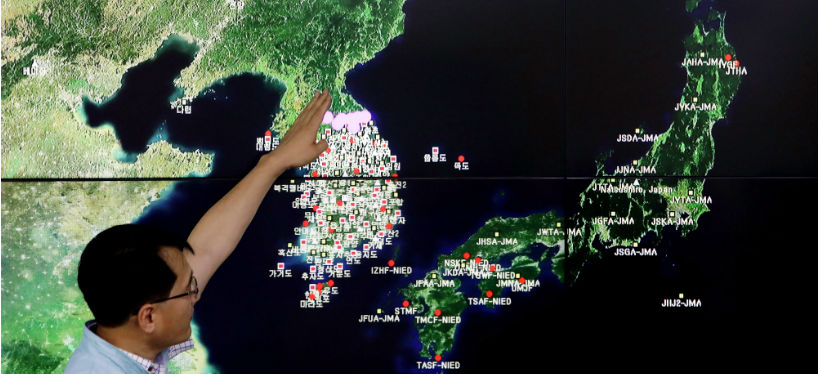 Still more tests are likely and necessary for North Korea to confirm the reliability of the system, but after more than two decades of effort, North Korea has a dangerous nuclear strike capability that can hold key targets outside of its region at risk. This capability has been reached since U.S. President Donald Trump threatened North Korea with "fire and fury" if Pyongyang continued its nuclear and missile pursuits Aug. 8.
The inability of the international community to slow and reverse North Korea's nuclear and missile pursuits is the result of missteps and miscalculations by many actors, including the previous two U.S. administrations—George W. Bush and Barack Obama—as well as previous Chinese, Japanese, and South Korean governments. 
Unfortunately, since taking office, President Donald Trump and his administration have failed to competently execute their own stated policy of "maximum pressure and engagement" with North Korea. Trump has greatly exacerbated the risks through irresponsible taunts and threats of U.S. military force that only give credibility to the North Korean propaganda line that nuclear weapons are necessary to deter U.S. aggression, and have spurred Kim Jong-un to accelerate his nuclear program.
The crisis has now reached a very dangerous phase in which the risk of conflict through miscalculation by either side is unacceptably high. Trump and his advisers need to curb his impulse to threaten military action, which only increases this risk. 
A saner and more effective approach is to work with China, Russia, and other UN Security Council members to tighten the sanctions pressure and simultaneously open a new diplomatic channel designed to defuse tensions and to halt and eventually reverse North Korea's increasingly dangerous nuclear and missile programs.
All sides need to immediately work to de-escalate the situation.
The United States needs to consult with and reassure our Asian allies, particularly South Korea and Japan, that the United States, and potentially China and Russia, will come to their defense if North Korea commits aggression against them.
As the United States engages in joint military exercise with South Korean and Japanese forces, U.S. forces must avoid operations that suggest the Washington is planning or initiating a pre-emptive strike on North Korea, which could trigger miscalculation on the part of Pyongyang.
Proposals to reintroduce U.S. tactical nuclear weapons in South Korea are counterproductive and would only heighten tensions and increase the risk of a nuclear conflict.
The United States must work with the world community to signal that international pressure—though existing UN-mandated sanctions on North Korean activities and trade that can support its illicit nuclear and missile activities—will continue so long as North Korea fails to exercise restraint. Better enforcement of UN sanctions designed to hinder North Korea's weapons procurement, financing, and key sources of foreign trade and revenue is very important.
Sanctions designed to limit North Korea's oil imports should now be considered. While such measures can help change North Korea's cost-benefit calculations in a negotiation about the value of their nuclear program, it is naive to think that sanctions alone, or bellicose U.S. threats of nuclear attack, can compel North Korea to change course.
The United States must consistently and proactively communicate our interest in negotiations with North Korea aimed at halting further nuclear tests and intermediate- and long-range ballistic missile tests and eventually to verifiably denuclearize the Korean peninsula, even if that goal may no longer be realistically achievable with the Kim regime in power.
Washington must also be willing to do more than to simply say it is "open to talks," but must be willing to take the steps that might help achieve actual results. This should include possible modification of U.S. military exercises and maneuvers in ways that do not diminish deterrence and military readiness, such as replacing command post exercises with seminars that serve the same training purpose, dialing down the strategic messaging of exercises, spreading out field training exercises to smaller levels, and moving exercises away from the demilitarized zone on the border.
This latest North Korean nuclear test once again underscores the importance of universalizing the 1996 Comprehensive Test Ban Treaty. 
Unless there is a more serious, more coordinated, and sustained diplomatic strategy to reduce tensions and to halt further nuclear tests and long-range ballistic missile tests in exchange for measures that ease North Korea's fear of military attack, Pyongyang's nuclear strike capabilities will increase, with a longer range and less vulnerable to attack, and the risk of a catastrophic war on the Korean peninsula will likely grow.
NOTE: This post includes a corrected estimate of the explosive yield of the nuclear test explosion.
###

The Arms Control Association is an independent, membership-based organization dedicated to providing authoritative information and practical policy solutions to address the threats posed by the world's most dangerous weapons.