By Daryl G. Kimball, Executive Director
Arms Control Association
March 5, 2018
Annapolis, Maryland
Good afternoon. I want to commend Delegates Queen, Gibson, and Gutierrez for introducing House Joint Resolution 12, which:
… "calls upon Maryland's Congressional delegation to take all necessary steps to establish a system of checks and balances with regard to the first use of nuclear weapons and to ensure that the President of the United States shall no longer have the sole and unchecked authority to launch nuclear weapons, except in circumstances of retaliation."
At this very moment, the United States and Russia each deploy massive strategic nuclear arsenals, approximately 1,550 bombs on each side. Each side possesses thousands more nonstrategic warheads and warheads in reserve. These arsenals are far in excess of what it would take to decimate the other and far more that is required to deter a nuclear attack.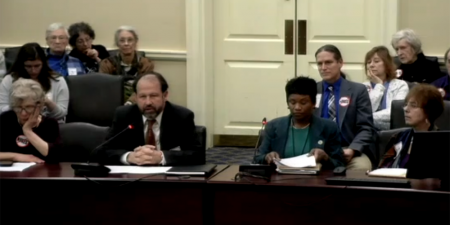 Worse still, each side maintains a significant portion of its land and sea-based missile forces on a prompt launch posture to guard against a "disarming" first strike.
As a result, there are roughly 800 U.S. nuclear warheads – all of which are far more powerful than the weapons that destroyed the cities of Hiroshima and Nagasaki in 1945 – that can be launched within about 15 minutes of an order by the president and the president alone.
In most scenarios, the president would have just minutes to listen to the list of retaliatory options and decide whether or not to order one of the nuclear strike plans. No cabinet secretary, adviser, or military official has the authority to override the president's decision. Congress currently has no say in the matter.
Current U.S. nuclear policy also allows for the possible use of nuclear weapons first, or in response to a non-nuclear attack on the U.S. or our allies, such as in a conflict on the Korean peninsula.
Continuing to vest such destructive power in the hands of one person and to maintain a prompt-launch posture is undemocratic, irresponsible, unnecessary and untenable.
Cavalier and reckless statements from President Donald Trump about nuclear weapons use and threatening and boastful comments from Russian President Vladimir Putin about his country's nuclear retaliatory capabilities underscore the risks of a system that puts the authority to launch nuclear weapons in the hands of these individuals.
Defenders of the status quo argue that altering the current system would deprive the president of the ability to respond quickly in a crisis—including by using nuclear weapons first in response to a non-nuclear attack—and undermine the credibility of deterrence.
Such arguments ignore the fact that throughout the history of the nuclear age, there have been several incidents in which false signals of an attack have prompted U.S. and Russia officials to consider, in the dead of the night and under the pressure of time, launching nuclear weapons in retaliation.
The reality is that this "launch-under-attack" policy is unnecessary because U.S. nuclear forces and command-and-control systems could withstand even a massive attack. Given the size, accuracy, and diversity of U.S. forces, the remaining nuclear force would be more than sufficient to deliver a devastating blow to any nuclear aggressor.
In addition, retaining the option to use nuclear weapons first is unnecessary and risky. Given the overwhelming conventional military edge of the United States and its allies, there is no plausible circumstance that could justify—legally, morally, or militarily—the use of nuclear weapons to deal with a non-nuclear threat.
As then-Vice President Joe Biden said in public remarks in January 2017: "Given our non-nuclear capabilities and the nature of today's threats—it's hard to envision a plausible scenario in which the first use of nuclear weapons by the United States would be necessary. Or make sense."
Congress and the executive branch can and should take a number of steps to reduce these dangers:
Requiring that a decision to use nuclear weapons be made by more than one person. This could include the president, vice president, secretaries of state and defense, and perhaps one or more designated members of Congress, such as the speaker of the House or Senate majority leader.
Prohibiting the president from launching a nuclear first strike without a declaration of war by Congress. Sen. Ed Markey (D-Mass.) and Rep. Ted Lieu (D-Calif.) have introduced bipartisan legislation the "Restricting First Use of Nuclear Weapons Act of 2017" that would put this policy into place.
Eliminating the requirement to launch intercontinental ballistic missiles under attack, which would increase the time available to consider the possible use of nuclear weapons in retaliation for a nuclear attack against the United States or its allies.
Declaring that the United States will not be the first to use nuclear weapons and that the sole purpose of nuclear weapons is to deter nuclear attack. Congressman Adam Smith and ranking member of the House Armed Services Committee has introduced H.R. 4415 to establish a "No First Policy" for nuclear weapons.
Clarify that only Congress can authorize U.S.-initiated military action against North Korea, which would likely result in a nuclear exchange, and urge the administration to "avoid actions that could contribute to a breakdown in talks, and continue to search for confidence-building measures that are conducive to dialogue," as state in bipartisan legislation introduced in the House and Senate (H.R. 4837/S. 2016).
Your support for Maryland House Joint Resolution 12 can help push Congress to re-examine and revise nuclear decision making so that fate of millions in not decided by one person in the span of a few minutes.
Since 2001, Daryl G. Kimball has served as the executive director the independent, non-partisan Arms Control Association and publisher of the monthly journal, Arms Control Today. The Association is a national membership organization established in 1971 to provide information and analysis on nuclear, chemical, and biological weapons, and to promote practical policy solutions to address the risks they pose.