September 2023
By Gabriela Iveliz Rosa Hernández
Following months of internal debate, the United States approved the transfer to Ukraine of thousands of cluster munitions worth up to $250 million after Kyiv offered assurances regarding their use.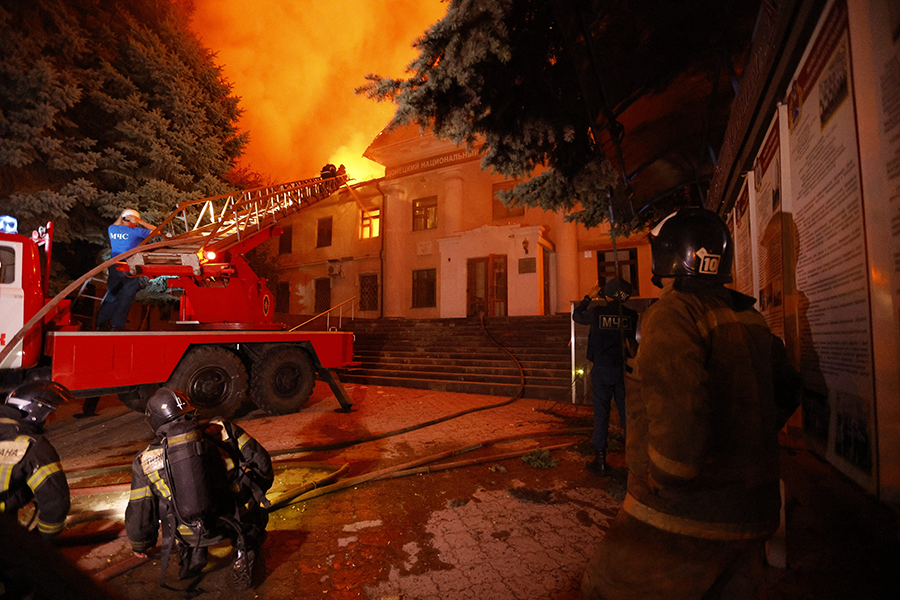 Cluster munitions are banned by more than 100 countries, including many U.S. allies, because they scatter bomblets across battlefields that sometimes fail to explode on impact and can kill or maim combatants and civilians who encounter duds long after the fighting ends.
The agreement between Washington and Kyiv on July 7 is classified. "The Ukrainian government has offered us assurances in writing on the responsible use of [cluster munitions], including that they will not use the rounds in civilian-populated urban environments and that they will record where they use these rounds, which will simplify later demining efforts," Colin Kahl, U.S. undersecretary of defense for policy, told a press conference.
When asked by Arms Control Today about the assurances, a U.S. State Department official referred to a tweet by Ukrainian Defense Minister Oleksii Reznikov on July 7. The tweet read, "We will not be using cluster munitions in urban areas (cities) to avoid the risks for the civilian populations—these are our people; they are Ukrainians we have a duty to protect. Cluster munitions will be used only in the fields where there is a concentration of Russian military."
According to another U.S. State Department official on Aug. 3, the assurances cover the batch of Dual-Purpose Improved Conventional Munitions (DPICM) approved on July 7, but likely would apply to the next batch as a baseline if the United States decided to approve another transfer. These weapons have a rate of unexploded ordnance higher than 1 percent.
Reznikov's tweet said that cluster munitions would not be used on the internationally recognized territory of Russia and that Ukraine will keep a strict record of the use of these weapons and their locations.
Ukraine is to report such details to its partners to ensure the appropriate standard of transparent reporting and control. Following the expulsion of Russian forces from Ukraine's internationally recognized territories, these territories will be prioritized for demining efforts, according to Reznikov. According to CNN, Ukraine submitted its first report on cluster munitions use, including the rounds fired and the number of Russian targets destroyed, after a U.S. request on Aug. 9. Two weeks later, the Washington Post reported that the United States was satisfied with Kyiv's follow-through.
Asked by Arms Control Today to comment about the possibility of future cluster munitions transfers to Ukraine by allies who are not states-parties to the 2008 Convention on Cluster Munitions (CCM), the first State Department official said that the United States would not discourage or encourage such transfers and that such a decision would be a bilateral matter between the ally and Ukraine. But Washington would like allies to establish assurances similar to those already established with Ukraine on how the weapons will be used, the official said.
In January, U.S. allies such as Estonia also were weighing giving Ukraine cluster munitions, according to EER, an Estonian newspaper. Foreign Policy reported that Turkey allegedly sent similar munitions to Ukraine in November 2022, but Turkey and Ukraine denied that transfer. Meanwhile, Lithuania's defense minister on Aug. 25 suggested that Vilnius should leave the CCM so it can "acquire and use" cluster munitions, the Lithuanian public broadcaster reported.
Ukrainian officials repeatedly have asked the United States for cluster munitions to defend against the Russian invasion. After finally agreeing, the Biden administration said the decision was not taken lightly. It assessed that the current monthly production of U.S. artillery rounds would not meet Ukraine's needs. (See ACT, January/February 2023; October 2022).
"Ukraine is short on artillery, and being short on artillery, it is vulnerable to Russian counterattacks that could subjugate more Ukrainian civilians. That is the thinking behind our decision," National Security Advisor Jake Sullivan said on July 7.
Kahl said that the cluster munitions delivered to Ukraine will consist only of those with a dud rate of less than 2.35 percent. "Compare that to Russia, which has been using cluster munitions across Ukraine with dud rates of between 30 and 40 percent," he said.
But The New York Times reported that the cluster munitions sent to Ukraine are generally known to have a failure rate of 14 percent or more under real-world conditions. The newspaper identified the U.S. munitions as 155mm M864 weapons that can deliver 72 dual-purpose grenades to the target area.
During the first year of the war, Russia is estimated to have fired cluster munitions from a range of weapons, expending tens of millions of submunitions, or bomblets, across Ukraine. Ukraine also has used them to defend against Russia's brutal assault, although far less often than Russia, according to Human Rights Watch.
Russia, Ukraine, and the United States have not joined the CCM, which prohibits states-parties from developing, producing, acquiring, using, transferring, or stockpiling cluster munitions, but 23 NATO members have.
Civil society groups condemned Washington's decision to provide cluster munitions. "Beyond making the United States a global outlier, acting in contradiction to partner nations' and NATO allies' express ban on and statements against the transfer and use of these weapons could hurt the U.S. ability to forge and maintain coalitions that have been so crucial to supporting Ukraine, and undermines the United States' ability to criticize other governments who use them. It would also harm efforts to promote other arms control agreements," the U.S. Cluster Munitions Coalition said in a statement on July 7.
Belgium, Canada, France, Germany, Italy, the Netherlands, Norway, Spain, and the United Kingdom reaffirmed support for the CCM. The U.S. cluster munitions transfer and other issues will be discussed Sept. 11-14 in Geneva during the 11th meeting of state-parties to the convention.