September 2023
By Kelsey Davenport
In a rare appearance at the UN Security Council, North Korea's ambassador accused the United States of pushing the region to the "brink of nuclear war" and defended his government's expanding nuclear weapons program as necessary for national security.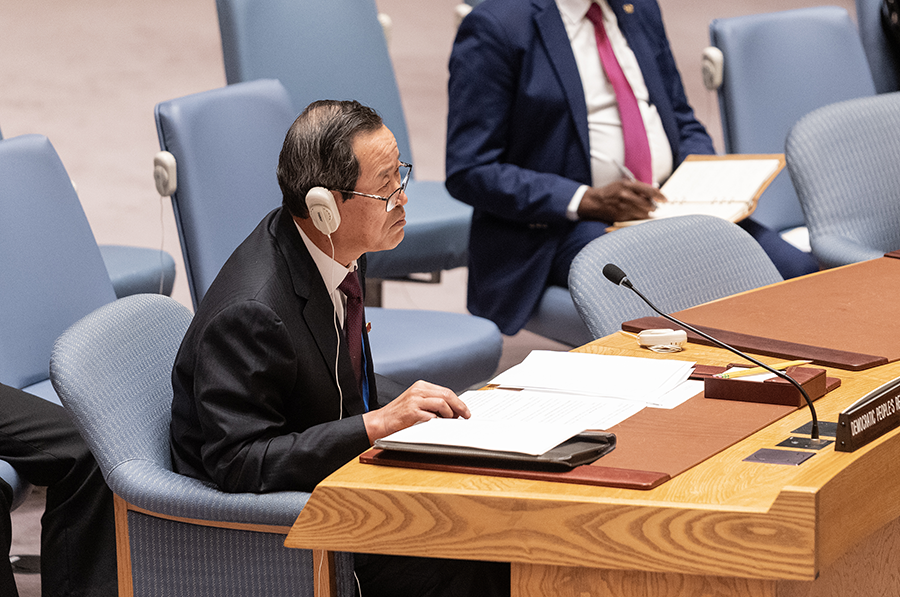 The July 13 council meeting was convened after North Korea launched an intercontinental ballistic missile a day earlier. It was Pyongyang's second test of the three-stage Hwasong-18 missile, a solid-fueled system capable of targeting the continental United States.
The state-run Korean Central News Agency (KCNA) described the test as a "strong practical warning" to North Korea's enemies and called the Hwasong-18 the "core weapon system" of the country's strategic forces.
Security Council resolutions prohibit North Korea from launching ballistic missiles, but the council has failed to respond to Pyongyang's recent violations. (See ACT, July/August 2023.)
North Korean Ambassador Kim Song said the missile test posed "no threat" to other states. He said Pyongyang's missile activities are necessary to "safeguard the security of our state" and blamed U.S. military activity for rising regional tensions.
Kim's statement marks the first time North Korea has addressed the Security Council since 2017.
Jeffrey DeLaurentis, acting deputy U.S. ambassador, told the council that the frequency of North Korea's missile launches "should not erode our capacity to meaningfully respond to nuclear proliferation." He called out China and Russia for preventing the council from "speaking with one voice" and said the silence emboldens North Korea to continue violating council resolutions.
But Chinese Ambassador Zhang Jun defended Beijing's approach and told the council that North Korea's "legitimate security concerns have never been addressed." The U.S. obsession with sanctions and pressure threaten North Korean security, Zhang said.
He said the United States should "come up with practical plans and take meaningful actions to respond" to North Korean concerns rather than accusing other states of preventing council action.
DeLaurentis expressed hope that North Korea's participation in the meeting "demonstrates that it is ready to engage in meaningful diplomacy without preconditions" but if it does not, the council should "return to the era when we used our collective voice to address nuclear proliferation."
U.S. National Security Advisor Jake Sullivan reiterated the call for engagement in a July 16 interview with Face the Nation, but said that it "would not come as a surprise" if North Korea conducts another nuclear test.
North Korea rebuffed U.S. calls for diplomacy. Kim Yo Jong, deputy director of the Central Committee of the Workers' Party of North Korea, described the U.S. overtures as "preposterous" in a July 17 statement. She said North Korea will not "barter away its eternal security," referring to the country's nuclear weapons, for "variable and reversible" U.S. commitments.
Kim, the sister of North Korean leader Kim Jong Un, said the United States must realize that the "further it strengthens the system of extended deterrence and the more excessively it expands the system of military alliance," the farther it pushes North Korea from the negotiating table.
The day after Kim's statement, the United States and South Korea issued a statement on the first meeting of a bilateral Nuclear Consultative Group that South Korean President Yoon Suk Yeol and U.S. President Joe Biden announced during Yoon's visit to Washington in April. (See ACT, May 2023.) The group is intended to provide South Korea with more opportunities to participate in U.S. extended deterrence planning.
The statement noted that Seoul and Washington agreed to establish "workstreams to bolster nuclear deterrence and response capabilities" and discussed how South Korea can provide conventional support for U.S. nuclear operations. The two sides reiterated that any nuclear attack by North Korea will be met with "a swift, overwhelming and decisive response."
North Korea demonstrated its own advancing capabilities in a July 27 military parade marking the 70th anniversary of the Korean War armistice.
The parade did not include any new long-range missile systems, but North Korea displayed a new short-range ballistic missile launcher and two new drone systems.
Chinese and Russian officials, including Russian Defense Minister Sergei Shoigu, watched the parade with North Korean leader Kim. Shoigu joined Kim in touring a weapons exhibition in Pyongyang.
Shoigu's visit came amid new allegations that North Korea is providing arms for Russia's use in Ukraine. Although North Korea is prohibited from exporting weapons under Security Council resolutions, it continues to sell weapons illicitly.
U.S. State Department spokesperson Matthew Miller said in an Aug. 7 press briefing that the Biden administration has made clear its concerns "about North Korea seeking to assist Russia in its aggression in Ukraine" and said the United States will "continue to enforce all of our sanctions."
Kim also conducted talks with the Chinese officials, KCNA reported, and the two sides agreed to strengthen collaboration.