September 2023
By Chris Rostampour
Renewed bipartisan efforts are underway to extend and expand a federal program that offers health care benefits and compensation to some victims of U.S. nuclear weapons production and testing.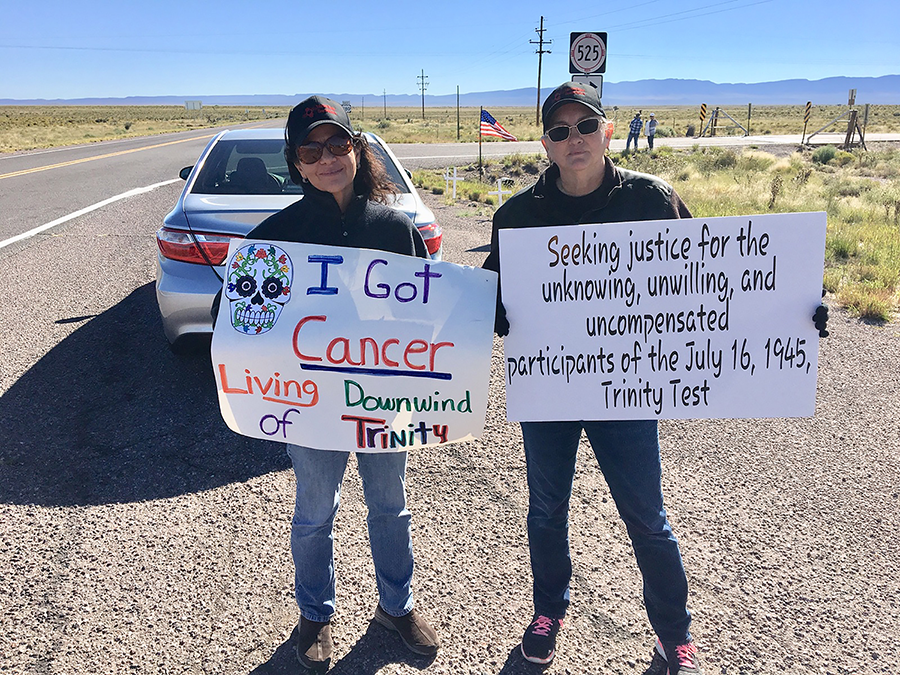 On July 27, a group of lawmakers led by U.S. Sens. Josh Hawley (R-Mo.), Ben Ray Luján (D-N.M.), and Mike Crapo (R-Idaho) secured enough votes to advance legislation that would extend the Radiation Exposure Compensation Act (RECA) for 19 years and expand its historical and geographical coverage.
The legislation, an amendment to the 2024 National Defense Authorization Act (NDAA), passed the Senate by a 61-37 vote. It still must be approved by a House-Senate conference committee.
RECA originally passed Congress in 1990 with bipartisan support. It aims to provide compensation for some victims exposed to radiation during U.S. atmospheric nuclear testing and employees of the U.S. uranium mining industry. The program, which expires in 2024, has been revised multiple times, but several impacted communities and individuals suffering lingering health effects have never received recognition or assistance despite a decades-long struggle.
Communities that would be eligible for compensation for the first time include individuals in Missouri who were impacted by nuclear waste from the Manhattan Project and the Downwinders in New Mexico, who were affected by the 1945 Trinity Test. In addition, RECA would be amended to recognize new regions in Arizona, Colorado, Guam, Idaho, Montana, Nevada, New Mexico, and Utah among those affected by nuclear testing. Coverage also would be expanded to new categories of employees in the U.S. uranium mining industry, including former workers from 1971 to 1990.
Republicans and Democrats advocating for RECA's expansion are working to keep the usual party politics of the NDAA process from scuttling the amendment.
Luján highlighted this collaboration on Aug. 9 as President Joe Biden visited Belen, N.M., as part of a tour of the U.S. Southwest.
"Mr. President, we're fighting with everything that we have with members of the Senate and the House across the country in hopes that we can keep this in the National Defense Authorization Act and make sure that these families are seen and get the help that they deserve," Luján said.
Biden responded that he is "prepared to help in terms of making sure that those folks are taken care of."
The following day, Hawley issued a statement saying, "Compensating victims of government-caused nuclear contamination and negligence should not be a partisan issue. It's about justice."
According to the Justice Department, RECA since its inception has awarded more than $2.6 billion to more than 54,000 claimants.
For decades, advocates have tried to bring attention to the environmental and humanitarian impacts of U.S. nuclear tests, including 216 atmospheric tests at various sites around the country and in the U.S. territories in the Pacific Ocean.
New scientific research released in June revealed that the fallout from the U.S. atmospheric tests was significantly underestimated. The study, from Princeton University's Program on Science and Global Security, documented how 94 nuclear blasts in New Mexico and Nevada spewed radiation across the entire country and reached beyond the U.S. borders to Canada and Mexico.