June 2023
Forbidden: Receiving Pope Francis's Condemnation of Nuclear Weapons
By Drew Christiansen, SJ, and Carole Sargent
Georgetown University Press
February 2023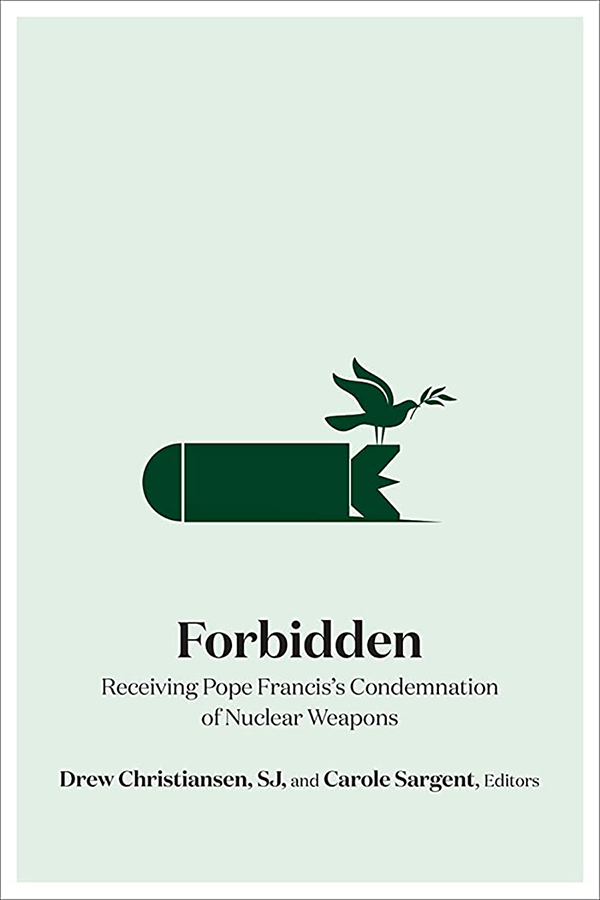 "Weapons of mass destruction, particularly nuclear weapons, create nothing but a false sense of security," warned Pope Francis during a conference at the Vatican in November 2017.
  This edited volume presents more than 30 essays from moral theologians, defense analysts, conflict transformation and peace studies scholars, and nuclear arms control experts on how to secure nuclear disarmament, as advocated for by the pope.
The book is a companion to the 2020 volume, A World Free from Nuclear Weapons: The Vatican Conference on Disarmament, by the same authors. The previous book laid the necessary groundwork for the 2023 volume by making the case against developing, possessing, and deploying nuclear weapon systems.
The new collection of essays focuses instead on the necessary strategies to achieve a nuclear-free world. The writers cover a wide variety of disarmament-related topics, including nuclear deterrence, international law, just war theory, nuclear history and disarmament education, humanitarian issues, the manufacturing of nuclear weapons, and the role of lay Catholic movements.
"This essential collection prepares military professionals, policymakers, everyday citizens, and the pastoral workers who guide them, to make decisions that will lead us to disarmament," the authors assert.
—SHANNON BUGOS