May 2023
By Kelsey Davenport
The United States and South Korea announced steps to give Seoul more input into U.S. nuclear planning amid growing support in South Korea for a domestic nuclear weapons program to counter the threat from North Korea.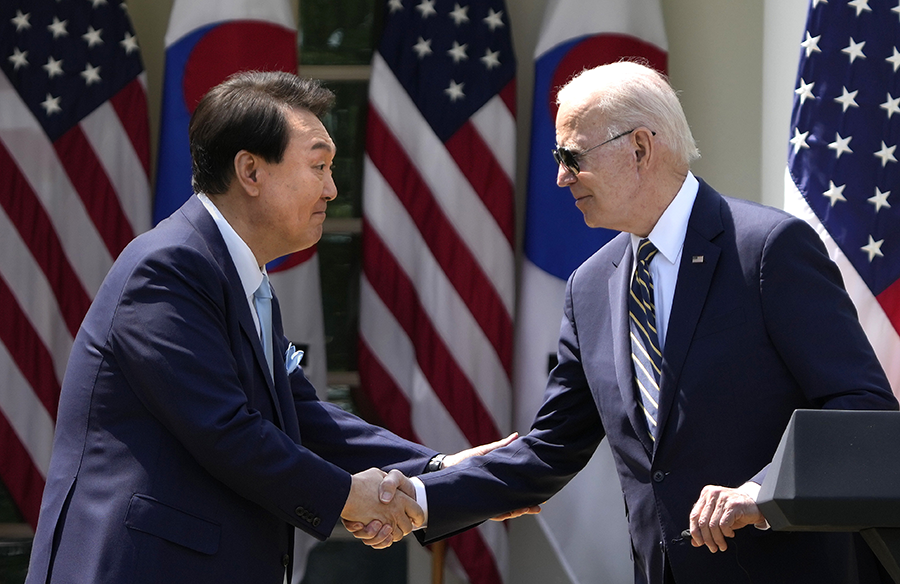 U.S. President Joseph Biden and South Korean President Yoon Suk Yeol agreed to create the U.S-South Korean Nuclear Consultative Group during Yoon's visit to Washington on April 26. According to a declaration issued by the two leaders, the group will "discuss nuclear and strategic planning" and manage the North Korean nuclear threat.
The declaration states that the United States "commits to make every effort to consult with [South Korea] on any possible nuclear weapons employment on the Korean peninsula," consistent with U.S. nuclear policy, and will "maintain a robust communication infrastructure" for consultations. The two countries also will plan for South Korean "conventional support to U.S. nuclear operations in a contingency."
Yoon has long sought greater South Korea's involvement in the U.S. nuclear planning process. He suggested in January that Seoul may pursue its own nuclear weapons in the absence of stronger U.S. extended deterrence commitments and has called for the redeployment of U.S. tactical nuclear weapons. (See ACT, March 2023.)
The Biden administration has made clear it will not redeploy U.S. tactical nuclear weapons to South Korea but the declaration says the United States will "enhance the regular visibility of strategic assets."
Yoon reaffirmed South Korea's commitments under the nuclear Nonproliferation Treaty in the joint declaration, but it remains unclear if his country's new role in U.S. extended deterrence planning will quell growing support among the South Korean public for a domestic nuclear weapons program.
Prior to the Biden-Yoon summit, North Korea demonstrated its advancing nuclear weapons capabilities by testing its first solid-fueled intercontinental ballistic missile (ICBM) in April and displaying at least ten tactical nuclear warheads. The developments came as North Korean leader Kim Jong Un, during an April 10 meeting of North Korea's Central Military Commission, called for a more "practical and offensive" nuclear deterrent to respond to South Korean-U.S. military exercises "simulating an all-out war against" his country.
The new solid-fueled, three-stage ICBM, which North Korea calls the Hwasong-18, was tested from a mobile launcher near Pyongyang on April 13. North Korea launched the missile on a lofted trajectory, and it flew about 1,000 kilometers before splashing down between the Korean peninsula and Japan.
Kim oversaw the missile test, which was intended to "confirm the performance of the high-thrust solid-fuel engines for multi-stage missiles," according to an April 14 statement from the state-run Korean Central News Agency (KCNA). KCNA reported that Kim expressed "great satisfaction" with the launch and that the Hwasong-18 will "extensively reform the strategic deterrence components."
A solid-fueled ICBM capability offers several advantages over the liquid-fueled ICBMs that North Korea tested in the past. Solid-fueled systems are more mobile and easier to conceal and can be launched more quickly than liquid-fueled systems. Liquid-fueled ICBMs are generally fueled shortly before launch, providing more time for an adversary to detect and respond to the launch. North Korea has tested solid-fueled systems in the past, but the Hwasong-18 is the first ICBM.
According to KCNA, Kim said that the Hwasong-18 will "radically promote the effectiveness of [North Korea's] nuclear counterattack posture" and make the country's "offensive military strategy" more practical.
U.S. National Security Council spokesperson Adrienne Watson said the Hwasong-18 test "needlessly raises tensions and risks destabilizing" the region. Watson called on North Korea to "immediately cease its destabilizing actions and instead choose diplomatic engagement."
Japan, South Korea and the United States responded to the test with military drills and a trilateral pledge to strengthen defense cooperation and information sharing.
South Korea and the United States conducted aerial training involving B-52 strategic bombers the day after the Hwasong-18 test. The exercise demonstrated the alliance's "combined defense capability" and "extended deterrence in the defense of the Korean peninsula," according to an April 14 statement from U.S. Indo-Pacific Command.
Japan and the United States also held a bilateral air exercise on April 14.
Three days later, Japan, South Korea and the United States conducted a missile defense drill focused on tracking and sharing information about North Korean missile launches. The South Korean navy described the drill as "an opportunity to strengthen security cooperation…against North Korea's advancing nuclear and missile threats."
North Korean official Ri Pyong Chol criticized the military exercises in an April 17 statement and accused the United States of raising tensions and simulating a "pre-emptive nuclear strike and an all-out war." Ri, vice-president of North Korea's Central Military Commission, described the Hwasong-18 test as self-defensive and said the use of B-52 strategic bombers in the region is nuclear blackmail. He warned Washington against further actions that "endanger the security environment of the Korean peninsula."
China also blamed the United States for driving regional tensions. In an April 13 press briefing, Foreign Ministry spokesman Wang Wenbin said that the U.S. "deployment of strategic weapons" and "massive military drills near the peninsula" have a "negative impact." The United States needs to "act as soon as possible to address the legitimate concerns" of North Korea and "create conditions" to alleviate tensions and resume dialogue, he said.
The United States called out China and Russia for failing to condemn North Korea's ballistic missile launches, which violate UN Security Council resolutions.
During a Security Council meeting April 17 on the Hwasong-18 launch, U.S. Ambassador Linda Thomas-Greenfield said the council's failure to take action against North Korea "undermines the credibility of this council and the entire international nonproliferation regime." Thomas-Greenfield did not specifically reference China and Russia, but said that two council members continue to "draw false equivalences between [North Korea's] unlawful ballistic missile launches and lawful, defensive, pre-announced" South Korean-U.S. joint military exercises.
In that meeting, Russian Ambassador Vasily Nebenzia said that Moscow opposes Security Council meetings "for the purpose of propaganda and exerting pressure." He said that the situation on the Korean peninsula is "tense indeed" but that the United States is "directly involved in the stepping-up of the escalation."