May 2023
By Shannon Bugos
Russian President Vladimir Putin announced that Russia could transfer tactical nuclear weapons to Belarus as soon as July in a move facilitated by Belarusian President Aleksander Lukashenko.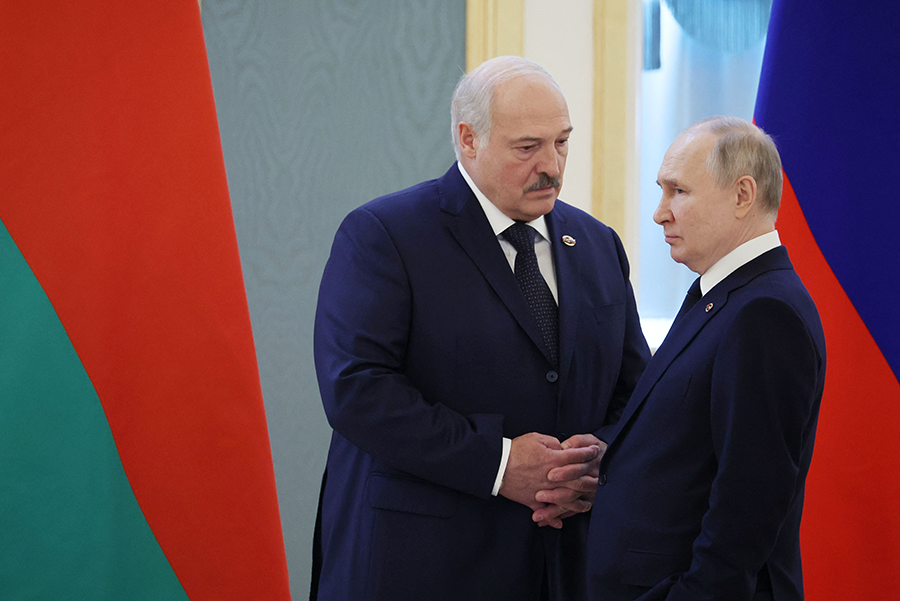 "The United States has been doing this for decades," Putin argued on March 26, referring to the NATO nuclear sharing arrangement in which six European bases across five NATO countries host about 100 U.S. tactical nuclear weapons.
In 2021, Lukashenko strongly endorsed the possibility of hosting Russian nuclear weapons if the United States and NATO deployed nuclear weapons in Eastern Europe. On March 31, he reaffirmed, "We will protect our sovereignty and independence by any means necessary, including through the nuclear arsenal" and might "introduce, if necessary, strategic weapons."
NATO strongly denied the comparison with its arrangement. "Russia's reference to NATO's nuclear sharing is totally misleading," said NATO spokesperson Oana Lungescu. "NATO allies act with full respect of their international commitments."
Poland, a neighbor of Belarus, threatened that the Belarusian-Russian plan "will certainly lead to the announcement of additional sanctions [and] the level of sanctions will be much more severe for the Lukashenko regime," according to Polish Prime Minister Mateusz Morawiecki. Last year, Poland communicated its willingness to host U.S. nuclear weapons. (See ACT, November 2022.)
Putin has yet to detail exactly when or where Russia would relocate the nuclear warheads themselves. But Boris Gryzlov, the Russian ambassador to Belarus, suggested in April that the tactical nuclear weapons "will be moved to the western border of our union state," before shifting to the new Belarusian storage facility following its projected July 1 completion date.
The Pentagon said that it saw no sign that Putin had "made good on this pledge or moved any nuclear weapons around."
Putin also announced in March that 10 Belarusian combat aircraft have been reequipped to carry nuclear weapons.
Russian and Belarusian officials have confirmed that Russian-made Su-25 fighter jets in service with the Belarusian air force would be retrofitted for this purpose. The Federation of American Scientists identified on April 19 that Belarus' Lida Air Base, located 40 kilometers from Lithuania's southern border, is the most likely candidate for housing the Russian nuclear warheads and the retrofitted aircraft.
Lukashenko said that Belarus completed reequipping its aircraft in August. Russia said that it began training Belarusian crews on April 3 and completed the training on April 14.
Ukraine called an emergency meeting of the UN Security Council on March 31 to discuss the nuclear issue. "The Kremlin is ready to threaten the world with nuclear apocalypse," remarked Sergiy Kyslytsya, Ukraine's UN ambassador.
China, a close Russian partner, also condemned the Belarusian-Russian deal. Geng Shuang, China's UN ambassador, said, "We call for the abolition of the nuclear-sharing arrangements and advocate no deployment of nuclear weapons abroad by all nuclear weapons states, and the withdrawal of nuclear weapons deployed abroad."
Experts doubt that if actually under construction, the Belarusian storage site would be ready to host nuclear weapons by July or at all.
Andrey Baklitskiy of the UN Institute for Disarmament Research told NBC News on April 2 that the transfer of nuclear weapons to Belarus "would not give Russia any capability it did not have before."