May 2023
By Daryl G. Kimball
The leaders of the Group of Seven (G-7) industrialized nations, who will convene this month in Hiroshima, the city destroyed in 1945 by the world's first nuclear attack, are expected to emphasize measures to address rising nuclear dangers.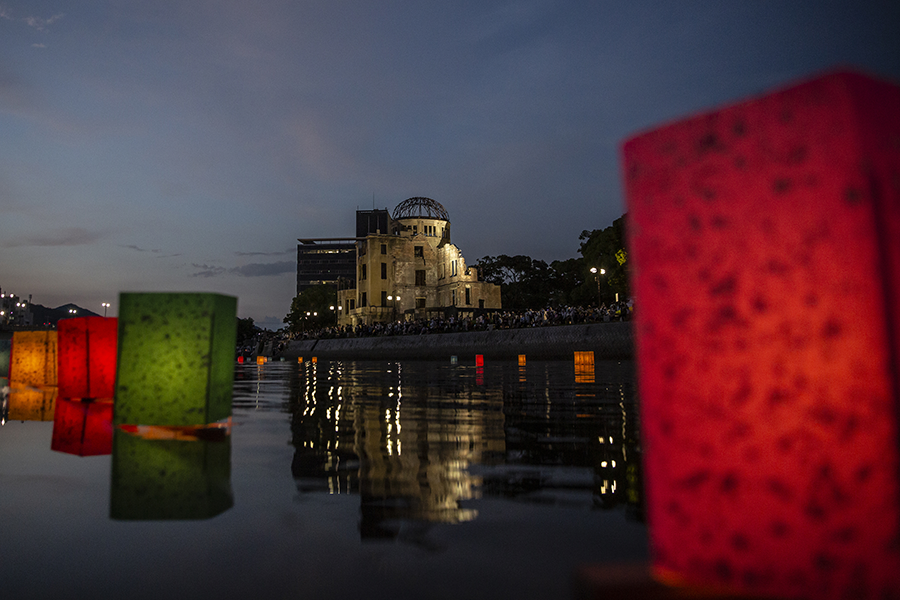 Japanese Prime Minister Fumio Kishida, who will preside over the summit, chose Hiroshima as the venue "to deepen discussions so that we can release a strong message toward realizing a world free of nuclear weapons." In response to concerns that Russia might use nuclear weapons in its war in Ukraine, Kishida also said on Jan. 9 that the G-7 needs to "demonstrate a firm commitment to absolutely reject the threat or use of nuclear weapons."
By the end of 1945, an estimated 215,000 people had died from the Aug. 6 and 9 atomic bomb attacks by the United States on Hiroshima and Nagasaki, and many more have suffered since then from the long-term health effects of radiation exposure.
U.S. President Joe Biden will join the leaders of Canada, France, Germany, Italy, Japan, the United Kingdom, and the European Union at the May 19–21 meeting.
In 2016, U.S. President Barack Obama delivered an address at Hiroshima's Peace Memorial Park and visited the Hiroshima Peace Memorial Museum. He was escorted by Kishida, who was Japan's foreign minister at the time and who is from Hiroshima.
According to The Japan Times, the Japanese government is arranging for a meeting between the G-7 leaders and some of the remaining hibakusha, the survivors of the atomic bomb attacks, during a visit to the peace museum on May 19.
In February, Hiroshima Mayor Kazumi Matsui and Nagasaki Mayor Tomihisa Taue met with Kishida and proposed that the government arrange a visit by the G-7 leaders to the museum and a dialogue with atomic bombing survivors.
Kishida also met representatives from the "Civil 7" group of nongovernmental organizations from 72 countries on April 13 to hear their recommendations on how the G-7 leaders could advance progress on nuclear risk reduction and nuclear disarmament. Among other measures, the civil society group recommended that G-7 leaders meet atomic bombing survivors, unequivocally condemn threats to use nuclear weapons, and endorse urgent negotiations to achieve the complete elimination of nuclear weapons before 2045.
In a statement from the G-7 nonproliferation directors group issued April 17, the governments noted that Hiroshima and Nagasaki "offer a reminder of the unprecedented devastation and immense human suffering the people of Hiroshima and Nagasaki experienced as a result of the atomic bombings of 1945."
The statement, which may preview a possible G-7 leaders' statement on nuclear weapons, does not condemn unequivocally all forms of nuclear threats. Instead, it recalls the joint statement from January 2022 by the leaders of the five nuclear-armed states under the nuclear Nonproliferation Treaty, including Russia, that "a nuclear war cannot be won and must never be fought." The nonproliferation director's statement also asserts that, unlike Russia, G-7 security policies "are based on the understanding that nuclear weapons, for as long as they exist, should serve defensive purposes, deter aggression, and prevent war and coercion."
During the 2020 presidential campaign, Biden issued a statement on the 75th anniversary of the atomic bombings, saying, "As president, I will restore American leadership on arms control and nonproliferation as a central pillar of U.S. global leadership." He added, "I will work to bring us closer to a world without nuclear weapons, so that the horrors of Hiroshima and Nagasaki are never repeated."