December 2022
By Shannon Bugos
Senior Russian officials have discussed the possibility of using tactical nuclear weapons in Ukraine, according to a new U.S. intelligence analysis. But U.S. officials stand divided about the meaning of the analysis, CNN and The New York Times reported on Nov. 2.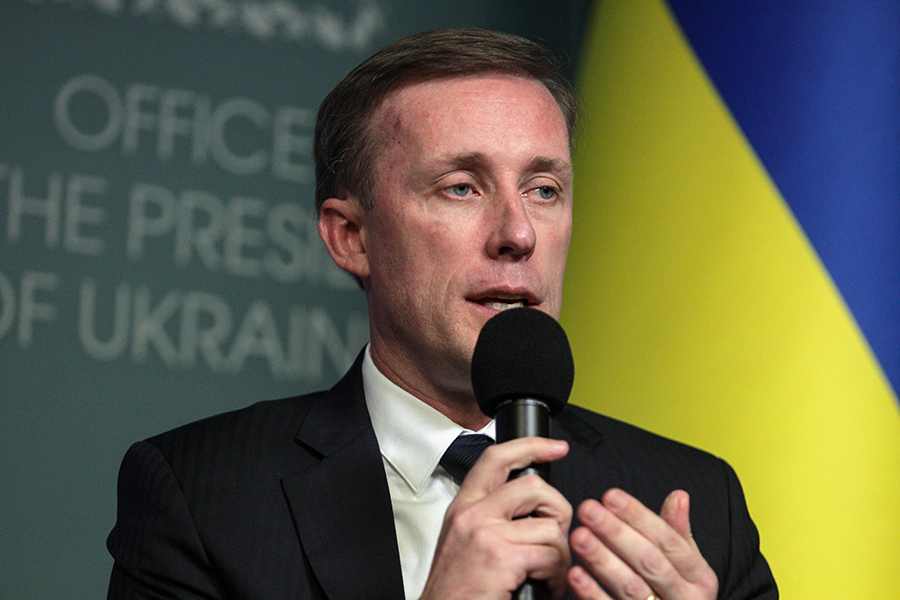 The new assessment by the U.S. National Intelligence Council has led to differing interpretations. Some Biden administration officials believe the Russian discussions might signal genuine consideration of nuclear use on the Ukrainian battlefield, where Russia has sustained huge losses, while others believe the discussions do not imply intent at this stage.
Russian President Vladimir Putin did not take part in discussions, according to senior U.S. officials who described the intelligence assessment to CNN and The Times.
The Russian Foreign Affairs Ministry immediately dismissed the reports, stating that "Russia is strictly and consistently guided by the tenet that a nuclear war cannot be won and must never be fought." The Russian Defense Ministry responded by outlining the scenarios in which Moscow might "hypothetically" consider the use of nuclear weapons, as described in a June 2020 policy document. (See ACT, July/August 2020.)
U.S. National Security Council official John Kirby refused to comment "on the particulars of this reporting," but said the United States has maintained "an appropriate level of concern about the potential use of weapons of mass destruction in Ukraine, to include nuclear weapons."
The Pentagon, along with U.S. and allied intelligence agencies, has monitored Russian nuclear forces continually and repeatedly assessed that there are neither signs of imminent nuclear use nor reasons for the United States to change the posture of its nuclear forces.
U.S. National Security Adviser Jake Sullivan, meanwhile, has held behind-the-scenes discussions in recent months with Yuri Ushakov, a top foreign policy adviser to Putin, and Nikolai Patrushev, the Russian Security Council secretary, in an effort to maintain communications, clarify potential misunderstandings, and decrease the risk of escalation, including to the nuclear level, in Ukraine.
Similarly, CIA Director William Burns met with his Russian counterpart, Sergei Naryshkin, on Nov. 14 in Ankara, Turkey, to dissuade Russia from using nuclear weapons.
U.S. Defense Secretary Lloyd Austin also spoke with his Russian counterpart, Defense Minister Sergei Shoigu, on Oct. 21, the first time since May, and "emphasized the importance of maintaining lines of communication amid the ongoing war against Ukraine," according to a Pentagon statement.
On direct orders from Putin, Shoigu called his French, Turkish, UK, and U.S. counterparts two days later to allege that Ukraine was readying a "dirty bomb," a conventional explosive designed to spread radioactive material.
U.S. Chairman of the Joint Chiefs of Staff Gen. Mark Milley spoke on Oct. 24 with Chief of Russian General Staff Gen. Valery Gerasimov. France, the United Kingdom, and the United States jointly rejected Russia's "transparently false" claim.
Ukraine invited the International Atomic Energy Agency (IAEA) into the country to conduct inspections, which the agency carried out at three locations beginning on Oct. 31.
IAEA Director-General Rafael Grossi officially dismissed Russia's claim on Nov. 3, announcing that "our technical and scientific evaluation of the results we have so far did not show any sign of undeclared nuclear activities and materials at these three locations."
Moscow's allegation came as an ongoing Ukrainian counteroffensive prompted Russian forces to withdraw from Kherson, the first major Ukrainian city captured by Russia in its invasion. NATO and Russia had just ended simultaneous nuclear exercises in October. (See ACT, November 2022.)
Near the end of the exercises, Politico reported that the Pentagon has sped up the arrival of the upgraded B61-12 gravity bomb to NATO bases in Europe. The Russian Foreign Ministry denounced the move and argued that the United States is "reducing the nuclear threshold."
The U.S. Defense Department denied the Politico report, saying the B61's modernization effort "is in no way linked to current events in Ukraine and was not sped up in any way." Richard Johnson, deputy assistant secretary of defense for nuclear policy, reiterated on Oct. 28 that the B61-12 "is on the same schedule it has always been on."
Three weeks later, concerns spiked that the war officially had entered NATO territory, with reports that some of Russia's estimated 85 conventional missiles aimed at Ukraine's power grid crossed over into Przewodów, Poland, on Nov. 15, killing two people.
U.S. President Joe Biden said on Nov. 16 that it was "unlikely in the lines of the trajectory that it was fired from Russia." Later that day, Polish President Andrzej Duda shared the findings from an initial assessment, which found that "Ukraine's defense was launching their missiles in various directions, and it is highly probable that one of these missiles unfortunately fell on Polish territory."
Although the U.S. National Security Council, the Pentagon, and NATO all backed Poland's assessment, Ukraine dismissed it. The Russian Foreign Ministry denied that "Russian firepower" had struck inside of Poland.