December 2022
By Kelsey Davenport
North Korea conducted an unprecedented missile drill involving the launch of more than 20 systems in response to South Korean-U.S. military exercises as tensions on the Korean peninsula continue to escalate.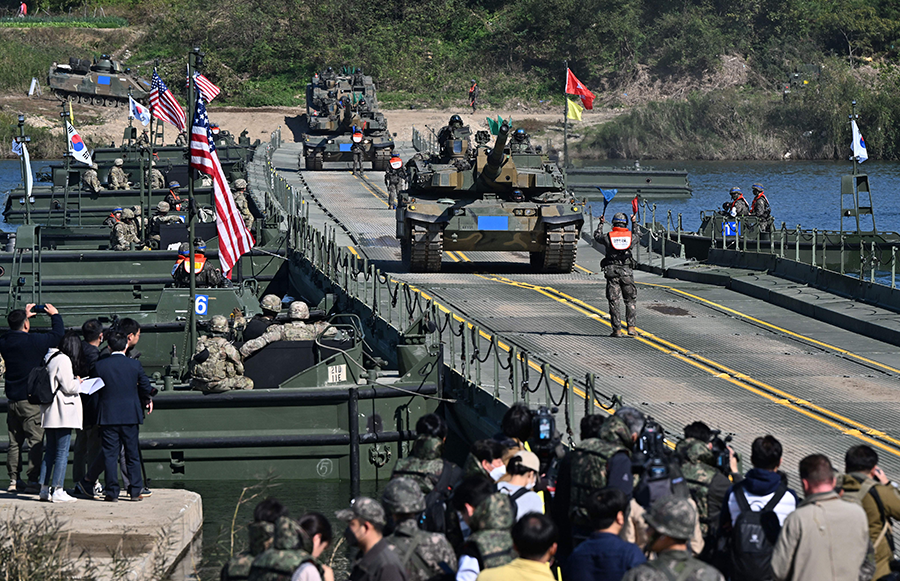 The Nov. 2 drill involved short-range ballistic and surface-to-air missile systems. The day-long barrages were designed to simulate a "strike on the enemy's air force base" and demonstrate North Korea's ability to "annihilate air targets at different altitudes and distances," according to a report from the General Staff of the Korean People's Army.
The flurry of launches responded to a large-scale South Korean-U.S. military exercise, called Vigilant Storm, involving more than 240 aircraft. Pyongyang described it as a "dangerous war drill" and an "open provocation."
U.S. Defense Department press secretary Brig. Gen. Pat Ryder said the four-day exercise, which began on Oct. 31, was designed to "support our strong combined defense posture" with South Korea.
The day before the launch, Pak Jong Chon, secretary of the North's ruling Workers' Party, said the drills are part of a U.S. plan to "end the government" of North Korea. He warned that if South Korea and the United States attempt to use force against North Korea, they will "pay the most horrible price in history" and the North will use nuclear weapons "without delay." In September, North Korea passed a law codifying its nuclear posture and mission, which includes using nuclear weapons first if necessary to repel an attack. (See ACT, October 2022.)
U.S. State Department spokesperson Ned Price accused Pyongyang of using the joint exercise as a "pretext for provocations" and said it knows the U.S.-South Korean exercises are "purely defensive in nature."
One missile launched on Nov. 2 landed near South Korea's territorial waters. South Korean President Yook Suk Yeol called the test a "territorial encroachment" and ordered the military to take swift action so that North Korea pays a "clear price" for the provocation. The South Korean air force responded by firing several air-to-surface missiles near North Korea's territorial waters.
The South Korean Joint Chiefs of Staff said the response demonstrated that South Korea is willing to "firmly response to any North Korean provocations" and that it has the "capabilities and readiness" to conduct precision strikes against North Korea. "All responsibility lies with North Korea" if the situation escalates further, the statement said.
North Korea launched additional missiles on Nov. 3–5, including an intercontinental ballistic missile (ICBM) fired on a lofted trajectory. The ICBM tested was a new missile that appears to be designed to carry a larger payload than earlier missile models. The launch was only partially successful, according to the South Korean military.
North Korea conducted a second ICBM test on Nov. 18. North Korean leader Kim Jong Un oversaw the Hwasong-17 missile launch and said that if enemies continue to pose threats, his government will "resolutely react" with nuclear weapons. North Korea first tested the Hwasong-17, which is capable of reaching anywhere in the United States, in March. (See ACT, April 2022.)
South Korea disputed North Korea's claims that the North launched two cruise missiles on Nov. 2, saying no missiles were tracked in the area where the North claims the launch took place.
Regardless, Pyongyang's pursuit of cruise missiles is concerning because these systems are maneuverable in midflight, unlike ballistic missiles, which fly on a set trajectory. Guiding cruise missiles midflight makes these systems more difficult to intercept, but there is an increased risk that the systems will veer off course if the guidance systems fail.
North Korea's missile launches over the four-day period demonstrated its ability to paralyze the "operation command of the enemy" and show South Korea and the United States that they will pay the "most horrible price in history" if they attack North Korea, according to the general staff statement published on the state-run Korean Central News Agency website.
The South Korean Joint Chiefs of Staff said it will not consider suspending military drills in response to North Korean threats and that exercises are a "fundamental" duty of the military.
U.S. President Joe Biden, trying to prevent regional tensions from escalating further, urged Chinese President Xi Jinping to press North Korea not to conduct a seventh nuclear test. He spoke with Xi during a Nov. 14 meeting on the sidelines of the Group of 20 (G-20) summit.
South Korean intelligence has assessed that North Korea completed preparations for the nuclear explosion at its Punggye-ri test site, but it is not clear when the test will take place.
After meeting Xi, Biden told reporters he is "confident that China is not looking for North Korea to engage in further escalatory" actions, but acknowledged there are limits to China's influence.
Biden reiterated that the United States will respond to a nuclear test but that those actions are designed to "send a clear message to North Korea" that the United States will "defend our allies" and any response "would not be directed against China."
Ahead of the Biden-Xi meeting, U.S. National Security Adviser Jake Sullivan told reporters that China has an interest in "playing a constructive role in restraining" North Korea, because if "North Korea keeps going down this road, it will simply mean further enhanced American military and security presence in the region."
Biden also met the leaders of Japan and South Korea during the G-20 meeting. They issued a trilateral statement on Nov. 13 that said any nuclear test by North Korea would lead to a "strong and resolute response from the international community." The statement said the three countries would work together to "close gaps" in sanctions against North Korea and called on the North to "return to negotiations."
Although North Korea's missile launches are prohibited by UN Security Council resolutions, Japan, South Korea, and the United States have not succeeded in garnering support for new resolutions condemning the North's actions and imposing further sanctions.
China and Russia have objected to ratcheting up pressure on North Korea at the Security Council and instead proposed limited relief from some UN sanctions to encourage the North to return to talks.
Yoon met Xi during the G-20 meeting and requested that China play a "constructive role" at the UN Security Council in response to North Korea's provocations. Xi said China would "actively support" Yoon's diplomatic approach toward North Korea if the North shows interest.
In what he called an "audacious initiative" for resuming dialogue, Yoon in August said South Korea would offer incentives that will "significantly improve North Korea's economy" in exchange for a "genuine and substantive process for denuclearization."
The United States also continues to reiterate its willingness to engage in talks with North Korea without preconditions, but the North does not appear interested in diplomacy at this time.