December 2022
By Shannon Bugos
A majority of the Group of 20 (G-20) states and close Russian partner China criticized Moscow in November for its threats of nuclear weapons use in Ukraine, reflecting the growing international censure of Russian aggression over the past nine months.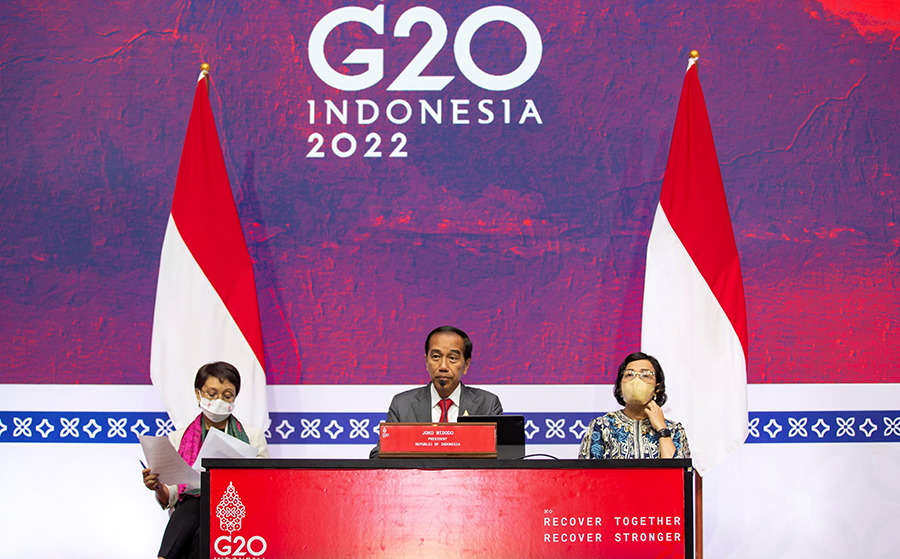 Following its 2022 summit in Indonesia, the G-20 issued a statement on Nov. 16 saying that "most members strongly condemned the war in Ukraine and stressed it is causing immense human suffering and exacerbating existing fragilities in the global economy."
"The use or threat of use of nuclear weapons is inadmissible," the statement said. The G-20 includes China, France, Germany, India, Japan, Russia, South Korea, Turkey, the United Kingdom, and the United States, as well as the European Union.
Ukrainian President Volodymyr Zelenskyy praised the statement as "weighty," while Russian Foreign Minister Sergey Lavrov described it as "politicized."
The G-20 statement followed Russian President Vladimir Putin's denial on Oct. 27 of issuing any threats to employ nuclear weapons in Russia's war on Ukraine. "We have never said anything proactively about Russia potentially using nuclear weapons," Putin said, arguing that using tactical nuclear weapons in Ukraine makes no political or military sense for Russia.
Later that day, U.S. President Joe Biden responded that "[i]f [Putin] has no intention…why is he talking about the ability to use a tactical nuclear weapon?"
For the first time, Chinese President Xi Jinping also criticized, albeit modestly, Putin's nuclear rhetoric.
The international community must "jointly oppose the use of, or threats to use, nuclear weapons" and "advocate that nuclear weapons cannot be used, a nuclear war cannot be waged, in order to prevent a nuclear crisis" in Europe or Asia, Xi said on Nov. 4.
He agreed to a stronger denunciation of Russia in a joint statement released after meeting Biden on Nov. 14, their first in-person meeting since Biden took office.
In that exchange, the two presidents "reiterated their agreement that a nuclear war should never be fought and can never be won and underscored their opposition to the use or threat of use of nuclear weapons in Ukraine," according to a White House readout.
Xi's recent statements have stood out as particularly notable because, throughout the war, Beijing has consistently stood by and offered support to Moscow.
But China tempered the light criticism of Russia in a Nov. 15 statement following a meeting between Chinese Foreign Minister Wang Yi and Lavrov on the sidelines of the G-20 summit.
"China has noted that Russia recently reiterated its established position that a nuclear war must never be fought," said the statement from the Chinese Foreign Ministry, and this "represents a rational and responsible attitude of Russia."