November 2021
By Kelsey Davenport
Recent statements by North Korea suggest that Pyongyang may be interested in restarting peace talks with South Korea despite a recent spate of missile tests.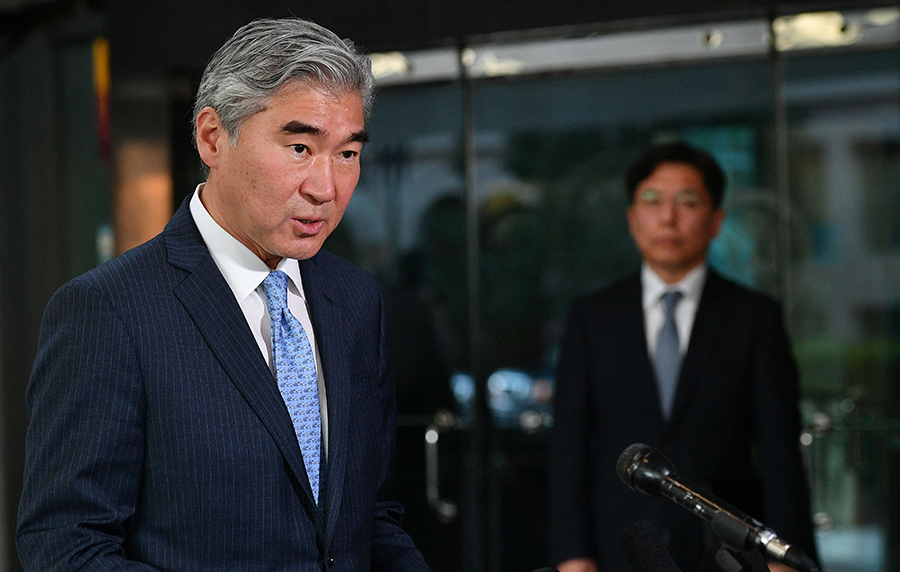 In a Sept. 24 statement, Kim Yo Jong, vice department director of the Central Committee of the Workers' Party of Korea, said that both North and South Korea want to recover "inter-Korean relations from a deadlock" and to achieve "peaceful stability as soon as possible."
Kim, who is the sister of North Korean leader Kim Jong Un, said that if both sides show respect, "several issues for improving relations," such as reestablishing the joint North-South liaison office, holding another summit, and declaring an end to the 1950–1953 Korean War, can "see meaningful and successful solution."
Following Kim Yo Jong's comments, North Korea on Oct. 5 restored its hotlines and other communications with South Korea. North and South Korea resumed using the hotlines in August after a hiatus, but Pyongyang cut off communications again shortly afterward. (See ACT, September 2021.)
Kim Jong Un said on Sept. 29 that resuming communication with South Korea is part of the effort to rehabilitate inter-Korean relations and pursue "lasting peace" on the Korean peninsula. He said Pyongyang has "no purpose or reason to provoke South Korea" and encouraged Seoul to "get out of the wild dream that it must deter North Korea's provocations."
In an Oct. 4 statement, the South Korean Unification Ministry said that restoring the lines of communication with North Korea provides a "foundation for recovering inter-Korean relations" and expressed hope that the two countries will "swiftly resume dialogue."
Pursing a formal end-of-war declaration seems a particular focus for South Korean President Moon Jae-in, who will leave office next year. In his Sept. 21 speech to the UN General Assembly, Moon said he believed that ending the Korean War could lead to "irreversible progress in denuclearization and usher in an era of complete peace."
In a Sept. 24 statement on state-run Korean Central News Agency, North Korean Vice-Minister for Foreign Affairs Ri Thae Song said that such a declaration would be "premature" and that there is no indication that ending the war would "lead to the withdrawal of the hostile policy" toward North Korea. But Kim Jo Yong's comments suggest that an end-of-war declaration may still be an option.
Meanwhile, Robert Carlin, a visiting scholar at the Center for International Security and Cooperation at Stanford University and a former senior policy adviser to the special U.S. envoy for talks with North Korea, observed that North Korea may be shifting the terminology it uses for describing military dynamics on the peninsula. In an Oct. 5 commentary for 38 North, Carlin said that recent statements from North Korea "reintroduced the concept of 'balance' and eased off references to 'deterrence' in its discussions of military power."
He said that an early, partial manifestation of this new policy "seems reflected in [North Korea's] recent, positive stance (and actions) on inter-Korean dialogue." He also noted that a similar shift in terminology from deterrence to balancing power occurred in 2017. At that time, North Korea was accelerating missile development while signaling it was open to diplomacy with South Korea.
The United States welcomed the restoration of North-South communications. State Department spokesman Ned Price said in an Oct. 4 press briefing that the United States supports "inter-Korean dialogue and engagement as well as cooperation." The United States will "continue to consult closely" with its allies regarding how best to engage with North Korea to achieve shared goals, he added.
Progress on inter-Korean relations in 2017 and early 2018 paved the way for diplomacy between the United States and North Korea.
The Biden administration has made clear for several months that it is willing to start talks with North Korea without preconditions and to engage in an incremental process that builds on the 2018 Singapore summit declaration. That declaration, signed by U.S. President Donald Trump and Kim, called for a transformation of U.S.-North Korean relations, including denuclearization and peace-building on the Korean peninsula.
Although U.S. officials have declined to discuss publicly what Washington is willing to offer North Korea in the first steps of a negotiation, Price said on Oct. 4 that the United States has made "specific proposals" to North Korea and hopes Pyongyang "will respond positively to our outreach."