September 2020
By Kelsey Davenport
South Korea and the United States agreed to new guidelines in July allowing Seoul to develop solid fuels for space launch vehicles, which officials say they will use to launch military satellites to monitor North Korea.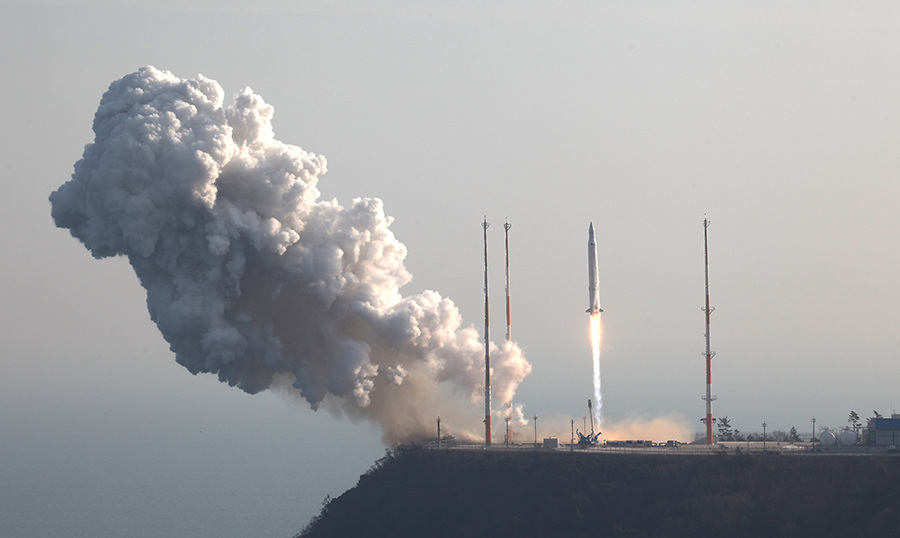 South Korea had been previously prohibited from solid-fuel development under a 1979 agreement between Seoul and Washington that limited South Korean missile and rocket activities. Those guidelines have been revised several times to allow South Korea to extend the range and increase the payload of its ballistic missiles, but this is the first time Seoul will be able to develop and produce solid and hybrid fuels.
Although the use of solid fuel is restricted to space launches and cannot be used for ballistic missiles under the agreement, South Korea intends to use the more powerful rockets for launching satellites with military surveillance capabilities.
Kim Hyun-chong, deputy national security adviser, said in a July 28 press conference that the South Korean military needs "unblinking eyes" to monitor the Korean peninsula. South Korea has launched observational satellites in the past, but it does not have any military satellites in orbit and relies on satellite images shared by the United States.
Kim said Seoul "will soon have many low-orbit military satellites with excellent surveillance capabilities" allowing for 24-hour monitoring of the region.
North Korea criticized South Korea for its "evil intentions" on Aug. 2 and accused the country of increasing tensions. Pyongyang said Seoul's steps to enhance its military power and increases in military spending are incompatible with pursing peace-building on the Korean peninsula.
The agreement has led to speculation that South Korea may use the solid-fuel technology for ballistic missiles down the road. Solid-fueled rocket motors can be launched more quickly, making preemption more difficult, and the fuel is more cost effective.
South Korean President Moon Jae-in called for "missile sovereignty" on July 29, the day after the revised guidelines were announced, but did not detail what that means for the future of the country's ballistic missile program.
Kim indicated that South Korea may pursue an extension of the current range limits for its ballistic missiles, noting that the question will be "resolved in due time." The original 1979 agreement limited South Korea to ballistic missiles capable of carrying a 500-kilogram payload to a range of 300 kilometers. In 2012 the two countries agreed to extend the range to 800 kilometers, and the payload restriction was eliminated in a 2017 agreement. (See ACT, November 2012.) The 800-kilometer range allows South Korea to target any part of North Korea.
South Korea also announced plans to pursue a new system to intercept North Korea's long-range artillery, according to the country's recently released defense blueprint for 2021–2025. The system will be indigenously developed, but based on Israel's Iron Dome.
North Korea is believed to have stationed large caliber artillery along the border between the two countries that is capable of targeting Seoul.
The new system will "focus on protecting the capital area," according to the South Korean Defense Ministry.