September 2020
By Kingston Reif and Shannon Bugos
The U.S. Space Command alleged that "Russia conducted a non-destructive test of a space-based anti-satellite weapon" on July 15, ahead of lengthy but inconclusive talks between Washington and Moscow in Vienna on space security. Moscow disputed the claim that it conducted such a test.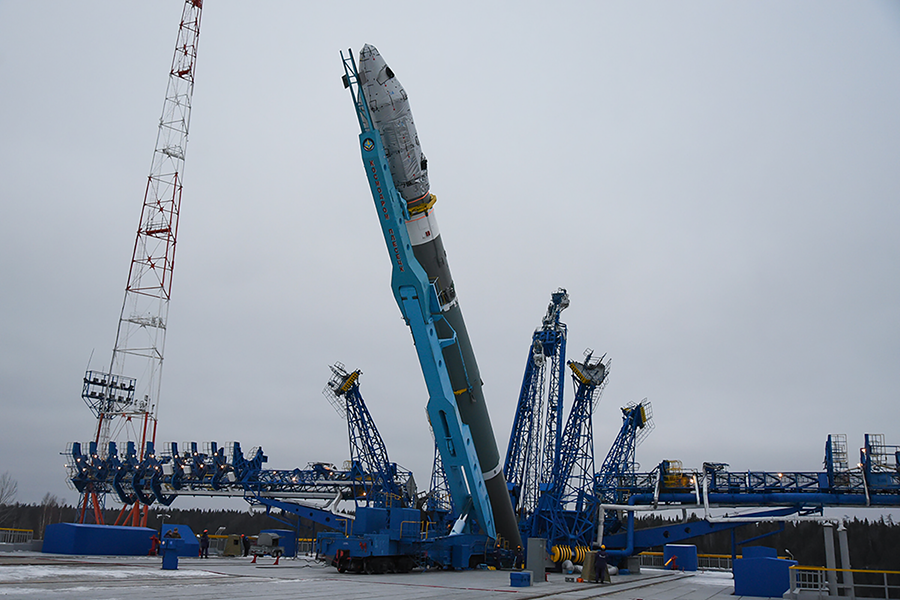 In a July 23 statement, Gen. John Raymond, commander of U.S. Space Command, said that the test "is further evidence of Russia's continuing efforts to develop and test space-based systems, and consistent with the Kremlin's published military doctrine to employ weapons that hold U.S. and allied space assets at risk."
Space Command said a Russian satellite, Cosmos 2543, "operated in abnormally close proximity to a U.S. government satellite in low-earth orbit before it maneuvered away and over to another Russian satellite, where it released another object in proximity to the Russia target satellite. This test is inconsistent with the intended purpose of the satellite as an inspector system, as described by Russia."
The United States has previously suggested that such an object can be used as a weapon to target other satellites.
Air Vice-Marshal Harvey Smyth, head of the United Kingdom's Space Directorate, also expressed concern of the launching of "a projectile with the characteristics of a weapon."
"Actions of this kind threaten the peaceful use of space and risk causing debris that could pose a threat to satellites and the space systems on which the world depends," he said on July 23.
The Russian Foreign Ministry criticized the statements by the United States and UK and said that the test had "not endangered any other space object" or "infringed on any norms and principles of international law."
"The inspector satellite was launched to inspect a Russian satellite at close range, using special equipment for this purpose," said the ministry on July 24. "This mission has collected valuable information about the technical maintenance status of the inspected spacecraft and transmitted it to the ground-based command system."
This latest test comes after Space Command alleged that Russia tested a direct-ascent anti-satellite missile in April and two Russian satellites, Cosmos 2542 and 2543, made maneuvers near U.S. government satellites in February. (See ACT, May 2020.)
Delegations from the United States and Russia met in Vienna on July 27 for a dialogue on space security. Officials from the State, Defense, and Energy departments and the National Security Council made up the U.S. delegation.
"While our efforts are aimed at finding constructive paths forward for space security, we will certainly emphasize our great concern with ongoing Russian as well as Chinese efforts to weaponize the space domain," said Christopher Ford, assistant secretary of state for nonproliferation and international security, ahead of the talks.
Ford said that "our hope is that this meeting will allow us to explore ways to increase stability and security in outer space, as well as to advance the cause of developing norms of responsible behavior in that vital domain." He later mentioned applying "the usual international humanitarian law or Law of Armed Conflict rules" to space and establishing "operator-to-operator engagement" as specific potential goals.
That same day, Ford also released a paper on arms control in outer space in which he urged Russia and China to "abandon [their] dreams of counterspace warfighting, and [their] unverifiable, ineffective, and disingenuous arms control proposals, and join with the United States in a new space security initiative."
In June, the Defense Department released the Defense Space Strategy, outlining its goals for desired conditions in space over the next 10 years, which said that "China and Russia each have weaponized space as a means to reduce U.S. and allied military effectiveness and challenge our freedom of operation in space."
The State Department issued a statement at the conclusion of the space dialogue, which lasted for more than 13 hours. "The two sides exchanged views on current and future space threats, policies, strategies, and doctrine, and discussed a forward-looking agenda to promote safe, professional, and sustainable activities in space," said the department. Statements from the State Department and the Russian Foreign Ministry said that the countries will aim to continue discussions on space security.