September 2020
By Jeff Abramson
Members of the Arms Trade Treaty (ATT) focused on preventing the diversion of conventional weapons to unauthorized uses and users as they conducted the treaty's sixth annual conference Aug. 17–21. While primarily making procedural decisions and continuing to avoid discussion of controversial arms transfers, conference participants formalized a mechanism for sharing confidential information that drew criticism from civil society for its potential to exclude stakeholders.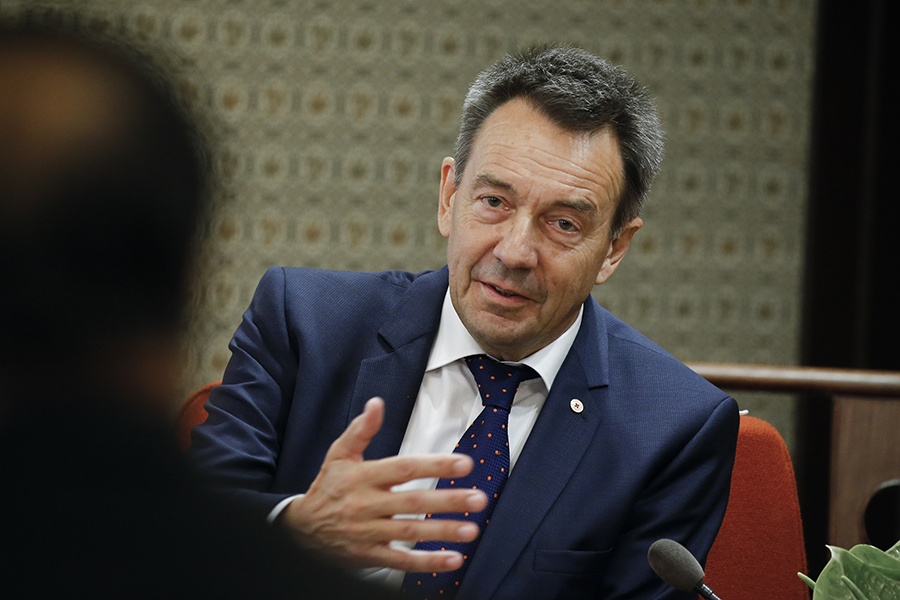 Concern over the coronavirus pandemic spurred conference organizers to conduct the meeting via written statements only, rather than using in-person or virtual platforms that allowed for real-time dialogue.
Argentina, which held the presidency of the conference, chose information sharing and transparency for preventing diversion as a special theme. To further that effort, conference president Federico Villegas presented a working paper with eight recommendations. The first was to continue work to establish a forum for states to discuss diversion cases. States-parties adopted the idea, deciding to establish the Diversion Information Exchange Forum (DIEF), with a first formal meeting to be organized by the next ATT president, and to review its usefulness during the eighth conference of states-parties.
The DIEF's terms of reference, however, were only available to states-parties and signatories, and the mechanisms for others to participate were not fully clear. Numerous civil society leaders and groups expressed concern about the possible exclusion of civil society and other stakeholders from the process.
Those concerns were also echoed in findings from the ATT Monitor, the civil society-led initiative for monitoring treaty implementation led by the Control Arms campaign. That research found an increasing number of annual reports were being kept confidential, with 11 percent of reports in 2018 marked that way, as opposed to just 2 percent in 2015. The report also expressed concern about declines in on-time reporting, recognizing that the pandemic may have posed challenges for some states. It found that only 37 percent of states-parties met this year's May 31 deadline for submitting reports on last year's arms transfers, down from nearly 50 percent a year earlier.
As at past conferences, states-parties also generally avoided discussing controversial arms transfer decisions, such as those allowing arms to go to countries engaged in the civil war in Yemen or to Libya where a UN arms embargo was in place. In his written statement, Peter Maurer, president of the International Committee of the Red Cross, drew attention to the need for change in state practices. "I remain gravely concerned by the apparent disparity between the treaty's obligation to ensure respect for [international humanitarian law] in arms transfer decisions and the arms transfer practices of too many states. This calls into question the treaty's credibility and effectiveness," he said.
Despite the challenges of holding a meeting during the pandemic, Villegas cited many accomplishments in a video address closing the conference. He also noted that treaty membership has increased to 110 states-parties, with six countries—Afghanistan, China, the Maldives, Namibia, Niue, and Sao Tome and Principe—joining since the 2019 conference. He saw the addition of these countries, China in particular, as indications of the value of the treaty and as support for multilateralism.
China's accession had been anticipated, making it the third of the top five global exporters of major conventional weapons to join the treaty, along with France and Germany, who were among the original 2013 signers and ratified the treaty in 2014. Neither the United States nor Russia, the world's largest arms exporters, are states-parties.
China rebutted international concerns about its arms trade practices, declaring in its statement to the meeting that it "has always taken a prudent and responsible approach and exercised strict control on its arms export[s]." China also took the opportunity to criticize the United States, calling it "some country" that "by abusing arms trade as a political tool, flagrantly interferes in the internal affairs of other countries and pursues hegemony and bullying policy, which undermines international and regional peace and stability." It also appeared to take a jab at U.S. President Donald Trump's frequent blaming of China for the pandemic, saying that geopolitical tensions and other ills are "driven by the political 'virus' from some country."
The United States, which in 2019 did not attend the annual conference and moved away from the treaty by stating it had no legal obligations arising from its 2013 signature, participated in the conference and other meetings this year. (See ACT, May 2019.) Although not issuing a formal statement at the conference, a State Department official told Arms Control Today on Aug. 20 that Washington was participating in 2020 meetings as an "observer in order to protect and promote U.S. interests in the international arms trade." The official also said, "[W]e look forward to China complying with the obligations it has assumed by becoming a state-party and becoming a responsible participant in the international arms trade."