June 2020
By Kingston Reif and Shannon Bugos
The United States and Russia have agreed to discuss nuclear arms control issues, according to U.S. President Donald Trump's arms control envoy following a May 8 phone call.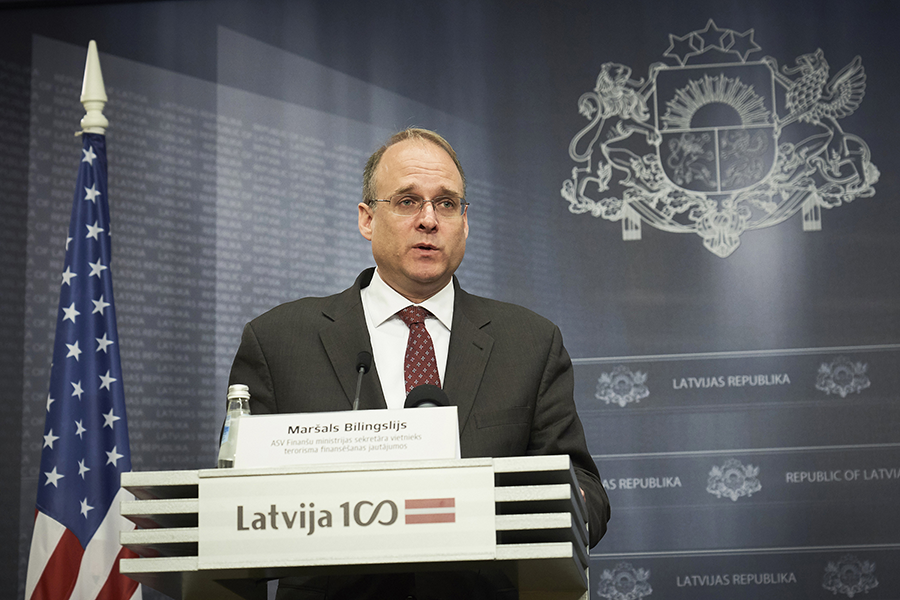 Marshall Billingslea, whom Trump also has nominated to serve as U.S. undersecretary of state for arms control and international security, said that Russian Deputy Foreign Minister Sergei Ryabkov agreed "to meet, talk about our respective concerns and objectives, and find a way forward to begin negotiations" on a new arms control agreement.
"So, we have settled on a venue, and we are working on an agenda based on the exchange of views that has taken place," he said.
Billingslea described the conversation during May 21 remarks at a Hudson Institute event in Washington, where he also criticized the 2010 New Strategic Arms Reduction Treaty (New START) and sketched out some of the Trump administration's goals for a new trilateral agreement with Russia and China.
New START expires in February 2021 unless Trump and Russian President Vladimir Putin agree to extend it by up to five years. Russia stated in December 2019 that it is ready to extend New START without any preconditions, but the Trump administration has yet to make a decision on the treaty's fate.
"Any potential extension of our existing obligations must be tied to progress towards a new era of arms control," Billingslea emphasized on May 21. Earlier, in a May 7 interview with The Washington Times, he also stated that the administration wants "to understand why the Russians are so desperate for extension, and we want the Russians to explain to us why this is in our interest to do it."
New START caps U.S. and Russian strategic nuclear arsenals at 1,550 deployed warheads and 700 deployed missiles and heavy bombers each. Under its monitoring and verification regime, the treaty allows for short notice, on-site inspections.
Billingslea views the agreement as flawed. "One main failing of New START, among the many problems with it, is that it does not include the Chinese," he told the newspaper.
Bringing China into nuclear talks would appear to be a challenging task, particularly as China has repeatedly stated that it wants no part in them. Most recently, a Chinese spokesperson told reporters on May 15 that Beijing "has no intention to take part in a trilateral arms control negotiation." Even Billingslea's State Department predecessor, Andrea Thompson, said on May 14 "that China's not going to come to the table before" New START expires next February. "There's no incentive for them to come to the table," she said, citing China's much smaller nuclear arsenal.
But Billingslea insisted that Beijing could be incentivized to negotiate.
"If China wants to be a great power, and we know it has that self-image, it needs to behave like one," he said May 21. "It should engage us bilaterally and trilaterally with the Russians."
Billingslea added that "Russia must help bring China to the negotiating table." Moscow previously said that it
will not try to persuade China to change its position.
He further asserted that the United States would hold Russia to its "public commitments to multilateralizing the next treaty after New START." Moscow has long said that a future arms control agreement should include additional nuclear-armed states, including U.S. allies France and the United Kingdom.
A new agreement also must include Russia's large arsenal of nonstrategic nuclear weapons and stronger verification measures than those contained in New START, Billingslea argued.
Billingslea did not say what the United States might be prepared to put on the table in return for limits on additional Russian weapons or concessions from China, nor did he clarify what precisely the administration is seeking from China on arms control.
Russia has frequently raised missile defense as an issue that must be on the table in the next round of arms control talks, but the special envoy said that he did not foresee the United States agreeing to limitations on missile defense.
Billingslea claimed that the United States is in a strong negotiating position and could win a new arms race if necessary.
"We know how to win these races, and we know how to spend the adversary into oblivion," he said. "If we have to, we will, but we sure would like to avoid it."
Russia criticized Billingslea's May 7 interview with The Washington Times. "The unmistakable impression" is that Billingslea "has not been brought up to speed on his new job," Russian Foreign Ministry spokeswoman Maria Zakharova said on May 14.
She also noted that the Trump administration's desire to include China in arms control talks was "far-fetched."
Trump and Putin discussed arms control on a May 7 phone call.
"President Trump reaffirmed that the United States is committed to effective arms control that includes not only Russia, but also China, and looks forward to future discussions to avoid a costly arms race," said the White House in a statement following the call. The statement made no mention of New START.
The Kremlin said in a statement that the two presidents agreed to work to resolve "the urgent problems of our time, including maintaining strategic stability."
The United States and Russia last held formal talks on strategic security in January. (See ACT, March 2020.)
Meanwhile, U.S. Ambassador to Russia John Sullivan said on May 5 that Trump had agreed to Russia's January proposal that the heads of state of the five permanent members of the UN Security Council (China, France, Russia, the UK, and the United States) hold a summit to discuss a broad range of security topics, including arms control.
"It's my understanding that the substance and logistics of such a meeting are under consideration," said Sullivan.
On April 27, Russian Foreign Minister Sergei Lavrov stated that all parties agreed that the summit "must be face to face." He added two days later that "the conceptual content" of the summit is in the works.
"There is agreement, an understanding," Lavrov said, "that it should be devoted to all the key problems of the modern world, strategic stability, and global security in all its dimensions."
In Washington, Billingslea could be facing a controversial Senate confirmation process before he can officially assume the position to which Trump named him on May 1. Some senators are likely to question his reputation as a critic of arms control and to examine his human rights record. The Senate Foreign Relations Committee has not yet scheduled a confirmation hearing.
Billingslea previously served as assistant secretary for terrorist financing at the Treasury Department. He was an adviser to Sen. Jesse Helms (R-N.C.), an ardent opponent of arms control who opposed U.S. ratification of the 1993 Chemical Weapons Convention and the 1996 Comprehensive Test Ban Treaty.
In 2019, Trump nominated Billingslea for the top human rights post at the State Department, but his nomination stalled in early 2020 amid concerns about his role in promoting enhanced interrogation techniques that Congress later banned as torture while serving in the Pentagon from 2002 to 2003 during the George W. Bush administration.