June 2020
By Kelsey Davenport
South Korean President Moon Jae-in appeared to rule out progress in negotiations between the United States and North Korea until after the U.S. presidential election in November, but expressed his hope that inter-Korean projects will move forward.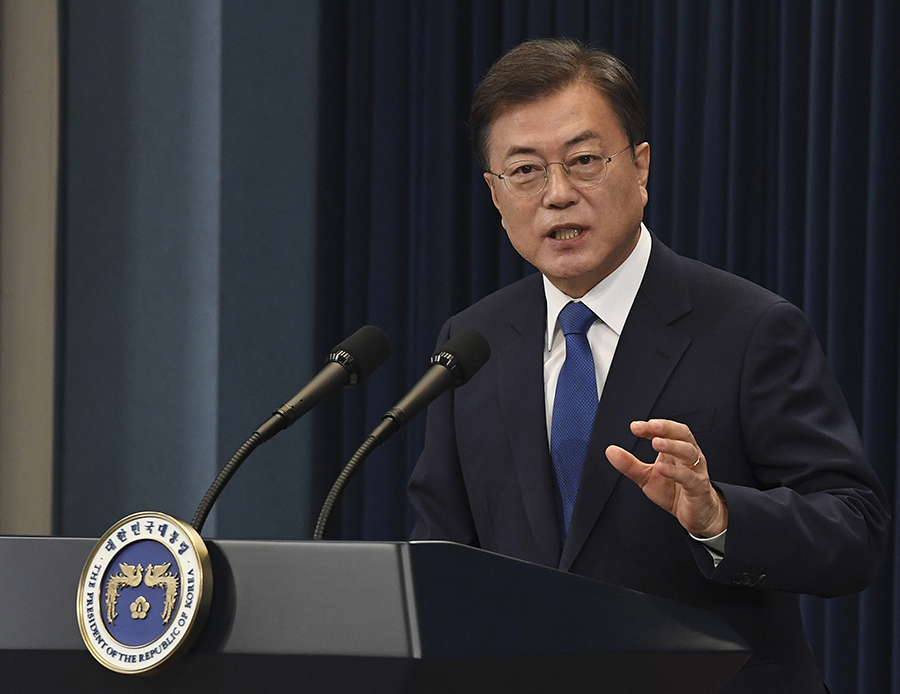 In a May 10 speech marking his third anniversary in office, Moon said continued communication between Pyongyang and Washington demonstrates the "trust and will for dialogue" on both sides. He said that it was unclear when the U.S.-North Korean process will achieve results, but he expects the current "slump" in negotiations to continue due to the "political schedule," likely referring to the upcoming U.S. presidential election.
The Trump administration continues to maintain that denuclearization of North Korea is a priority, but talks between the United States and North Korea have remained stalled since October 2019 and North Korean officials have said that Pyongyang is no longer interested in negotiations. (See ACT, May 2020; November 2019.)
In a May 3 interview, U.S. Secretary of State Mike Pompeo said the Trump administration "will continue to work on" denuclearization of North Korea and creating a "brighter future" for the North Korean people, but did not provide any details on the U.S. strategy for resuming negotiations.
Pompeo was responding to questions about the whereabouts and health of North Korean leader Kim Jong Un. Kim was not seen publicly for three weeks in April, prompting rumors about his health and speculation about who would succeed Kim in the event of his death.
Before Kim appeared publicly again May 1, Pompeo said on April 30 that the United States was "prepared for whatever eventuality there is" and that the goal of verifiable denuclearization would remain unchanged, "whoever is leading North Korea."
Moon also said that communications between North Korea and South Korea continue but are "not smooth."
Despite the challenges, Moon said he still hopes to pursue the proposal he laid out in January to advance inter-Korean projects. In a Jan. 7 speech, Moon said that if Seoul and Pyongyang can "identify realistic ways to implement projects to reconnect inter-Korean railroads and roads, it will not only lead to international cooperation but also provide a big boost to the resumption of inter-Korean tourism."
He also mentioned a proposal for "joint quarantine cooperation" to respond to the COVID-19 pandemic.
Moon said the quarantine proposal did not breach U.S. sanctions, which has been a source of tension between South Korea and the United States.
During talks between North and South Korea in 2018 and 2019, Moon proposed several inter-Korean projects that required U.S. sanctions waivers. But the Trump administration maintains that sanctions will remain in place until North Korea denuclearizes.