October 2019
By Shannon Bugos
Complaining that nuclear-armed nations retain an unacceptable monopoly on nuclear weapons, Turkish President Recep Tayyip Erdogan used a recent Turkish holiday to seemingly suggest that his nation acquire its own nuclear arsenal.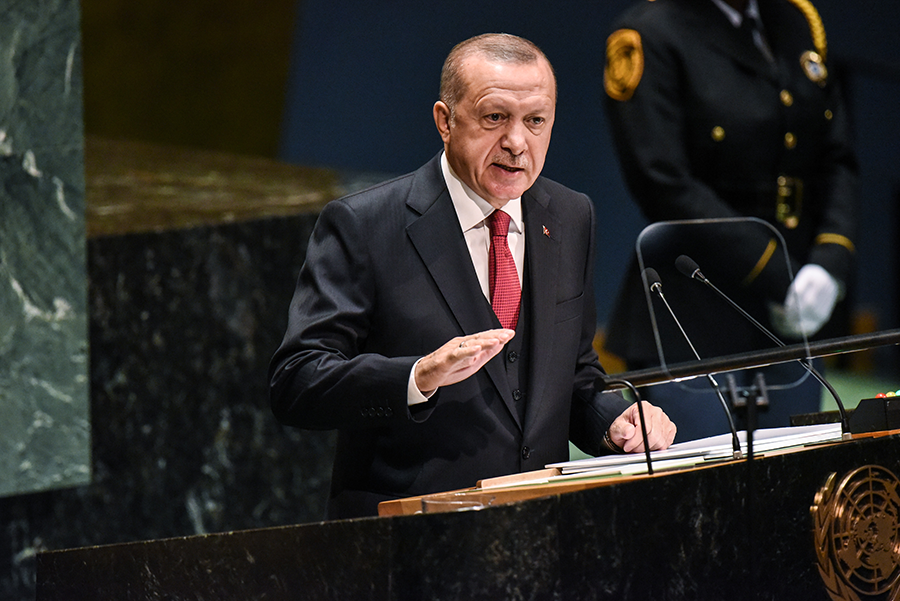 "Several countries have missiles with nuclear warheads, not one or two. But [they tell us that] we can't have them. This I cannot accept," Erdogan said on the centennial of the Turkish independence movement. "There is no developed nation in the world that doesn't have them."
In fact, many developed countries do not have nuclear weapons. Only nine countries—the United States, Russia, the United Kingdom, France, China, India, Pakistan, North Korea, and Israel—possess nuclear weapons, with Washington and Moscow owning 93 percent of them.
In a comment to The National Interest, a U.S. State Department official reminded Turkey that it is a party to the 1968 nuclear Nonproliferation Treaty (NPT) and emphasized the "great importance of Turkey's continued adherence to its obligations under the treaty."
Turkey signed the NPT as a non-nuclear-weapon state in 1980, meaning that Ankara agreed to forgo developing or acquiring nuclear weapons. Turkey has also signed the 1996 Comprehensive Test Ban Treaty, which bans all nuclear test explosions.
Additionally, since 1952, Turkey has been a part of NATO. Under NATO's nuclear sharing arrangements, five European countries—Belgium, Germany, Italy, the Netherlands, and Turkey—host U.S. tactical nuclear weapons. At Incirlik Air Base, Ankara stores the most of any NATO state, about 50 B61 nuclear gravity bombs. Turkey, however, neither trains its pilots to fly nuclear missions nor possesses the required aircraft to deliver those weapons. Meanwhile, despite concerns over the past few years about maintaining these weapons at Incirlik, there remains no indication that the United States or NATO has moved to withdraw them.
As the State Department also pointed out, Turkey is "covered by NATO's Article 5 collective defense clause, which bolsters Turkey's defense and security."
Nevertheless, Erdogan once again hinted at Turkey's potential pursuit of nuclear weapons during his speech at the UN General Assembly on Sept. 24, saying "the position of nuclear power should either be forbidden for all or permissible for everyone."
Erdogan's comments come as Ankara began in July to receive shipments of the S-400 Russian missile defense system. Turkey and Russia signed the S-400 deal, worth $2.5 billion, in December 2017. The United States has opposed it, citing concerns that Russia might use the system to gather intelligence about advanced fighter jets that Turkey purchased from the United States but has not received.
After the initial delivery of the S-400 system to Turkey, the Trump administration decided on July 17 to remove Ankara from the next-generation F-35 Joint Strike Fighter program, canceling the shipment of more than 100 F-35s and causing Turkey to lose its production work on the jet. On Sept. 4, the Turkish Ministry of National Defense said that it had moved ahead with the training of their air force personnel to operate the S-400 system in Gatchina, Russia. The ministry said on Sept. 15 that the delivery of a second battery of the system has been completed and that the S-400 missiles would become active in April 2020.
Erdogan's remarks may have been more an expression of desire to build its status as a world power than an actual goal, according to some analysts.
"The Turkish president was not actually signaling an imminent decision to develop nuclear weapons," wrote Aaron Stein, director of the Middle East Program at the Foreign Policy Research Institute. Instead, Stein says, Erdogan is arguing that the West has failed to treat Turkey equally and, in order "to right the wrong," demanding a seat at the table.