October 2019
By Kingston Reif and Shannon Bugos
An August test of a missile previously banned by the defunct Intermediate-Range Nuclear Forces (INF) Treaty drew continued denunciations from Russia and China
in September.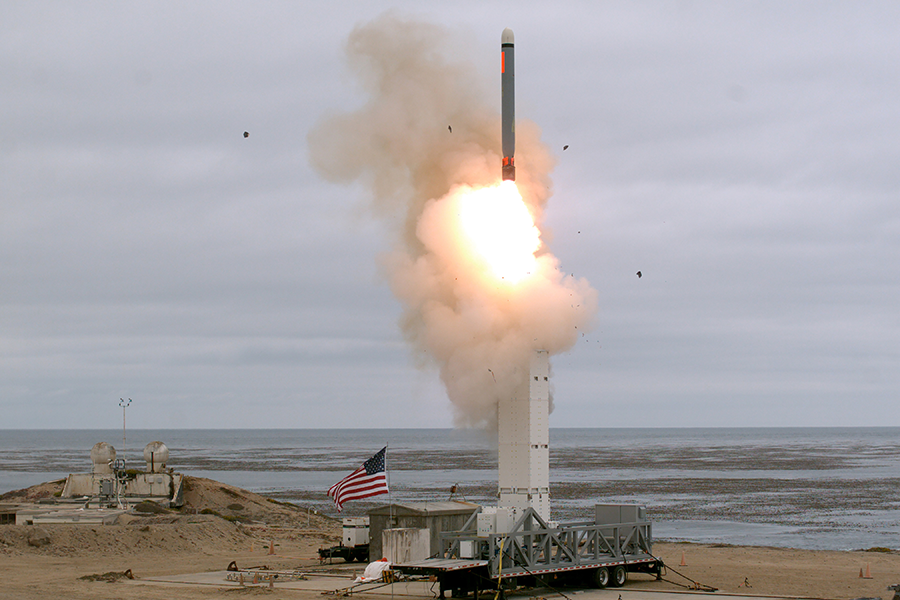 Days after the Aug. 18 U.S. flight test of a ground-launched Tomahawk missile, Russian President Vladimir Putin instructed his defense and foreign ministries, as well as other related government agencies, "to analyze the level of threat posed to our country" and to "take exhaustive measures for a reciprocal response." His comments also followed comments from U.S. officials calling for the deployment of new intermediate-range missiles.
Putin specifically highlighted the launcher used in the test, the MK-41 vertical launching system. This launcher was a different configuration than that currently fielded in Romania and soon to be deployed in Poland as part of NATO's Aegis Ashore missile defense system. In response to Russian claims that the European-based launcher violated the INF Treaty, U.S. officials repeatedly argued that the deployed system "does not have an offensive ground-launched ballistic or cruise missile capability" and therefore did not violate the treaty. After the news of the August test, Putin said, "[T]he fact of the violation is evident and impossible to dispute."
On Sept. 5, Putin further detailed Russia's response, saying that Moscow would take steps to produce ground-launched intermediate-range missiles, but not deploy them unless the United States deploys such missiles first. Since 2014, the United States has maintained that Moscow violated the treaty by testing, possessing, and fielding an illegal ground-launched cruise missile, known as the 9M729 or SSC-8. (See ACT, September 2014.)
Later in September, Putin sent a letter to NATO member states reiterating Russia's offer of a deployment moratorium. NATO spokesperson Oana Lungescu told the Financial Times on Sept. 26 that the alliance had "heard this proposal before" and saw it as "not a credible offer."
"Unless and until Russia verifiably destroys the SSC-8 system, this moratorium on deployments is not a real offer," she said.
The U.S. missile test occurred less than two weeks after the Trump administration formally withdrew the United States from the INF Treaty on Aug. 2. Before then, the treaty banned the possession or testing of all nuclear and conventional, ground-launched ballistic and cruise missiles with ranges between 500 and 5,500 kilometers, as well as the launchers for such missiles. (See ACT, September 2019.)
China also expressed its concerns about the U.S. test. Chinese Foreign Ministry spokesman Geng Shuang on Aug. 20 urged "the U.S. side to abandon outdated notions of Cold War thinking and zero-sum games and exercise restraint in developing arms."
At a Russian and Chinese request, the 15-member UN Security Council convened on Aug. 22 to discuss the issue. As expected, the United States and Russia clashed at the meeting, repeating their respective accusations of noncompliance.
At the Security Council meeting, Dmitry Polyanskiy, Russian first deputy permanent representative to the United Nations, said that "because of the U.S. geopolitical ambitions, we are all one step from an arms race that cannot be controlled or regulated in any way."
Acting U.S. Ambassador to the UN Jonathan Cohen replied that the real reason behind the council's meeting was that "the Russian Federation preferred a world in which the United States continued to fulfill its INF Treaty obligations, while the Russian Federation did not."
Meanwhile, in Congress, the Trump administration's push for new intermediate-range missiles has proven controversial. The House version of the fiscal year 2020 National Defense Authorization Act prohibits the Pentagon from spending money to develop any new intermediate-range missiles until several conditions are met. The Senate version does not have a similar provision, and the two versions are set to be reconciled during conference committee negotiations, with the goal of sending a final bill to the president in October.
In addition to the August test of a ground-launched cruise missile, the Defense Department is planning to test an intermediate-range ballistic missile with a range of about 3,000 to 4,000 kilometers later this year. Robert Soofer, deputy assistant secretary of defense for nuclear and missile defense policy, confirmed at a conference in Virginia on Sept. 4 that the department is planning to test a ballistic missile, but would not comment on what missile would be tested.
Without the INF Treaty, the 2010 New Strategic Arms Reduction Treaty (New START) now stands as the only treaty limiting the world's two largest nuclear arsenals. Although set to expire in February 2021, New START can be extended by up to five years if the U.S. and Russian presidents agree to do so.
Former National Security Advisor John Bolton had said in June and July that an extension is "unlikely." (See ACT, September 2019.) Bolton, however, departed the administration on Sept. 10 and has been replaced by Robert O'Brien, and it remains to be seen how the change will affect the administration's deliberations on the future of New START.
The United States and Russia last met in mid-July to discuss strategic security, but no additional meetings have been scheduled. Putin said on Sept. 5 that "[s]o far, our American partners have remained silent with regard to our proposals to maintain contacts in the sphere of disarmament and containing the arms race."