September 2019
By Kingston Reif
Following the formal collapse of the 1987 Intermediate-Range Nuclear Forces (INF) Treaty on Aug. 2, attention has turned to how the United States and its allies in Europe and Asia should proceed in a world without the treaty, in particular whether they should pursue development of new ground-launched, intermediate-range missiles to counter Russia and China.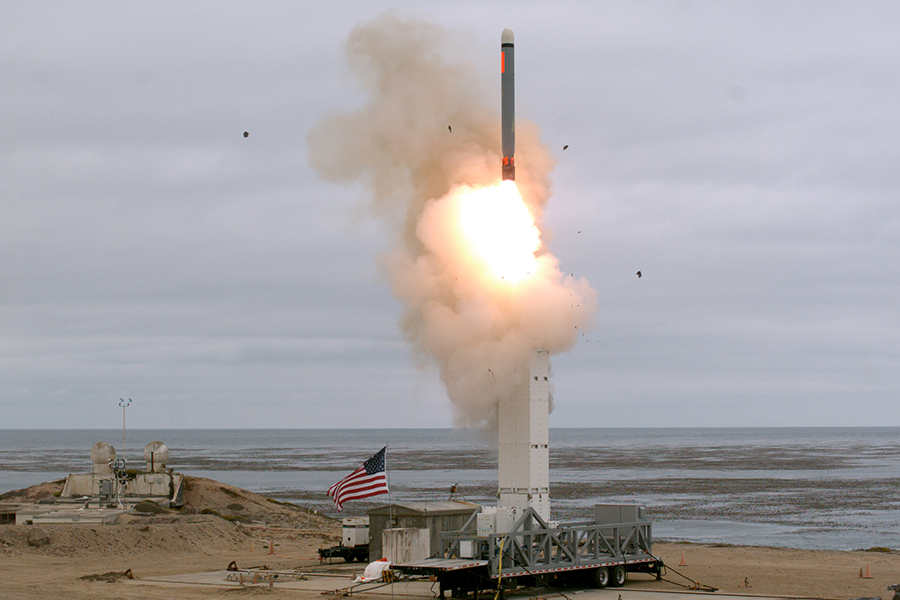 No sooner had the United States officially withdrawn from the agreement than newly confirmed Defense Secretary Mark Esper called for the rapid development and fielding of U.S. missiles once prohibited by it.
On Aug. 18, the Defense Department conducted its first test of such a missile, a ground-launched variant of the Tomahawk sea-launched cruise missile. In a statement, the department said the "test missile exited its ground mobile launcher and accurately impacted its target after more than 500 kilometers of flight." The missile was launched from a MK-41 launcher affixed to a mobile trailer.
The test was not of an operational system that the Pentagon plans to field, but rather a political signal that the United States can and will pursue such systems in the absence of the INF Treaty.
The MK-41 launcher is the same launcher, albeit in a different configuration, that is currently fielded in Romania and will soon be fielded in Poland as part of NATO's missile defense system. Russia long has claimed that this launcher was a violation of the INF Treaty.
A test of an intermediate-range ballistic missile with a range of about 3,000 to 4,000 kilometers is scheduled for later this year.
U.S. plans have raised concerns among friendly and rival nations. Several U.S. allies, for example, sought to distance themselves from Esper's comments, triggering questions of whether the United States can persuade them to host new intermediate-range missiles. In addition, Russia and China have strongly criticized the prospect of new U.S. missile deployments, creating fears about a new, more dangerous phase of global great-power military competition.
In Congress, lawmakers are divided largely along party lines on the wisdom of withdrawing from the treaty and the case for adding the missiles to the U.S. military arsenal.
Esper told reporters on Aug. 2 that he would like to see the deployment of U.S. conventional, ground-launched, intermediate-range missiles in Europe and Asia, ideally as soon as possible.
The Defense Department requested nearly $100 million in its fiscal year 2020 budget to develop three types of intermediate-range missiles. (See ACT, May 2019.) The INF Treaty required the United States and Russia to eliminate permanently all their nuclear and conventional ground-launched ballistic and cruise missiles with ranges of 500 to 5,500 kilometers.
Esper noted, however, that a decision to deploy such missiles would likely be years away, given that it will take time to develop new missiles and a plan for their use, as well as consult with allies in Europe and Asia about potentially basing them on their territory.
Supporters of pursuing the missiles have argued that the weapons would provide more U.S. military options against Russia and especially China, which was not a party to the treaty and has deployed large numbers of missiles with ranges that Washington and Moscow were long prohibited from deploying.
According to one recent study published by the Center for Strategic and Budgetary Assessments, such missiles "could arrest, if not reverse, the erosion of longstanding American military advantages, enhance warfighting, shore up the U.S. competitive position, and ultimately strengthen deterrence, the cornerstone of U.S. global strategy."
---
---
Critics have countered that the U.S. military can deter any Russian or Chinese aggression by continuing to field ground-, air-, and sea-launched missiles that were never limited by the accord. They have also said that such intermediate-range weapons would need to be deployed on the territory of allies neighboring Russia or China to be of meaningful military value. So far, no country has said that it would be willing to host such missiles.
A Question of Basing
In Europe, several countries, including Poland, have made it clear that any deployment of new INF Treaty-range missiles would have to be approved by all NATO members. (See ACT, March 2019.)
At the June meeting of NATO defense ministers in Brussels, NATO Secretary-General Jens Stoltenberg said the alliance is considering several potential paths in a world without the INF Treaty, including additional military exercise programs; intelligence, surveillance, and reconnaissance capabilities; air and missile defenses; and conventional capabilities. (See ACT, July/August 2019.)
Stoltenberg has repeatedly stated that NATO does not intend to deploy new nuclear missiles in Europe, but has been silent on whether the alliance is considering the deployment of conventional variants.
Although countering Russia was the administration's primary rationale for withdrawing from the treaty, proponents of developing intermediate-range missiles see the greatest utility for them in Asia. Where the Pentagon could base the missiles in East Asia, outside the U.S. territory of Guam, remains to be seen. Despite concerns about China's growing military power and more assertive behavior in the region, allies such as Australia, Japan, the Philippines, and South Korea have not appeared eager to host them.
Following Esper's comments, Australian Prime Minister Scott Morrison stated that basing intermediate-range missiles has "not been asked of us," is "not being considered," and has "not been put to us." A South Korean Defense Ministry spokesperson said, "We have not internally reviewed the issue [of basing U.S. intermediate-range missiles] and have no plan to do so."
Russia and China Object
Russia and China threatened to respond to any U.S. INF Treaty-range missile deployments.
"If Russia obtains reliable information whereby the United States completes the development of these systems and starts to produce them, Russia will have no option other than to engage in a full-scale effort to develop similar missiles," Russian President Vladimir Putin said on Aug. 5.
He added that Russia "will not deploy them in any given region until U.S.-made intermediate-range and shorter-range missiles are deployed there," but Stoltenberg criticized this proposal, saying that "to offer a moratorium to replace an effective, legal ban is not credible."
Putin said on Aug. 21 that the U.S. test of a ground-launched Tomahawk missile "means a new threat appearing that we must respond to."
Russian Foreign Minister Sergey Lavrov claimed that the U.S. test of a Tomahawk missile from the MK-41 launcher vindicated Russia's charge that those launchers fielded in Europe violated the treaty.
"We have been objecting for years that the MK-41, according to the manufacturer's description, can launch not only anti-ballistic missiles, but also combat cruise missiles," Lavrov told reporters on Aug. 21.
Fu Cong, director-general of the arms control department at the Chinese Foreign Ministry, warned China's "neighbors to exercise prudence and not to allow the U.S. deployment of intermediate-range missiles on their territory."
"If the U.S. deploys [intermediate-range] missiles in this part of the world, at the doorstep of China, China will be forced to take countermeasures," he added.
Meanwhile, North Korea said on Aug. 14 that any deployment of U.S. intermediate-range missiles in South Korea would be "a reckless act of escalating regional tension, an act that may spark off a new Cold War and arms race in the Far Eastern region."
The Debate in Congress
The Trump administration's push for new intermediate-range missiles has been controversial in Congress. The Democratic-led House version of the fiscal year 2020 National Defense Authorization Act (NDAA) and defense appropriations bill eliminated the Pentagon's funding request for the missiles.
The administration has yet to answer repeated congressional calls for information on its decision to withdraw from the treaty or a strategy to prevent Russia from deploying additional and new types of intermediate-range missiles in the absence of the agreement.
The House version of the NDAA would prohibit the Pentagon from spending money to develop new missiles until it meets several conditions. These include presenting a detailed arms control proposal to replace the INF Treaty, demonstrating what military requirements will be met by new intermediate-range missiles, and identifying which countries would be willing to host the missiles. The draft legislation requires that any potential European deployment have the support of NATO.
The bill also requires the Pentagon to conduct an analysis of alternatives that considers other ballistic or cruise missile systems, including sea- and air-launched missiles, that could meet current capability gaps due to the restrictions formerly imposed by the now-defunct INF Treaty.
Given the Republican-led Senate's support for developing the intermediate-range missiles, the issue is likely to be a contentious one when the two chambers try to reconcile their versions of the defense authorization and appropriations bills in the coming weeks.