September 2019
By Barbara Slavin
Iran has begun to breach some limits of the 2015 multilateral agreement to curb its nuclear activities as the United States continues its "maximum pressure" campaign by ratcheting up sanctions, including by restricting U.S. travel for Iranian Foreign Minister Mohammad Javad Zarif.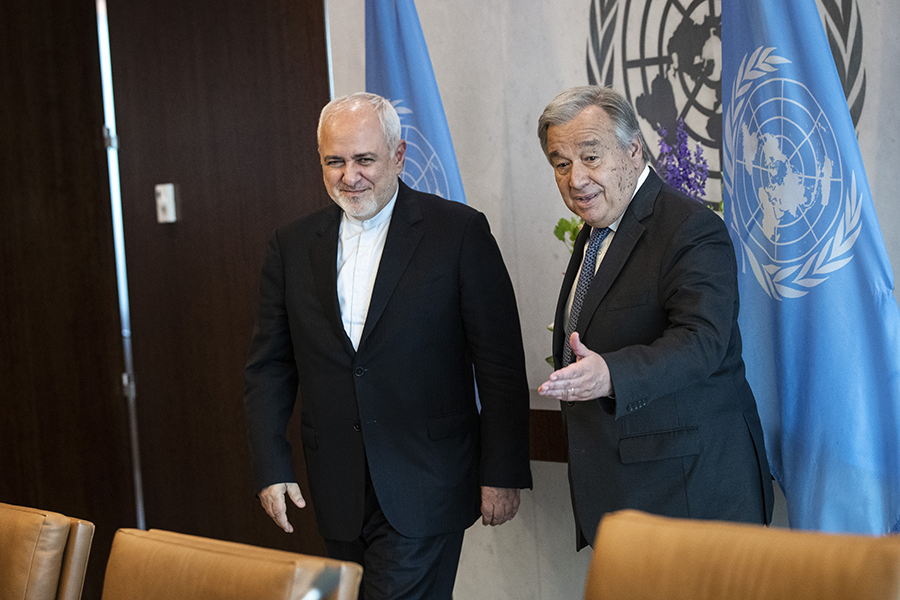 After its 2018 withdrawal from the Iran nuclear deal, the Joint Comprehensive Plan of Action (JCPOA), Washington has sought to curtail Iran's oil exports, but only after the United States announced that it sought to bring those exports down to zero, did Iran begin to exceed some of the deal's restrictions. Iran contends that the JCPOA allows it to selectively reduce compliance if Iran does not receive the benefits promised under the deal. Iran has begun to enrich uranium to levels slightly higher than the 3.67 percent called for in the JCPOA and is also exceeding limits on its stockpile of low-enriched uranium. As of August 19, Iran had 357 kilograms of enriched uranium, 57 kilograms above the limit. The government has said that it will continue to take steps that breach the accord every 60 days if the current stalemate continues.
Meanwhile, the Trump administration announced July 31 that it was placing Zarif on the U.S. Treasury Department's list of Specially Designated Nationals and Blocked Persons. The unprecedented action against Zarif, who led Iran's delegation to the two-year JCPOA talks, had been threatened for some time but still surprised many in the nonproliferation community. The sanctions, which could interfere with Zarif's freedom of movement, appeared to reflect frustration on the part of the Trump administration that Iran has not agreed to new talks while US sanctions remain in full force. A report in The New Yorker by long-time Iran expert Robin Wright said the decision to penalize Zarif came after he rebuffed an invitation to meet President Donald Trump in the Oval Office that had been conveyed to the Iranian in New York in mid-July by Sen. Rand Paul (R-Ky.).
The official announcement designating Zarif made no mention of such an offer. "Javad Zarif implements the reckless agenda of Iran's supreme leader, and is the regime's primary spokesperson around the world," said Treasury Secretary Steven Mnuchin when announcing the July 31 sanction. "At the same time the Iranian regime denies Iranian citizens' access to social media, Foreign Minister Javad Zarif spreads the regime's propaganda and disinformation around the world."
---
---
Iranian officials rallied around Zarif and President Hassan Rouhani called the U.S. action "childish." Rouhani has said Iran is willing to have "just and respectful negotiations," but that the country will not "surrender" to pressure. Iranian officials have told Arms Control Today that they would be willing to meet with the United States but only if the Trump administration first takes steps to allow Iran to export oil and receive compensation as required by the JCPOA. Rouhani repeated this in rejecting an offer relayed by French President Emmanuel Macron, to meet with President Trump.
On Aug. 5, Iran said it would give Europe one more month to activate a non-dollar trading mechanism or it would continue to take unspecified steps to exceed restrictions in the JCPOA. This mechanism, known as INSTEX (Instrument in Support of Trade Exchanges) suffered another blow when the German diplomat designated to head it pulled out from consideration because of remarks defending Iran's ballistic missile program.
While eliminating permission for other nations to purchase Iranian oil, the Trump administration has taken a different path with other waivers. On July 31, it extended waivers for the remaining JCPOA parties to continue cooperation with Iran on converting the Arak and Fordow facilities in ways that would make them more proliferation resistant. National Security Advisor John Bolton stressed, however, that the extension was for 90 days only, strongly implying that they would be not be renewed again.
The next opportunity for multilateral talks will come when the UN General Assembly convenes for its annual meeting in late September. Although Rouhani and Zarif are expected to attend, there is concern that Washington will delay issuing the required permission or take other steps that Iran would consider humiliating. Already, the United States has restricted Iranian officials in New York to three locations: their UN mission, the
UN headquarters itself, and the Iranian ambassador's residence on Fifth Avenue. Such restrictions are clearly meant to interfere with the Iranians' ability to meet with U.S. scholars, politicians and media.