September 2019
By Greg Webb
Yukiya Amano, a Japanese diplomat with lengthy experience in the nuclear nonproliferation and disarmament fields, died on July 18 midway through his third term as director-general of the International Atomic Energy Agency (IAEA). The Vienna-based agency quickly announced a rapid process to select its next leader as the agency continues to face many of the same challenges it did when Amano began his first four-year term in 2009, particularly Iran and North Korea.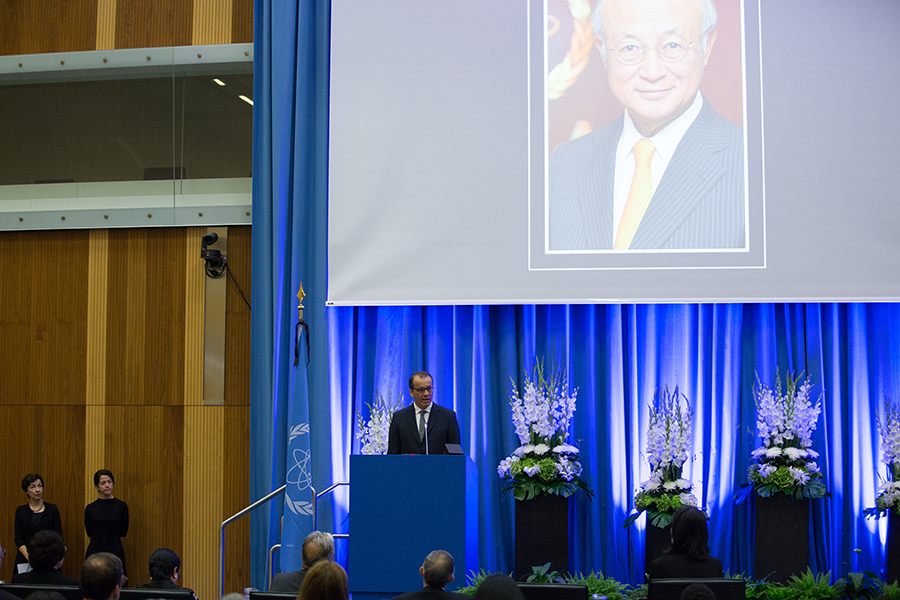 The agency offered no cause of death for the 72-year-old Amano, who had been forced to miss a number of major agency meetings due to a long illness. He died just one day after news broke that he planned to retire in March 2020.
During Amano's tenure, the IAEA completed a multiyear, contentious investigation of Iran's past nuclear activities. For years, Iranian officials had denied any nuclear weapons ambitions or research, but the agency's 2015 final assessment concluded that Iran had indeed conducted nuclear weapons developmental work. Nevertheless, the investigation found no evidence that Iran had continued such efforts after 2009. (See ACT, January/February 2016.)
The agency also has monitored North Korea's nuclear activities from a distance after its inspectors were expelled from the country after Pyongyang withdrew from six-party talks in 2009.
Amano's 2009 selection reflected Western fatigue with his three-term predecessor Mohamed ElBaradei, who won the Nobel Peace Prize in 2005 after contradicting U.S. claims about Iraq's nuclear capability before the U.S.-led invasion of Iraq in 2003. ElBaradei used his position to express views on issues that critics said were beyond his official purview, and Amano promised to focus his efforts on the technical work of the agency's mandate. Recognizing that the IAEA's nuclear nonproliferation work would dominate the news coverage of the agency, Amano pushed his organization to excel at other areas of its mission, particularly assisting the developing world to reap the benefits of peaceful nuclear technologies.
He also oversaw the IAEA's response to the 2011 nuclear accident at Japan's Fukushima Daiichi nuclear power plant. Days after the disaster, he flew to Tokyo to encourage greater transparency from Japanese nuclear officials, and he led international efforts to upgrade global nuclear safety practices for several years after the accident.
"During the past decade, the agency delivered concrete results to achieve the objective of 'Atoms for Peace and Development,' thanks to the support of member states and the dedication of agency staff. I am very proud of our achievements, and grateful to member states and agency staff," Amano wrote in a note announcing his retirement that he intended to deliver to the agency's Board of Governors before he died. The agency provided the statement in a July 22 release announcing Amano's death.
After joining the Japanese Foreign Ministry in 1972 and fulfilling a number of standard diplomatic posts, Amano embarked on an extensive career working on arms control and nuclear nonproliferation and disarmament. He became ministry director-general of arms control and scientific affairs in 2002 and director-general of the Disarmament, Nonproliferation and Science Department in 2004.
Amano spent considerable time working with nuclear Nonproliferation Treaty (NPT) processes, serving on the Japanese delegations to three treaty review conferences before chairing the 2007 preparatory committee meeting for the 2010 NPT Review Conference.
The agency and its 35-nation Board of Governors reacted quickly to Amano's death, establishing a process for appointing the next director-general. IAEA member states have until Sept. 5 to nominate successor candidates, one of whom will be elected by the board in October and take office by the beginning of 2020. The board must appoint a director-general with a two-thirds majority vote, and then a simple majority of the agency's entire 171-nation membership must approve the selection.
Both the board and the membership can convene as needed, and such special meetings are expected as the annual membership-wide General Conference is scheduled to begin Sept. 16.
In 2009, Amano was appointed by the board after six votes and approved by the membership by acclamation.
Two candidates have emerged so far as potential successors to Amano. Veteran Argentine diplomat Rafael Mariano Grossi, currently his nation's ambassador to Austria and permanent representative to the IAEA, has publicly announced his candidacy. Grossi previously served as IAEA assistant director-general for policy under Amano.
Earlier this year, he was designated to serve as president of the 2020 NPT Review Conference. (See ACT, June 2019.) During his IAEA candidacy, Grossi intends to continue his review conference efforts. "I have continued to work with the same enthusiasm and dedication on preparations for the NPT review conference including through regional meetings, which have proceeded as planned," he told Arms Control Today on Aug. 5.
The other candidate appears to be Romanian diplomat Cornel Feruta, who currently serves as chief coordinator for the IAEA. Feruta has not publicly announced his candidacy, but a wide variety of news reports have named him as a candidate, and his position is likely strengthened by the agency board's decision to tap him as acting director-general while the selection process is underway. For many months, Feruta has filled in to cover for Amano's illness-caused absences.