September 2019
By Kingston Reif
National Security Advisor John Bolton has continued to disparage the 2010 New Strategic Arms Reduction Treaty (New START), casting further doubt on the future of the agreement as the Trump administration seeks a more comprehensive nuclear arms control deal.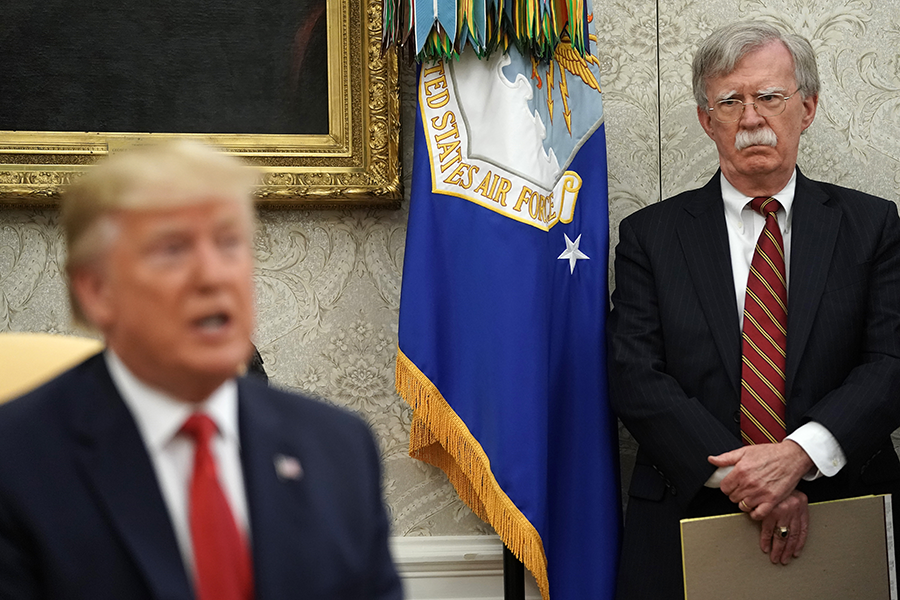 Echoing comments he made in a June interview with the Washington Free Beacon, Bolton told the Young America Foundation's annual National Conservative Student Conference on July 30 that "while no decision has been made," New START is "unlikely to be extended." (See ACT, July/August 2019.)
New START "was flawed from the beginning," Bolton said, noting that it "did not cover short-range tactical nuclear weapons or new Russian delivery systems."
"Why extend a flawed system just to say you have a treaty," he added. "We need to focus on something better, and we will."
New START caps deployed U.S. and Russian strategic nuclear arsenals at 1,550 warheads, 700 missiles and heavy bombers, and 800 missile launchers and bombers each. The treaty is slated to expire in February 2021, but can be extended for up to five years by agreement of the U.S. and Russian presidents.
Previously, Russian President Vladimir Putin has expressed interest in an extension, but Russia has raised concerns about U.S. implementation of the treaty that it says must be resolved.
Other administration officials have echoed Bolton's criticism. Defense Secretary Mark Esper told reporters on Aug. 2 that New START should include the new longer-range strategic weapons Russia is developing, Russia's larger arsenal of shorter-range nonstrategic weapons, and other nuclear powers, namely China.
Bolton's latest denunciation of the treaty came just days before the U.S. withdrawal from the 1987 Intermediate-Range Nuclear Forces (INF) Treaty on Aug. 2. New START is now the only remaining agreement constraining the size of the world's two largest nuclear arsenals. If the treaty disappears with nothing to replace it, there will be no legally binding limits on the size of the two arsenals for the first time in nearly half a century.
---
---
Despite Bolton's criticism, U.S. military leaders continue to tout the benefits of the treaty, including Vice Admiral David Kriete, deputy commander of the U.S. Strategic Command (STRATCOM).
"When it comes to…New START…from a STRATCOM perspective, we like the idea of arms control agreements, particularly with Russia, that provide us with some level of assurance that at least a portion of their nuclear forces are capped," he told reporters July 31.
He added that New START "has a very, very robust verification regime…. If we were to lose that for any reason in the future, we would have to go look for other ways to fill in the gaps for the things we get from those verifications."
Trump told reporters at the White House on Aug. 2 he has "been speaking to Russia about…a pact for nuclear—so that they get rid of some, we get rid of some."
"We'd probably have to put China in there," he added, claiming that "China was very, very excited about talking about it, and so is Russia."
Trump administration officials have provided few details on how they would persuade Russia to limit broader categories of weapons and China to participate in arms control talks for the first time. (See ACT, June 2019.)
Fu Cong, director-general of the arms control department at the Chinese Foreign Ministry, said on Aug. 6 that "given the huge gap between the nuclear arsenals of China and that of the U.S. and the Russian Federation, I don't think it is reasonable or even fair to expect China to participate in an arms reduction negotiation at this stage."
Despite White House opposition, Democrats and Republicans in Congress are expressing their support for New START.
By a vote of 236–189, the House on July 11 approved an amendment to the fiscal year 2020 National Defense Authorization Act offered by House Foreign Affairs Committee Chairman Eliot Engel (D-N.Y.) that would express the view of Congress that the United States should seek to extend New START unless Russia is determined to be violating the agreement or a better agreement is negotiated. Every Democrat, along with five Republican lawmakers, voted to approve the amendment.
The provision, which is based on a bipartisan "Richard G. Lugar and Ellen O. Tauscher Act to Maintain Limits on Russian Nuclear Forces" bill originally introduced in May by Engel and Rep. Mike McCaul (R-Texas), would also require several briefings and reports, including an intelligence assessment of how the expiration of New START would affect the size and posture of Russian nuclear forces and the additional intelligence capabilities the United States would need to compensate for the loss of the treaty's extensive transparency and on-site monitoring provisions.
In addition, the provision would prohibit the use of fiscal year 2020 funds to withdraw from the treaty unless Russia is determined to be in material breach of the agreement.
The Senate version of the defense authorization bill does not include similar language, but some senators are speaking up.
On Aug. 1, Sens. Chris Van Hollen (D-Md.) and Todd Young (R-Ind.) introduced legislation modeled after the Engel-McCaul bill that calls for an extension of the treaty.