March 2019
By Kelsey Davenport
France, Germany, and the United Kingdom established a trade mechanism in January designed to facilitate commercial transactions with Iran as the United States ratchets up pressure on Tehran. The new structure aims to allow European entities to maintain trade with Iran, but it remains unclear how the new arrangement will affect Iran's commitment to the 2015 multilateral nuclear deal.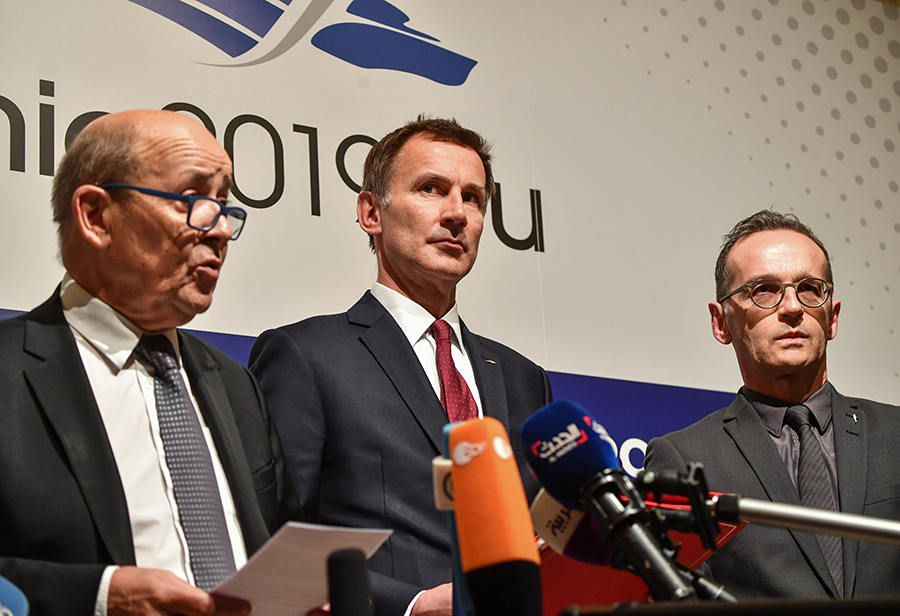 EU foreign policy chief Federica Mogherini and Iranian Foreign Minister Javad Zarif announced in September 2018 that the European Union would pursue a trade mechanism, known then as the Special Purpose Vehicle, to bypass sanctions imposed by the United States following its May 2018 withdrawal from the nuclear deal, known as the Joint Comprehensive Plan of Action (JCPOA). (See ACT, June 2018.) Originally described as a tool for preserving legitimate trade with Iran, including oil sales, the mechanism, now known as the Instrument in Support of Trade Exchanges (INSTEX), will initially be limited to trade exempt from U.S. sanctions. INSTEX will operate like a barter system to coordinate payments for imports and exports, bypassing U.S. sanctions targeting Iranian banks and financial messaging services.
In a Jan. 31 statement announcing INSTEX, the French, German, and UK foreign ministers said the mechanism would focus "initially on the sectors most essential to the Iranian population," such as pharmaceutical and agricultural goods and medical devices. They described INSTEX as a "first step" and committed to explore opening the mechanism to countries outside the EU interested in legitimate trade with Iran.
For INSTEX to become operational, Iran will need to set up a similar institution to coordinate payments in Tehran.
U.S. officials quickly dismissed and condemned INSTEX. At a Feb. 13–14 international ministerial summit on the Middle East in Warsaw hosted by the United States and Poland, U.S. Vice President Mike Pence called INSTEX "an effort to break" U.S. sanctions against Iran and an "ill-advised step that will only strengthen Iran, weaken the EU, and create still more distance between Europe and the United States." He called on Europe to "stop undermining U.S. sanctions on Iran" and to join the United States "as we bring the economic and diplomatic pressure necessary to give the Iranian people, the region, and the world the peace, security, and freedom they deserve."
U.S. Secretary of State Mike Pompeo dismissed INSTEX on Feb. 14, saying that if it remains focused on humanitarian aid, INSTEX will "have nearly no impact" on the U.S. sanctions regime and U.S. goals to counter Iran.
Tehran welcomed the creation of INSTEX, said Iranian Foreign Ministry spokesman Bahram Qassemi on Feb. 1, but he added that the mechanism comes "too late" and Iran has "not seen tangible results" from EU actions to preserve the nuclear deal. He called for the EU to accelerate its efforts so that Iran can "reap the economic benefits" of the nuclear deal.
Iran is likely referring to efforts to preserve oil sales, which INSTEX will not initially cover. U.S. sanctions that took effect in November require states importing oil from Iran to receive waivers from the United States or face sanctions. To be eligible for a waiver, states must make a "significant reduction" in oil purchases from Iran every 180 days. The United States granted waivers to eight states in November, but U.S. special envoy for Iran Brian Hook said on Feb. 6 that "Iran's oil customers should not expect new waivers to U.S. sanctions." The current waivers expire in May.
Mohammad Baqer Nobakht, head of Iran's Plan and Budget Organization, said in January that the country is already in "dire straits when it comes to exporting oil," and Iranian officials have stated they will resume nuclear activities limited by the deal if implementing the agreement is no longer in Tehran's interest.
Hook's comment ruling out a second round of oil waivers is just one element of U.S. efforts to further isolate Iran and urge the remaining parties to the JCPOA (China, France, Germany, Russia, the UK, and the EU) to withdraw from the nuclear agreement.
At the Warsaw summit, for example, Pence urged Europe to "withdraw from the Iran nuclear deal" and said leaders agreed that Iran poses the "greatest threat to peace and security in the Middle East." The summit, however, does not appear to have eroded Europe's commitment to the nuclear deal.
Although German Foreign Minister Heiko Maas did not attend the Warsaw summit, he defended the Iran nuclear deal at the Munich Security Conference on Feb. 15 and said Europe would be "a step closer to open confrontation" without the nuclear agreement. Mogherini also skipped the Warsaw summit, but said at the Munich conference that the nuclear deal is "fundamental and crucial" to Europen security and is "a fundamental pillar for the nuclear nonproliferation architecture globally."
Iran was not invited to the Warsaw summit, and Zarif dismissed the meeting's attempt to isolate Iran as "dead on arrival," describing it as "another attempt by the United States to pursue an obsession with Iran that is not well founded."
The United States may also be pressuring the International Atomic Energy Agency (IAEA) to visit sites in Iran where past activities related to nuclear weapons development may have occurred.
 IAEA Director-General Yukiya Amano warned against pressing the international nuclear watchdog, saying on Jan. 30 that "if attempts are made to micromanage or put pressure on the agency in nuclear verification, that is counterproductive and extremely harmful."
He said that "independent, impartial, and factual safeguards implementation is essential to maintain that credibility."
Although Amano did not refer to any specific state, Israeli Prime Minister Benjamin Netanyahu has called for the IAEA to investigate sites Israel identified as housing materials documenting Iran's past nuclear weapons-related activities and follow up on information Israel took from Iran in 2018. U.S. officials reportedly told the Israeli government that the Trump administration would be more aggressive in pushing the IAEA to follow up on the information provided by Israel.
The documents Israel removed from Iran appear to relate to Iran's past nuclear weapons development activities, and there is no indication from U.S. intelligence or the IAEA that Iran has resumed such activities. U.S. Director of National Intelligence Dan Coats said in the intelligence community's 2019 global threat assessment report that "Iran is not currently undertaking the key nuclear weapons development activities we judge necessary to produce a nuclear device."
Iranian Space Launch Attempts Draw U.S. Criticism
Two Iranian attempts to put satellites in orbit earlier this year drew quick condemnation from the United States, which wrongly charged that the launches defied a UN Security Council resolution.
A Jan. 15 launch attempt failed to orbit a satellite, Iran acknowledged. But Tehran has not publicly described the second launch, which took place in late January or early February based on satellite imagery of the Imam Khomeini Space Center. It is unclear if the second launch went as planned, but historically Iran has announced its successful attempts.
The Jan. 15 launch used the Simorgh three-stage launch vehicle, which failed during a prior launch attempt in 2017. Mohammad Javad Azari Jahromi, Iran's minister of communication and information technology, said afterward that the first two stages of the rocket fired successfully, but the third stage failed to place the Payam satellite into orbit approximately 500 kilometers above the earth.
The second launch likely used the two-stage Safir launch vehicle, which Iran has successfully used to launch satellites in the past.
The U.S. State Department condemned both launches and warned Iran against "continued defiance" of UN Security Council Resolution 2231, which approved the multilateral nuclear deal with Iran known as the Joint Comprehensive Plan of Action.
Neither the nuclear deal nor the resolution prohibits Iranian satellite launches. Resolution 2231 calls on Iran to refrain from activities related to ballistic missiles designed to be capable of delivering nuclear weapons, but the language is nonbinding and does not limit satellite launches.
U.S. Secretary of State Mike Pompeo said on Jan. 3 that rockets used to launch satellites "incorporate technologies that are virtually identical to that used in ballistic missiles, including in intercontinental ballistic missiles."
Satellite launches can provide Iran with data relevant to ballistic missile development, but there are significant technical differences between satellite launch vehicles and long-range ballistic missiles, which must, for example, protect warheads during re-entry into the atmosphere.
Valdimir Ermakov, director of nonproliferation and arms control at the Russian Foreign Ministry, defended Iran's right to launch satellites. He said on Feb. 12 that "UN Security Council resolutions do not prohibit Iran from independently" developing, testing, and producing space launch vehicles or ballistic missiles. —KELSEY DAVENPORT